There are like three different ways I can start this post that I don't know where to begin! Let me start with what inspired the oatmeal for breakfast this morning. I glanced at my email before Little Man woke up and saw Gina's new recipe, Cinnamon Apple Spiced Oatmeal and thought, "MMMmmm oatmeal! Perfect for this rainy morning!"
Then I opened my fridge and was reminded I bought a pint of Raspberries. I LOVE Raspberries. You may be surprised to know they are actually in season until November! So good and still affordable fresh, at least in my area.
I also want to bring up the importance of a stocked pantry. I always keep extracts on hand and boy do they come in handy for mornings of inspiration like today. The almond and Raspberry flavoring really made this oatmeal dish AMAZING!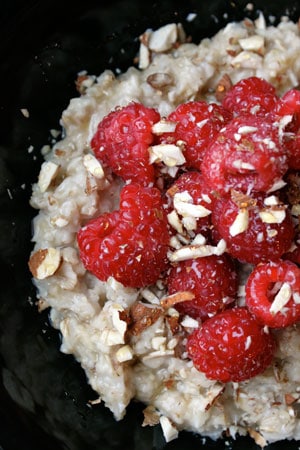 Here's what I did...
½ cup Old Fashioned Oats (40g)
6 oz of water (I like my oatmeal thick, add more if you don't)
pinch of salt
¼ tsp almond extract
¼ tsp raspberry extract
½ cup fresh raspberries (61g)
6 chopped almonds
Drizzle of honey (~¼ tbsp)
Put the oatmeal, water and salt in a small pot. Cook over medium heat until all the water is absorbed. Remove from heat and mix in the extracts.
Put the cooked oatmeal a bowl and top with the raspberries, almonds and honey. You can't get any easier than that!
Approx Nutritional Information per serving
Servings
Amt per Serving
1
Entire Recipe
Calories
Fat
Fiber
WWPs
250
7g
9g
old: 5 new: 6
Sugar
Sat Fat
Carbs
Protein
8g
1g
41g
8g