Last night at 3 a.m. I pulled into the driveway after a 15-hour drive from Florida. We took the kids to Disney for Spring Break in honor of The-Now-5-Year-Old's birthday. We had a blast but I'm happy to be home.
Although, being greeted by an empty fridge is never fun.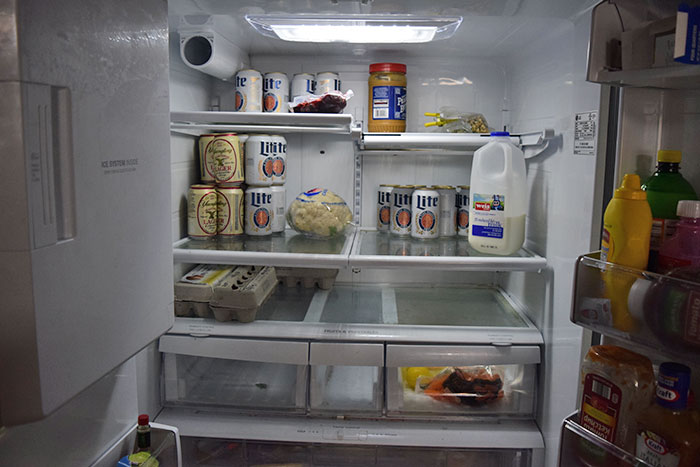 Well, empty besides the crap-ton of beer we've had in there since our Christmas party in December.
December!
Anyway, battling an empty stomach and armed with only what I could dig out of my bare fridge and pantry, I set off to make myself a wholesome meal to help me feel slightly better about all the junk I ate this past week. The three things that inspired me the most were my last pillow pack of beets, some quinoa from the pantry and a bag of pumpkin seeds I've been keeping in the fridge.
I started to cook the quinoa and thought, hmmmm I need something green. That's when I checked on my herb boxes outside and... Bazinga! I have fresh chives and mint!
This is how I pulled everything together to make myself a fun dish when nothing else was available. As soon as I post this I'll be off to the store! It's time to prep for the week. I need some vegetables up in here!
Here's what I did...
½ cup uncooked quinoa
1 cup water
5 cooked beets (~270g)
2 tsp olive oil
10g fresh chives, chopped
2g fresh mint, chopped
Pinch of salt
¼ cup pumpkin seeds (30g)
Cook the quinoa according to the package -- bring 1 cup of water and ½ cup of quinoa to a boil, cover and then simmer. I replaced a bit of the water with the juice from the beet pack so I didn't waste it. It tinted the quinoa a nice shade of pink.
While the quinoa is cooking, cut the beets into quarters and toss them with the oil, chives, mint and salt.
Once the quinoa is done, add it and the pumpkin seeds to the beets and toss.
I really wish I had some feta to go with this but I didn't. Instead I topped with a little freshly grated parmesan just to get a little bit of that cheesy saltiness.
Approx Nutritional Information per serving
Servings
Amt per Serving
2
half the recipe ~ 330 g
Calories
Fat
Fiber
Sodium
 352
15g
8g
199mg
Sugar
Sat Fat
Carbs
Protein
12g
3g
40g
14g
Interested in responsibly raised, grass-fed protein sources?  Check out ButcherBox! I've recently become an affiliate. They are a meat delivery service that provides 100% grass fed AND grass-finished beef. No hormones, no antibiotics, no feedlots, all pasture and sustainably raised.
It's pretty impressive and very convenient if you live in an area where finding high quality meats is hard.