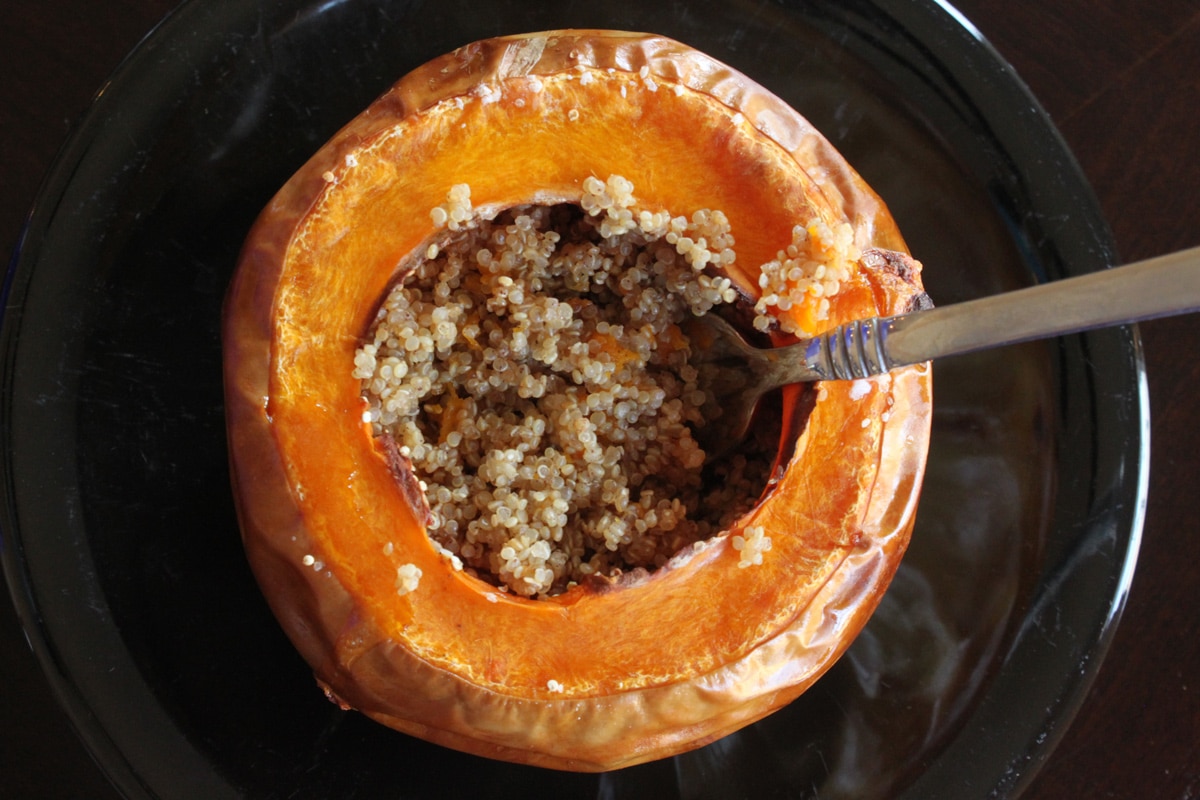 I have grown to love all that is butternut. It's true. I can honestly eat it any old way. When I started pureeing it for baby, I think I liked it more than he did!
Unfortunately, the family doesn't agree with me. The only way I can kind of get them on board the butternut bandwagon is in fry form. Which is OK, and I can only hope as the boys grow they learn to appreciate it in other forms. The husband? He is hopeless and just doesn't share my love for winter squash.
That's cool. You can't win them all. I still buy one every couple of weeks and throw butternut squash fries in the mix, but there's one problem: I'm left with the bulb part at the bottom.
Normally I use it to make something for myself like Butternut Carrot Chicken Soup/Stew or Super Quick Butternut Hash with Bacon Bits but today I just had NO desire to cut a darn thing. So I didn't.
I stuffed it instead!
How could I not? It's perfectly stuff-able!
Quinoa made the perfect stuffing. I simply added the water needed right into the bulb and it cooked perfectly inside the butternut.
Let me share how I made it today, although I think this should be tweaked to add even more flavor to the quinoa. I ended up drizzling a little honey on when it was done, but next time I'm thinking maple syrup and adding some cubed apple during the roasting! Doesn't that sound yummy? Here's the base recipe. Take it and run!
Ingredients
¼ cup uncooked quinoa (43g)
¼ cup water
½ teaspoon pumpkin pie spice
Kosher salt

¼ tablespoon honey for drizzling
Instructions
Preheat the oven to 425 degrees.
Scrape out the seeds and pulp in the squash.
Note: Don't throw away the seeds! You can roast them just like pumpkin seeds!
Put the quinoa, water, and pumpkin pie spice in the cavity of the squash. Stir to mix everything up and then sprinkle with kosher salt.
Bake for 45-60 minutes until the squash is soft to the touch and the quinoa soaks up all the liquid.
Fluff up the quinoa while scraping the sides of the squash, mixing everything together with a touch of honey.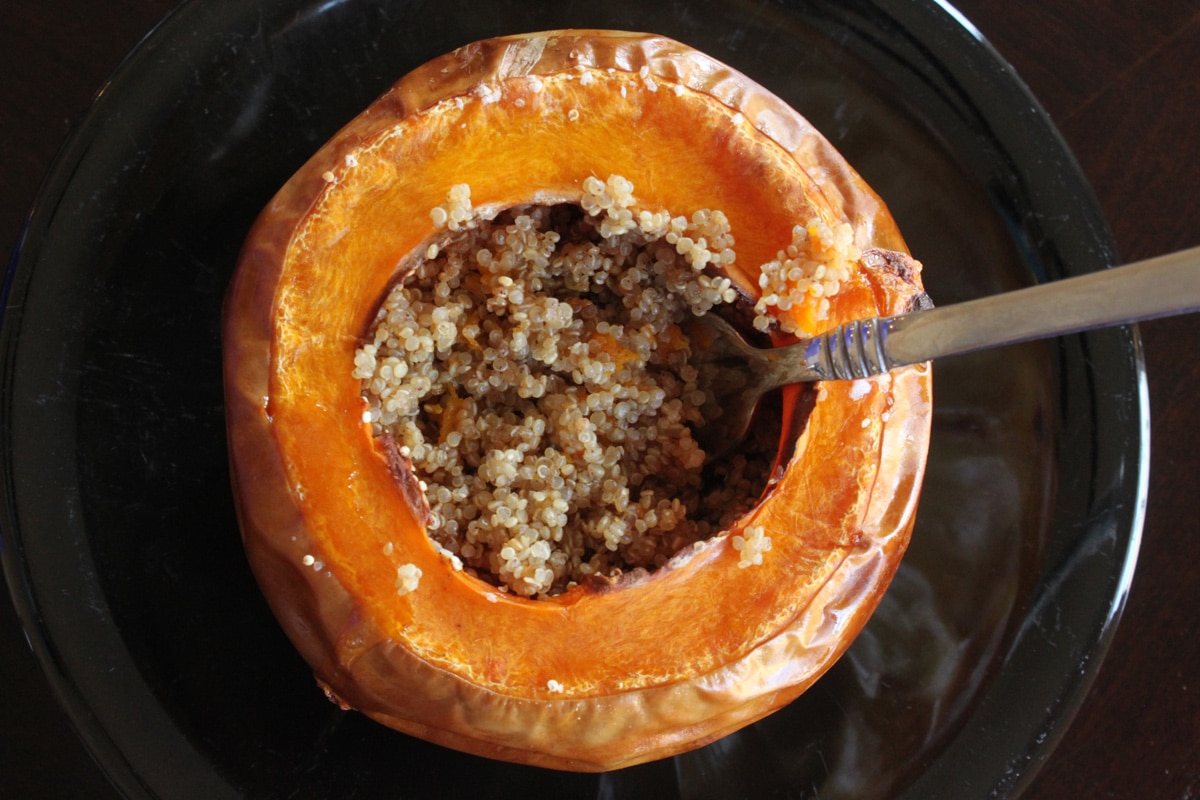 Don't you just love hand-off, easy meals that come out so darn pretty?
I do. 🙂
Note: If the points seem high that's because I base it on the total nutritional estimates. You may count squash as 0 and just account for the quinoa.
Using Leftovers: Simple Steak Fajitas!
Love quinoa? Love butternut squash? Then you'll love this recipe! This quinoa stuffed butternut bulb is a healthy and satisfying meal.
Ingredients
2

low-carb tortillas

I use Trader Joe's brand

1

wedge of The Laughing Cow Light Queso Fresco & Chipotle

A few slices of sweet onion

chopped (~60g)

About ½ of a sweet bell pepper

cut into strips (~80g)

3

oounces leftover London broil sliced thin against the grain
Instructions
Heat a small nonstick skillet over medium-high heat. While it's heating up, warm the tortillas and set them aside.

Spray the skillet with cooking spray. Add the onion and then top with the peppers.

A few slices of sweet onion,

About ½ of a sweet bell pepper

While they are browning, smear The Laughing Cow wedge on the tortillas. Don't worry about burning the onion. You want to get a nice char on them. It adds wonderful flavor.

1 wedge of The Laughing Cow Light Queso Fresco & Chipotle

Toss everything in the skillet and cook until you see a nice browning happening, about 3 minutes.

Add the steak.

3 oounces leftover London broil sliced thin against the grain

You don't want to cook it too long, just enough to warm it. Toss it a few times, cooking about 30 seconds. Then remove from the heat and let it sit for another 30 seconds.

Split the steak, peppers and onion and top the cheese on the tortillas.
Nutrition
Calories:
278
kcal
Carbohydrates:
11
g
Protein:
28
g
Fat:
14
g
Saturated Fat:
7
g
Polyunsaturated Fat:
1
g
Monounsaturated Fat:
3
g
Cholesterol:
82
mg
Sodium:
272
mg
Potassium:
581
mg
Fiber:
3
g
Sugar:
6
g
Vitamin A:
2806
IU
Vitamin C:
105
mg
Calcium:
251
mg
Iron:
2
mg