When I think of a fast and easy breakfast, the first thing that comes to mind is this strawberry banana smoothie recipe. It's truly simple and delicious. A perfect meal on the go, or a great choice in place of ice cream, this is my easiest recipe, by far! If you like smoothies, you've probably made one at some time that includes these ingredients, but mine has a little extra something special to make it even better!
Strawberry Banana Smoothie
I'm fairly certain that a strawberry banana smoothie is nothing new or unique to most people. However, you may find that it is rather bland or that you want something a bit different. That's why I am sharing my version. There is just something about drinking something that feels like a milkshake for breakfast without any guilt associated. Smoothies are my favorite way to keep my diet healthier without feeling deprived all of the time.
If you want more smoothie options outside of this one, you are in luck. For the fruit flavored choices, the sweet cherry almond protein smoothie is my personal favorite. If you want something a bit different, an Almond Joy smoothie has that candy feeling without the guilt. Of course, classics like a peanut butter chocolate smoothie are always a hit with my family.
Can I Make Smoothies Ahead of Time?
One of the key characteristics of a smoothie is that it is so similar to a milkshake in nature. A semi-frozen drink that is filled with fruit instead of ice cream is delicious, but making them ahead of time is easier to make than you may think. You should consider a few things though, if you want to prepare this ahead of time.
Do not blend the smoothie more than half an hour before serving. Since part of the ingredients are frozen, you need to keep it ice cold for best texture and flavor when serving.
Cut the fruit into small pieces so when adding to the blender, it will be easier for it to blend.
If preparing ahead of time, you will need additional liquid to blend it with, so keep that in mind with what you freeze in advance.
I like to create smoothie bags with the ingredients measured and portioned so all I have to do is dump it into the blender. For this, you would put not just the frozen berries, but also sliced banana into the bag frozen.
What Mix-In's Go Into This Smoothie?
If you want to add a bit more flavor to your strawberry banana smoothie, then you can blend or stir in a few additions that fit the flavors well. I like some more than others, and you do need to consider how many of these aren't as healthy as others. So, do recalculate points and nutrition after adding anything to the mixture other than what is listed in the recipe below.
Mini chocolate chips
Coconut shreds
Pecans
Pineapple chunks
Chia seeds
Flax seeds
Hemp hearts
What are the myWW Plan Points for this Smoothie?
Smoothies are a hot topic in Weight Watchers communities. So, do consider the points below carefully before you completely write this off as not fitting into your points for the day. Fruit in itself is a zero point food on most myWW plans current or past. However, when you blend the fruit and drink it, such as in a smoothie, they recommend that you count those items as points. This is because it is felt that drinking the food makes you less likely to feel full and more likely to over indulge. Choose to count or not, but below is what the individual plans state this would be.
myWW Blue: 13
myWW Green: 13
myWW Purple: 13
PointsPlus: 5
Ingredients
Banana
Strawberries
Vanilla protein powder
Honey
Cottage cheese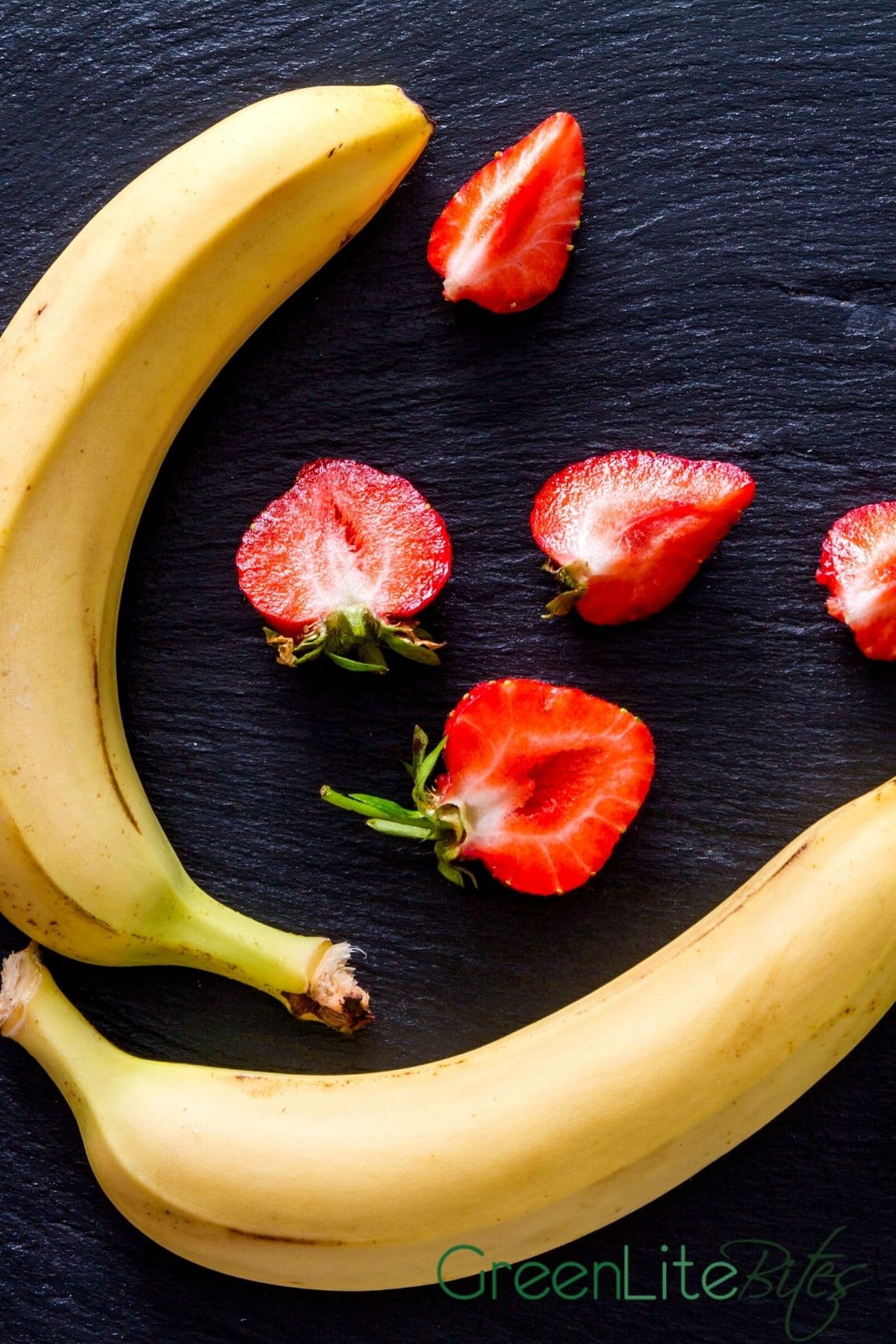 How to Make a Strawberry Banana Smoothie
Place all ingredients into a blender and pulse until smooth. If too thick, add water or juice as desired and blend.
Yield: 2
Quick Strawberry Banana Smoothie
Whip up this delightful treat in minutes! A high-protein strawberry banana smoothie is a perfect way to start your day!
Ingredients
1 banana
1 cup frozen strawberries
1 scoop vanilla protein powder
½ cup 1% cottage cheese
2 tsp honey
Instructions
Combine all ingredients in a blender and pulse until smooth.
Notes
myWW Blue: 13
myWW Green: 13
myWW Purple: 13
Points Plus: 5
Nutrition Information:
Yield:
2
Serving Size:
1
Amount Per Serving:
Calories:

203
Total Fat:

1g
Saturated Fat:

1g
Trans Fat:

0g
Unsaturated Fat:

0g
Cholesterol:

5mg
Sodium:

257mg
Carbohydrates:

30g
Fiber:

4g
Sugar:

19g
Protein:

21g