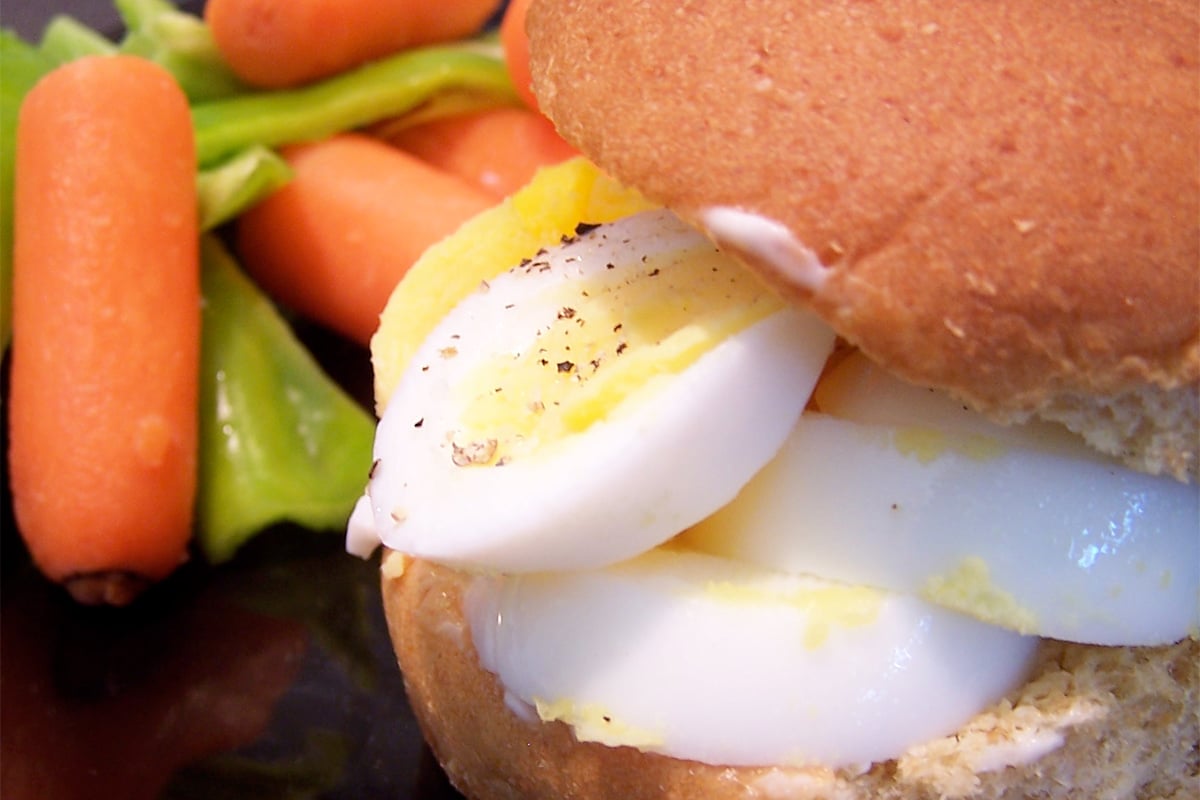 When I was a kid I had some quirks -- I guess we all do. One of my moms favorite stories about me and my stubbornness is refusing to eat ice cream if it wasn't chocolate. She just told the story (again) at Labor Day!
I also loved cheese, but hated it melted and for some reason would always ask for my peanut butter and jellies with no jelly, I thought it was gross. As for hard boiled eggs, well, I liked them but not egg salad. Blech!
For some reason smooshing egg up and throwing it on a slice of bread did NOT appeal to me at all. Mostly because I really didn't like the yolk or mayonnaise. Then again, maybe it's because it just looks gross!
So egg salad was a no-go but I have a lot of memories of my mom making me sliced egg sandwiches. She'd use just enough mayo to glisten the bread, slice the egg and viola!
I LOVED these, especially on soft fresh bread with a sprinkle of salt and pepper. So simple and so YUMMY!
Now, of course, I eat ALL kinds of ice cream, love grilled cheese and really can't live without my natural strawberry jelly. But the thought of egg salad still gives me the heeby jeebies.
Instead I make what I call the "poor man's" egg salad sandwich and it's EXACLY how I remember them. I think this is going to become a new staple lunch for me.
Ingredients
light whole wheat bread or a whole wheat bun (I used a Whole Wheat Potato Roll)
about 1 teaspoon light mayo
Salt & Pepper to taste
Instructions
Smear the mayo on the bread or roll (you could use a bit more). Arrange egg slices, sprinkle with salt & pepper.
ENJOY!
I added some carrots and pepper strips on the side.
📖 Recipe
Poor Man's Egg "Salad" Sandwich
Need a quick and easy lunch idea that won't break the bank? Try the poor man's egg "salad" sandwich - a delicious and budget-friendly option!
Ingredients
light whole wheat bread or a whole wheat bun

I used a Whole Wheat Potato Roll

1

hard boiled egg sliced -- click here to see how I make them.

about 1 teaspoon light mayo
Instructions
Smear the mayo on the bread or roll (you could use a bit more). Arrange egg slices, sprinkle with salt & pepper. I added some carrots and pepper strips on the side.

light whole wheat bread or a whole wheat bun,

1 hard boiled egg sliced -- click here to see how I make them.,

about 1 teaspoon light mayo,

Salt & Pepper to taste
Nutrition
Calories:
158
kcal
Carbohydrates:
13
g
Protein:
10
g
Fat:
7
g
Saturated Fat:
2
g
Polyunsaturated Fat:
2
g
Monounsaturated Fat:
2
g
Cholesterol:
187
mg
Sodium:
260
mg
Potassium:
134
mg
Fiber:
2
g
Sugar:
2
g
Vitamin A:
264
IU
Calcium:
71
mg
Iron:
1
mg