Out of all the things joining a CSA has done for me I think increasing my consumption of leafy greens is by far the most appreciated side effect. Before the farm the only greens I would buy and consequently consume was baby spinach and romaine both of which I bough in pre-cut, pre-washed bags. I rarely, if ever, bought a head of anything. This severely limited my consumption of some tasty greens I didn't even know were editable!
In last weeks share I got turnips (with greens attached) arugula, perpetual spinach and 2 fresh heads of lettuce (don't ask what I kind I don't know--it's just green and leafy. 🙂 Now I mix any and all greens I have in my nightly side salad with dinner. I even snuck a few into the husbands bowl with out his knowledge and he has happily eaten them. The salads are tastier, more interesting and are simply better then using standard iceberg or even just romaine. Really, the difference reminds me of canned vegetables vs. fresh roasted. Sometimes it's no wonder why we (used generally) don't like "healthy" things like salads and vegetable. We grew up on mushy canned greened beans and iceberg lettuce salads. Geesh!
I shall get off my soapbox now. Sorry! 🙂 The real reason for this post is to share the salad I made for lunch today. All those tasty side salads with dinner have me craving more salads and when I thought about what to have for lunch it just hit me.
I decided to make my own dressing inspired by something I saw Tyler Florence make on the Food Network the other day. He diced up a pear to make a vinaigrette. Genius! I added a handful of fresh cilantro to mine and was floored by how good this simple combination was. Who would have thunk it.... pear cilantro. It's seriously a great combo! Here's what i did...
½ a Pear (I used a Bartlett) (Save the rest to top the salad with!)
About ¼ cup of fresh cilantro
½ tbsp lemon juice
1 tsp olive oil
pinch of salt
fresh ground black pepper
Put all ingredients in a blender. I used my bullet
which worked perfectly! If your blender is bigger you may have to add a bit of water to get it started.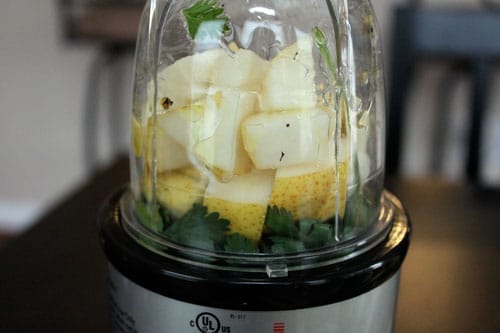 Top you favorite greens the the pear cilantro dressing to make a quick salad. I used a mix of arugula, perpetual spinach, turnip greens, lettuce, carrot for color and the rest of the pear cut into strips! Delicious!
My fear of mixing fruit and salads is gone forever. Between this and the red white and blue salad I'm in heaven!
Approx Nutritional Information per serving
Servings
Amt per Serving
1
Entire Recipe
Calories
Fat
Fiber
WWPs
92
5g
3g
old: 2
new: 3
Sugar
Sat Fat
Carbs
Protein
8g
1g
14g
0g