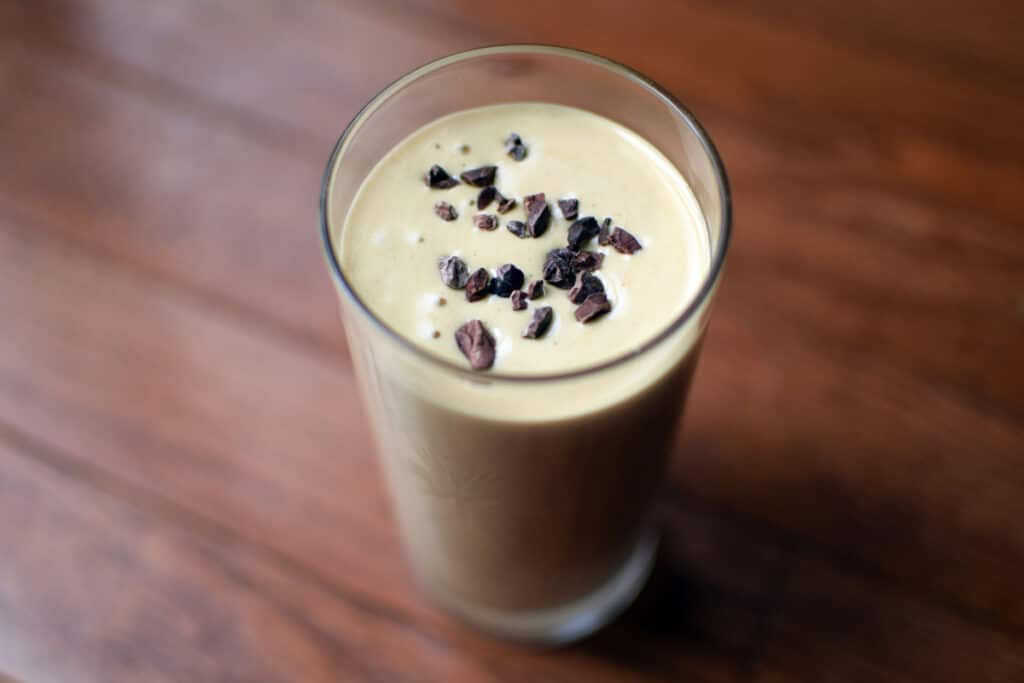 This Peanut Butter Protein Bliss Smoothie contains no actual peanut butter. Odd, I know, but I needed a way to cure my peanut butter cravings in a controlled, less-fat kind of way.
Because let's be honest, I can't be trusted with a jar of peanut butter.
I just can't.
And this week my PB cravings were off the charts. The 7-Year-Old requests a peanut butter (no jelly) sandwich almost every day for lunch, and I just couldn't take it anymore! So I made myself this smoothie a few days to help keep me from overdosing on actual peanut butter (which I have done many, many times before) and it hit the spot.
This morning I made it again and added a small sprinkle of cocoa nibs on top.
They made it much prettier to photograph and I loved the little crunch they added at the end.
In other news...
My mom is settling nicely in her new condo a mere half mile away.
My Father-in-Law is home and recovering well.
One of my passion projects may be coming to fruition. I've been interviewing at a local gym for a part-time personal trainer gig! I'm ecstatic!
I have quite a few balls in the air at the moment, but I've been feeling pretty fantastic lately.
📖 Recipe
Peanut Butter Protein Bliss Smoothie
This Peanut Butter Protein Bliss Smoothie lets you indulge in peanut butter with a boost of protein and none of the fat. Enjoy! 
Ingredients
1

frozen ripe bananas

115g

2

tablespoon

Peanut Butter Powder

12g (like this)

75

g

Egg Whites from the carton

like this

2

scoops unflavored whey

like this

2

g

cocoa nibs

like this
Instructions
Put all ingredients except the cocoa nibs in your blender or bullet.

1 frozen ripe bananas,

2 tablespoon Peanut Butter Powder,

75 g Egg Whites from the carton,

2 scoops unflavored whey

Blend until smooth.

Top with nibs.

Enjoy!
Notes
Always put the banana and egg white in the blender first so the powders don't stick to the bottom. 
If you don't need or want the protein you can sub the egg white for almond milk. It's still yummy!
Nutrition
Serving:
1
serving
Calories:
322
kcal
Carbohydrates:
34
g
Protein:
39
g
Fat:
5
g
Fiber:
6
g
Sugar:
18
g