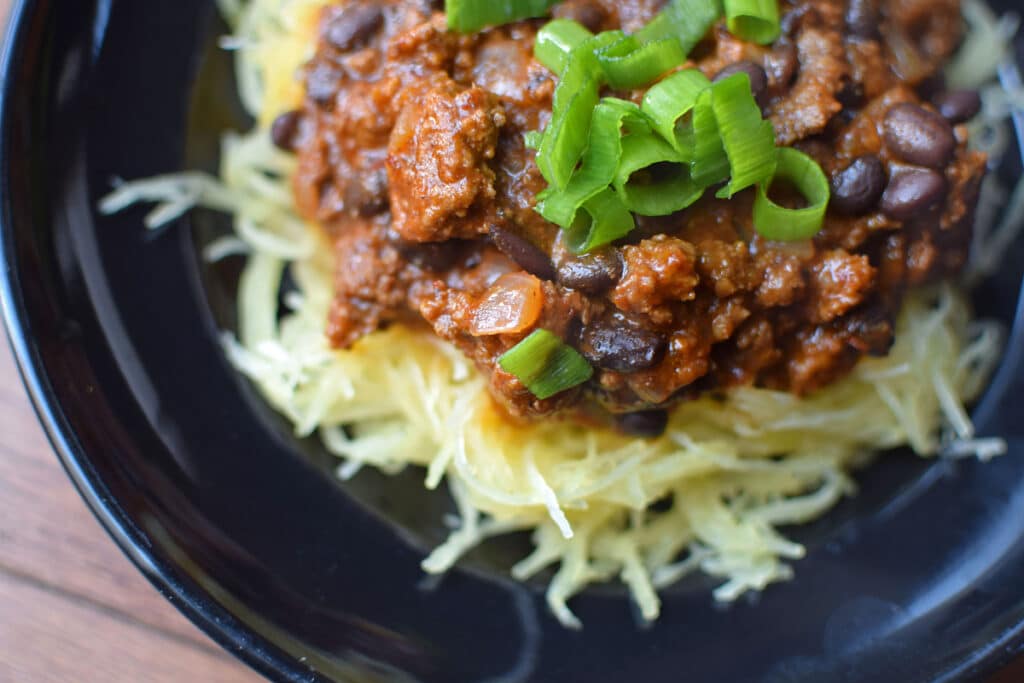 Jump to:
Peach Chipotle Chili with Black Beans is the easiest, tastiest chili you will ever make. Five ingredients.
Five!
Three of which may be in your pantry right now.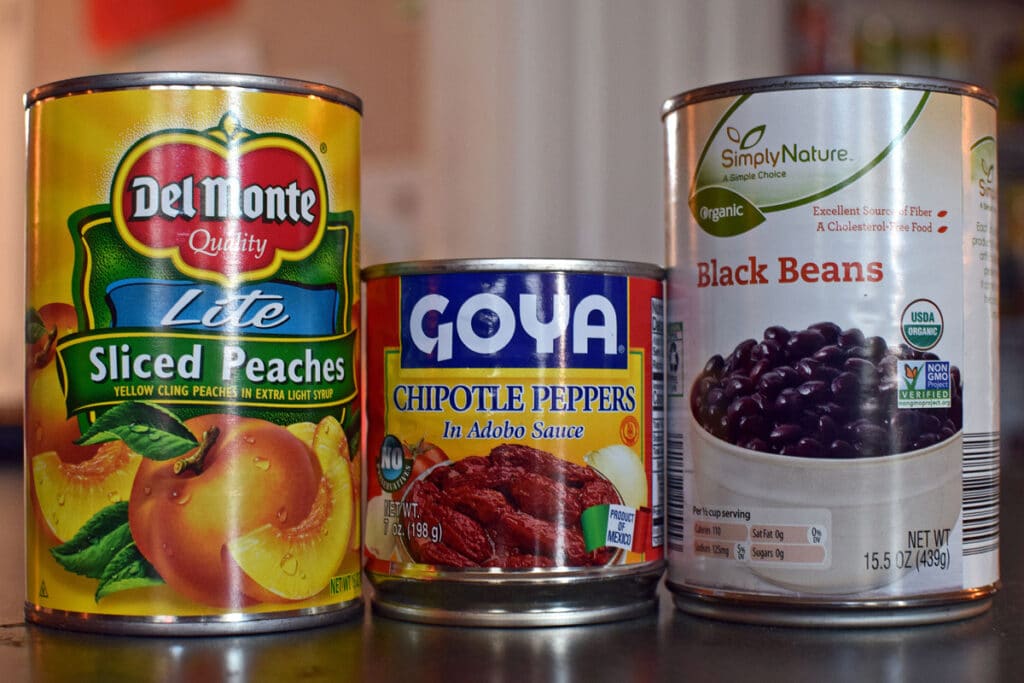 It's a cold and brutally windy day here in Maryland. When I got home from the gym this morning, I couldn't get the idea of a warm bowl of chili out of my head.
I haven't gone grocery shopping since last weekend, so I didn't have much to work with. Thankfully, frozen ground beef, onion and those three cans from my pantry were all I needed.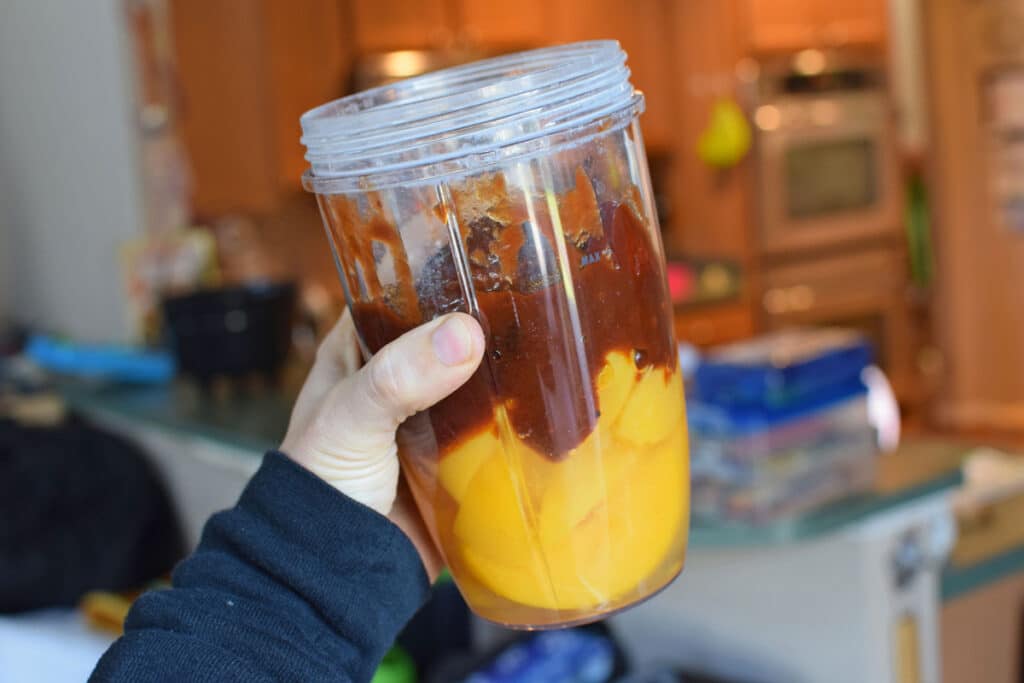 How did the family like it?
The Husband said it was the best chili I've ever made. Now, mind you, he NEVER likes my chilies--probably because they are more vegetables than meat. I usually can't help myself. Today, however, my hands were tied. I had nothing fresh in the fridge.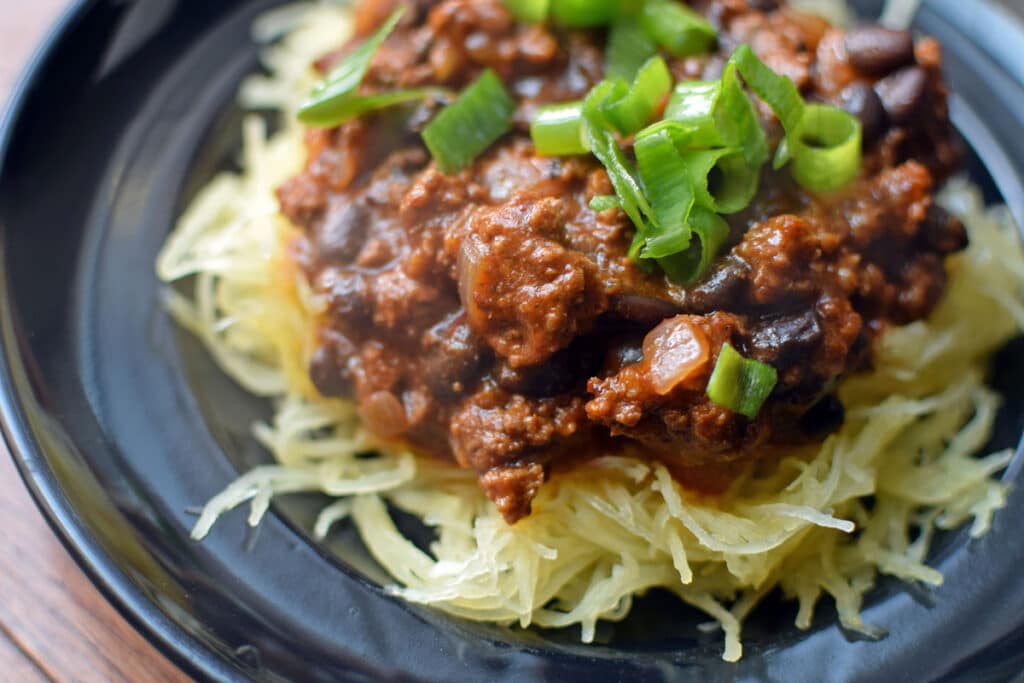 The 13-Year-Old enjoyed it as well. It was slightly too spicy for him, but he's starting to appreciate a little bit of heat. Unlike The Husband, he always likes my chili. He and I are kindred food spirits. The kid likes pretty much anything.
The 7-Year-Old? I didn't even bother. For starters, I knew it would be too spicy for him. Plus, he's still in that ew-it's-all-mixed-toegther stage.
Me? I could eat the hole, damn batch. That's how much I liked it. Especially over spaghetti squash with a pumpkin corn muffin on the side. It was the perfect meal on a cold, windy day.
(Pumpkin corn muffin recipe coming soon!)
Peach Chipotle Chili with Black Beans
Five ingredients and twenty minutes are all you need to make the this tasty, smoky, spicy chili. Try it over spaghetti squash and topped with fresh green scallions.  
Ingredients
21.44

oz

Ground Beef

1

onion chopped

150g

1 15

oz

can of peaches in light syrup

drained

1 7

oz

can of chipotle peppers

1 15.5

oz

can of black beans drained and rinsed
Instructions
Brown the ground beef with the onion and a pinch of salt.

21.44 oz Ground Beef,

1 onion chopped

While the meat is browning, puree the peaches and chipotle peppers together to make the sauce.

1 15 oz can of peaches in light syrup,

1 7 oz can of chipotle peppers

Once the meat is browned, add the sauce and black beans. Bring everything to a slow boil over medium heat and then lower to a simmer. Let cook for at least 10 minutes.

1 15.5 oz can of black beans drained and rinsed
Notes
An odd amount of beef, I know, but that's what the package I bought weighed. A pound or a pound and a half would be fine. It just may be a more "saucy" if you use less. 
If you are worried about the heat, puree only the peppers with the peaches and not the sauce in the can. I puree the entire contents of the chipotle peppers because I wanted the heat. Skipping the sauce would tone it down a bit. 
If you do want to add more veggies, some diced bell or poblano peppers would be a great addition! 
Update: I now add a bit of tomato paste to deeped the flavor even more, especially when I have some time to let it simmer. Yum!
Nutrition
Serving:
1
cup
Calories:
328
kcal
Carbohydrates:
25
g
Protein:
21
g
Fat:
16
g
Fiber:
6
g
Sugar:
12
g