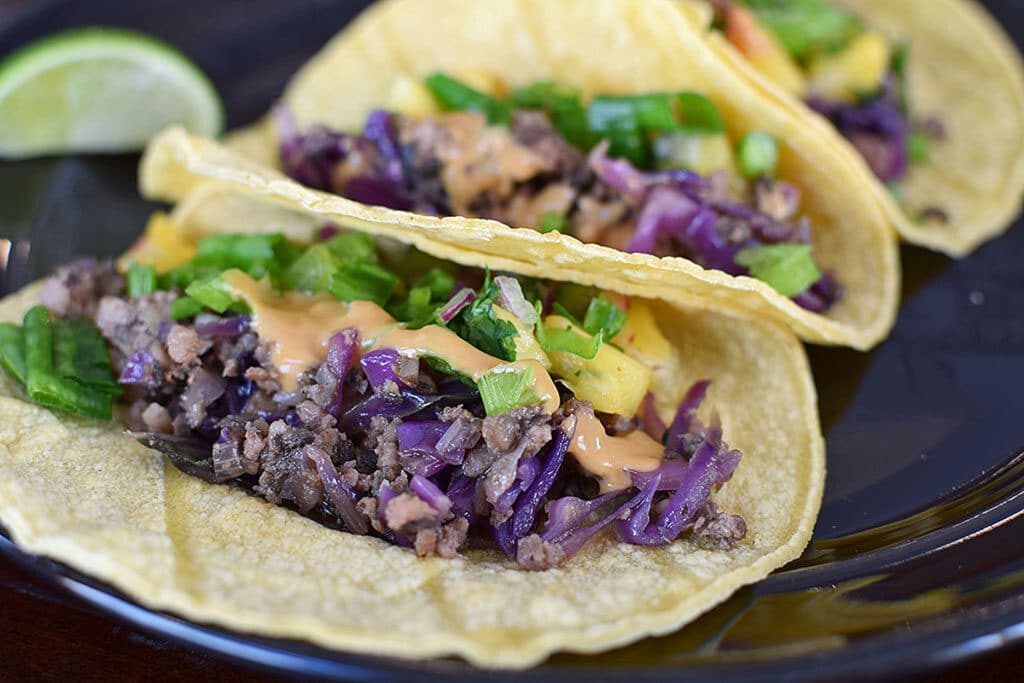 Have I ever told you the story of how Hello Fresh turned my husband into a cook?
Well, I'm not sure he'd describe himself as a cook but he, the man who could barely boil water two years ago, now cooks so, umm, yea... he's a cook.
See, when I went back to a traditional 9-5 after working for myself for years, we had a little talk. There was no way I was going to get home after 5 p.m. every night and still get dinner on the table in time. He needed to step up and get over his fear (or rather inexperience) of cooking. So we decided to try one of those boxed dinner plans that come with all the ingredients and recipes. We tried a few (Hello Fresh was our first and ended up being our favorite), and I watched his confidence in the kitchen grow over the course of a few months. It was amazing, inspiring even. He went from zero interest in cooking to helping meal plan and even picking recipes out of books to prepare.
I never thought I'd see the day. We don't use the boxed plans anymore because they got a little expensive and monotonous, but I will forever be thankful to them for teaching The Husband how to cook.
Okay, you may be wondering why the long intro for these tacos. Well, these tacos are my spin on one of our favorite Hello Fresh meals, Moo Shu Pork Tacos. I added the pineapple salsa and changed a few of the ingredients to use what I could find in the grocery store.
The 13-Year-Old requests these tacos every few weeks and I'm thrilled to oblige. The Husband is a fan, and I could eat this type of meal daily. It's fresh, loaded with vegetables, and just downright delicious.
As usual, it's the 7-Year-Old who could take or leave it. He'll humor me by putting a bit of the meat on a shell with some shredded cheese, but that's about it. The pineapple salsa is a no-go since the kid pretty much hates fruit and there's no way he's adding any kind of sauce to anything.
Sigh.
I'm still holding out hope that one day he'll join us in our love of good food. I mean look at these things!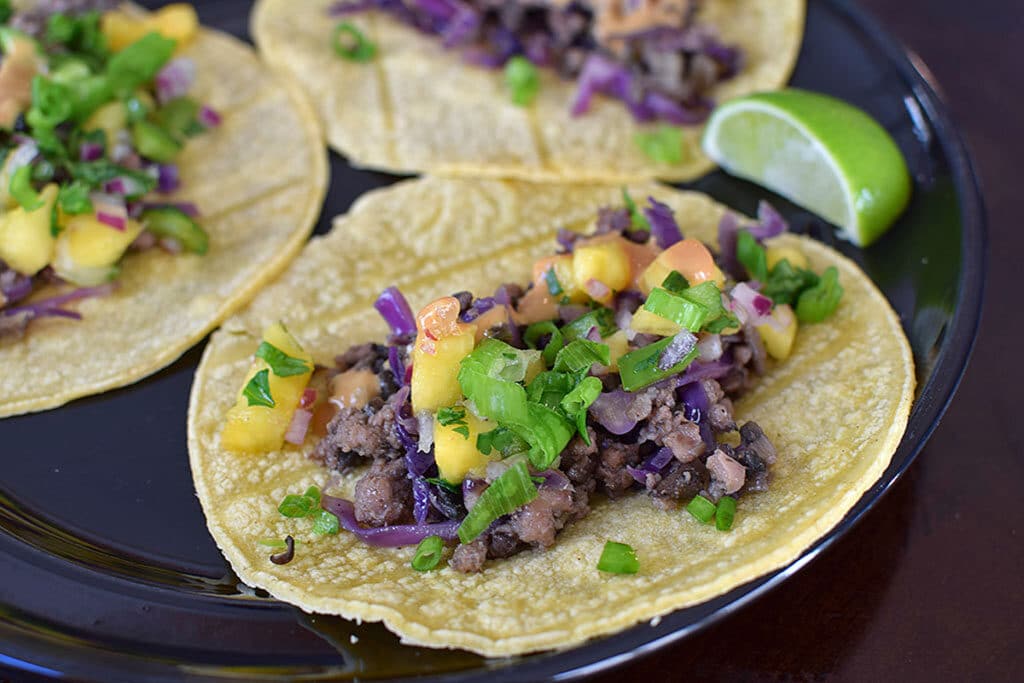 Hey, if The Husband can start cooking anything is possible.
Moo Shu Pork Tacos with Pineapple Salsa
Moo Shu Pork Tacos! mix up Taco night with these tasty pork and cabbage tacos. They are fresh, tasty and chock-full of veggies!
Ingredients
Pineapple Salsa
1

cup

pineapple diced

~200g

1

bell pepper diced

red is my fav when we have them

½

minced red onion

handful of fresh cilantro

7g

juice of 1 lime

pinch

of salt
Pork and Veggie filling
1

lb

ground pork

1

tbsp

ground ginger

2

tsp

garlic powder

5

Scallions

8

oz

shredded red cabbage

around ½ head

8

oz

baby portobello mushrooms finely chopped

2

tbsp

Soy Sauce
Hoison Drizzle
1

tbsp

Hoisin Sauce

1

tbsp

non-frat greek yogurt

~2 tsp water
Instructions
Prepare the pineapple salsa by mixing all the ingredients in a small bowl. Place in the fridge to chill and give the flavors time to merge.

1 cup pineapple diced,

½ minced red onion,

handful of fresh cilantro

Slice the scallions, separating the green and white parts. Set aside.

5 Scallions,

1 tbsp non-frat greek yogurt

Shred the cabbage if needed and chop up the mushrooms small. Set aside.

8 oz shredded red cabbage,

8 oz baby portobello mushrooms finely chopped

Heat a large skillet over medium-high and begin to brown the pork with the scallion whites, ginger and garlic. Once the meat is broken up, add the mushrooms and cabbage with a pinch of salt and pepper. Continue to cook, tossing and mixing everything up until the meat browns totally and the moisture comes out of the veggies reducing in size about half, about 10-15 minutes.

1 bell pepper diced,

1 tbsp ground ginger,

2 tsp garlic powder,

5 Scallions,

pinch of salt

While the meat and veggies are cooking, make the hoisin drizzle by combining yogurt and hoisin sauce until smooth. Add a tsp of water at a time until it reaches the desired consistency.

1 tbsp Hoisin Sauce,

~2 tsp water

Stir soy sauce into the pork and cook for about 5 minutes or so allowing the moister to evaporate. Serve on your favorite tortillas (I like corn, the boys like flour) by adding the pork mixture and topping it with the pineapple salsa, hoisin drizzle, the green tops of the scallions and a squirt of lime juice.

1 lb ground pork,

2 tbsp Soy Sauce,

juice of 1 lime

Enjoy!
Notes
We usually get about ten tacos out of this at least, but it really depends on the size of your tortillas. I split the meat into quarters and just top accordingly. Since the 7-Year-Old isn't the biggest fan, I sometimes get a bowl of the leftovers for lunch the next day.
If you don't have red onion, you can mix the green scallion tops in the salsa, and it works just as well. I've done this a few times in a pinch.
The nutritional information is for ¼ of the recipe. It does not include the tortillas.
Nutrition
Calories:
393
kcal
Carbohydrates:
20
g
Protein:
24
g
Fat:
25
g
Saturated Fat:
9
g
Polyunsaturated Fat:
2
g
Monounsaturated Fat:
11
g
Trans Fat:
0.003
g
Cholesterol:
82
mg
Sodium:
659
mg
Potassium:
902
mg
Fiber:
4
g
Sugar:
11
g
Vitamin A:
1747
IU
Vitamin C:
95
mg
Calcium:
74
mg
Iron:
3
mg