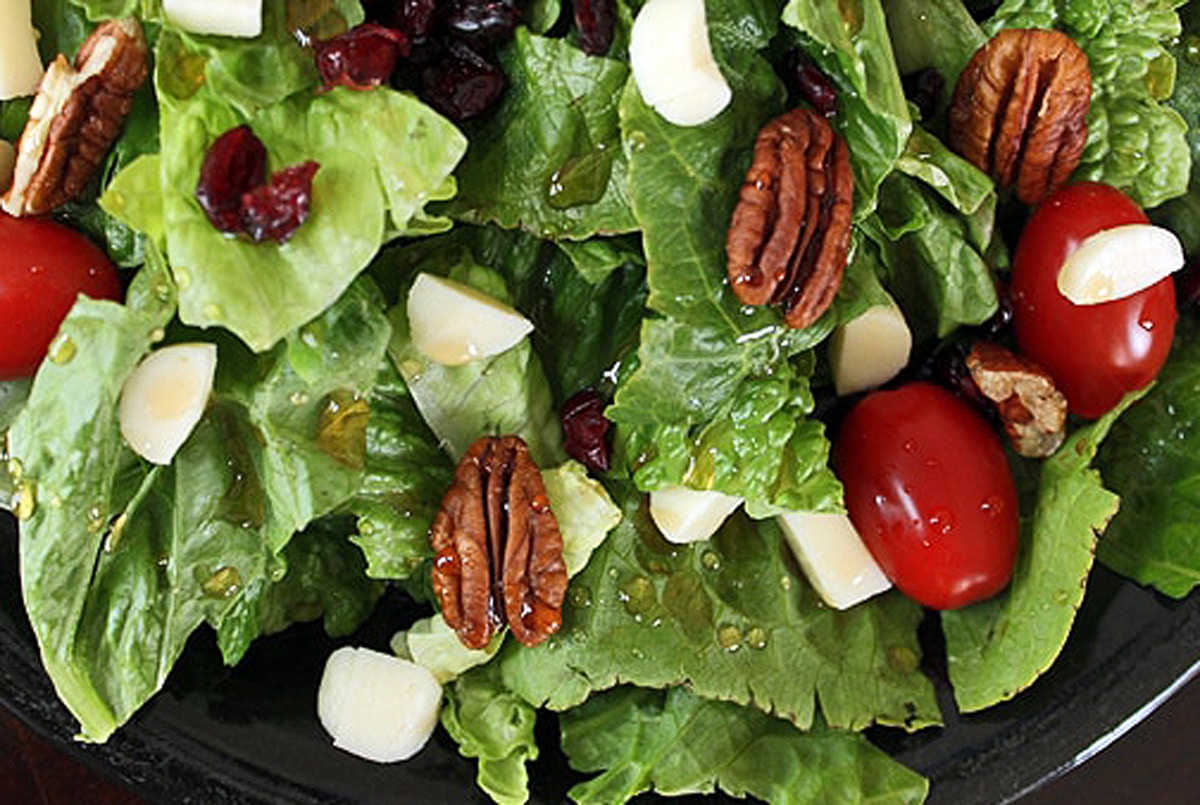 This will be my last maple syrup idea for a while, I promise!
I just came home from Vermont so inspired with my big ol' jug and it's so darn good!
This salad came out way better than I thought because honestly, there's nothing to it!
The idea is so easy and tasty, I didn't even miss "traditional" dressing. Using a little maple syrup brings together the cheese, pecans and cranberries so well. Just like the honey did on my My Certosa-Inspired Cabbage Salad.
Oh! And speaking of cheese, I was so excited to see my local Walmart carrying the gouda!
It's one of my favorites and another reason this salad happened. It goes so fabulously with pecans and dried cranberries. Just a super combo if you ask me.
Here's what I did, and yes, I realize maple syrup on a salad sounds, well, weird but I'm telling you, this was GOOD! Really. All it took was the tinniest little drizzle.
Ingredients
About 3 cups of a romaine salad mix or lettuce of your choice
8 grape tomatoes
½ oz (14g) pecans
½ oz (14g) dried cranberries
½ tablespoon (10g) maple syrup
Instructions
Pile the lettuce and tomatoes on a plate.
Cut the Mini Babybel into small chunks.
Top the lettuce with the cheese, pecans and cranberries.
Drizzle with the syrup!
Enjoy!
It really can't get much easier than that!
Disclosure: I've partnered with The Laughing Cow. Click here for more info and click here to see all my ideas using the Laughing Cow!
Maple Salad with Gouda, Pecans and Dried Cranberries
Upgrade your salad game with this flavorful combination of maple dressing, gouda cheese, pecans, and dried cranberries.
Ingredients
About 3 cups of a romaine salad mix or lettuce of your choice

8

grape tomatoes

1

Mini Babybel Gouda

½

oz

14g pecans

½

oz

14g dried cranberries

½

tablespoon

10g maple syrup
Instructions
Pile the lettuce and tomatoes on a plate.

About 3 cups of a romaine salad mix or lettuce of your choice,

8 grape tomatoes

Cut the Mini Babybel into small chunks.

Top the lettuce with the cheese, pecans and cranberries.

½ oz 14g pecans,

½ oz 14g dried cranberries

½ tablespoon 10g maple syrup
Nutrition
Calories:
293
kcal
Carbohydrates:
23
g
Protein:
12
g
Fat:
19
g
Saturated Fat:
6
g
Polyunsaturated Fat:
4
g
Monounsaturated Fat:
8
g
Cholesterol:
34
mg
Sodium:
275
mg
Potassium:
755
mg
Fiber:
6
g
Sugar:
16
g
Vitamin A:
2403
IU
Vitamin C:
27
mg
Calcium:
284
mg
Iron:
2
mg