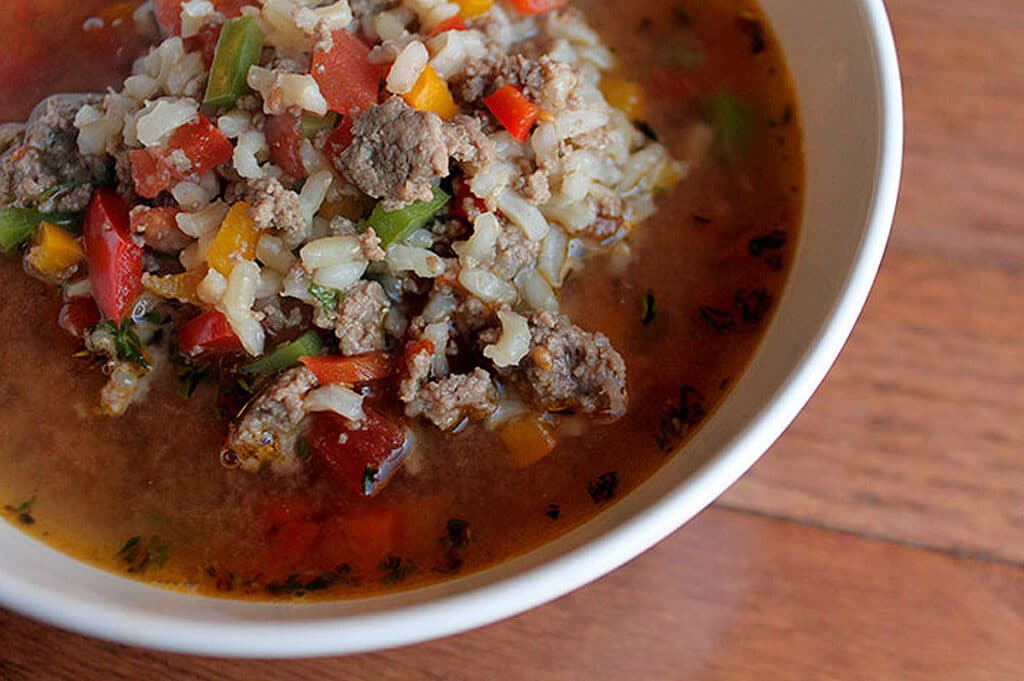 Hey! Remember me?
I can't believe how long it's been since I posted. Some times I really miss the old bogging days, but if I'm frank, I'm just too busy to think about it at the moment.
Teaching full time at Community College is more than a time-consuming job. It's sometimes emotionally and intellectually draining. I interact with so many people during the day that need something from me, so when I get home, disconnecting is necessary. Plus, the kids, the ages they are, need a whole different kind of attention, which I also find exhausting.
But anyway, enough complaining! I love my job and my kids! So if my biggest complaint is not having enough time to do more things I love, well, it could be worse (side note: this is a favorite book in our household).
I am a little backlogged on old recipe requests, so I decided to repost this one today. I also recently hosted another dinner party, which I hope to share soon. I just need to gather the photos. I swear I'm cooking more than I ever have! We rarely eat out anymore. Instead, I invite people over and cook for them. It's such a fun, creative outlet for me.
Anyway, here you Lyndz. So sorry for the delay!
The following was originally posted in January 2015 when I was following a Low-FODMAP to help with some IBS issues I was having.
Staying away from high-FODMAP foods is a challenge, to say the least! I'm slowly figuring things out, but I feel like my vegetable consumption has tanked as all my favorites are on the list. Well, all my favorites except bell peppers!
I had this idea for a stuffed pepper stew of sorts for some time, hoping it would be a one-pot meal I could actually get the family on board with. They were unimpressed. Not bad… yada yada… I'll say it again. They're all crazy! It's a pot of meat and peppers, what's not to love?
I would have enjoyed it tons more IF I could have flavored it with lots of onion and garlic, but both of them are no-no's on the Low-FODMAP diet because of their fructan content. I really hope I can figure out what's triggering my IBS so I can start to test and reintroduce some of these foods into my diet. I mean, what's a meal without onion and garlic?!
Anyway, I figured I'd start to share my low-FODMAP ideas. Of course, you can add back in the good stuff if you want, but this dish did come out quite delicious as is. Here's what I did…
📖 Recipe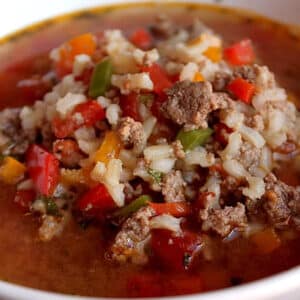 Low-FODMAP Style Stuffed-Pepper Soup
Low-FODMAP Style Stuffed-Pepper Soup is a simple, filling, delicious bowl of happiness on a cold day. 
Instructions
Brown the beef in a soup pot. Once you no longer see pink, add the peppers, thyme, rosemary, parsley and red pepper flakes. Toss everything together to combine and bring out the flavors.

1 lb ground grass-fed beef,

3 bell peppers,

½ teaspoon dried thyme,

½ teaspoon dried rosemary,

½ teaspoon dried parsley,

¼ teaspoon red pepper flakes,

15 oz can of diced tomatoes

Add the broth and bring to a low boil. Add the rice and lower to a simmer.

2 cups cooked brown rice,

4 cups beef broth

That's it!
Notes
Ground turkey would easily work in this instead of beef!
I used a few multicolord peppers for this. Any colors work.
I used homemade broth in this so I could make it without onion and garlic. 
This dish came out super light for the serving size. Two cups is quite filling!
Nutrition
Serving:
2
cups
Calories:
350
kcal
Carbohydrates:
36
g
Protein:
31
g
Fat:
9
g
Fiber:
4
g