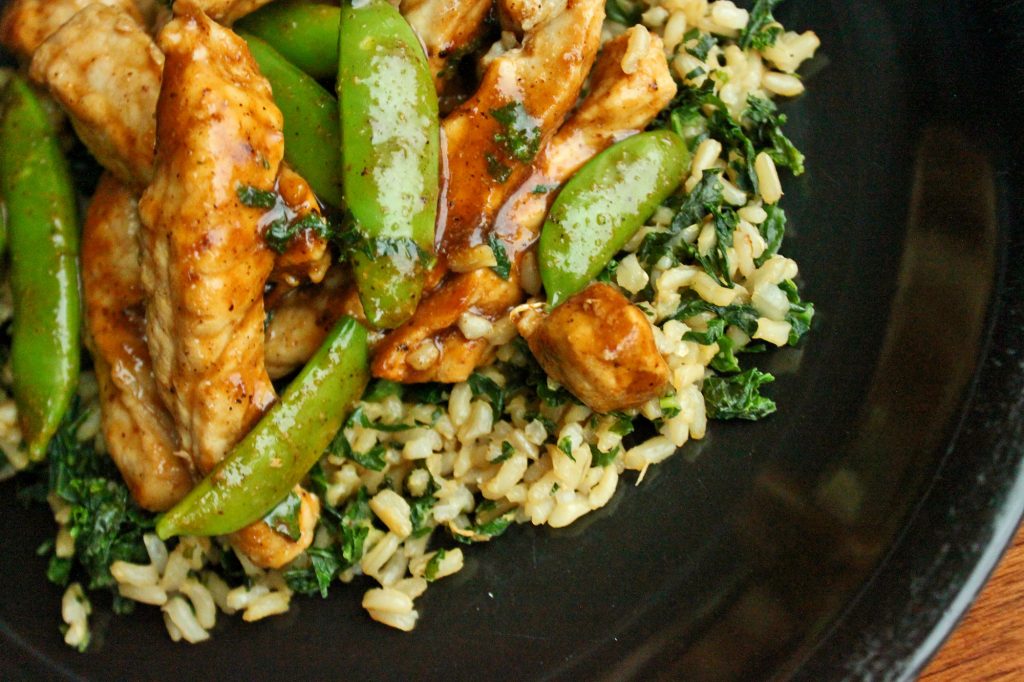 Originally Posted June 2012
Yesterday was frantic farm day. Ryan gets off the bus at 3:40. Swim class is 4:30 then straight to the farm to pick up our share. As if that was hectic enough, we had storms rolling in and tornado warnings. Thankfully we just beat the monsoon and got our share without getting soaked.
I had defrosted pork chops so I decided to whip something up. It was late. The baby was grumpy. The kitchen was a mess. By far not an ideal cooking situation, but I forged on with a simple idea to make a stir fry-like type of dish with the fresh ingredients we just picked up.
I was a little worried what The Boys would think until The 7-Year-Old came over while I was photographing and said, "Oh My! That looks GOOD! Can we eat now?"
That made my decision to forge ahead with dinner and not just order a pizza all worth it!
They had nothing but good things to say about this meal. The Husband said the pork could have used a bit more soy sauce but that was it. They both ate without complaint and so did the baby! It was nice.
I loved it, but I'm biased. I like almost everything cook. I don't think the rice would have stood on its own but served with the pork and sugar snap peas? Perfect!
Here's what I did…
Print
Garlic Pork with Sugar Snap Peas Over Kale Ginger Rice
Yield 4 servings
Garlic Pork with Sugar Snap Peas Over Kale Ginger Rice is a fast, tasty, simple, mid-week, meal the whole family will love! 
Ingredients
Garlic Pork with Sugar Snap Peas
1 lbs boneless pork chops trimmed and cut into strips
1 tbsp garlic powder
Kosher Salt
1 tbsp corn starch
½ cup of water
1 tbsp of Soy Sauce
1-2 cups Sugar Snap Peas
Kale Ginger Rice (see below)
Kale Ginger Rice
½ lb Kale Leaves with stems removed and chopped small
1 tbsp of water
2 cups of cooked brown rice (I used the 90 second microwave kind)
1 inch chunk of ginger root frozen
2 tbsp soy sauce
Instructions
Cut the pork chops in small strips and toss with the garlic powder and salt to coat. Set aside.
Heat a large skillet over medium-high heat and spray with non-stick cooking spray. Add the garlic coated pork and brown. Some of the garlic will stick to the bottom of the pan, that's ok. We will be deglazing to get all that flavor up.
While the pork is browning whisk the corn starch, water and soy sauce together.
Once there is no more pink visible on the pork, add the sugar snap peas and cook for 1-2 minutes. Add the corn starch/soy sauce mixture and toss everything scraping the bottom to get all the brown bits. It should immediately start to thicken. If it gets too thick, add a splash of water.
Lower everything to a simmer and prepare the Kale ginger rice.
To prepare the rice, spray a non-stick skillet with non-sticking cooking spray and pre-heat over medium-high heat. Add the kale and water. This will help it wilt a bit.
Once the kale deepens in color and the water evaporates (1-2 minutes) add the rice and mix everything together.
Grate the frozen ginger root into the skillet and mix in the soy sauce.
Served a scoop of the rice with a scoop of the Garlic Pork with Sugar Snap Peas on top.
Notes
We had no leftovers of this meal. The husband went nuts for the pork and ate it all. 
I no longer thicken with cornstarch. My new go-to is Besan (chickpea) flour. I find it thickens even better! I use it for all my gravies now. 
Courses Dinner
Cuisine Any
Nutrition Facts
Serving Size ¼ of the pork and ¼ of the rice
Amount Per Serving

Calories 300

% Daily Value

Total Fat 4 g

6%

Total Carbohydrates 37 g

12%

Dietary Fiber 4 g

16%

Sugars 3 g

Protein 31 g

62%
* Percent Daily Values are based on a 2,000 calorie diet. Your daily values may be higher or lower depending on your calorie needs.