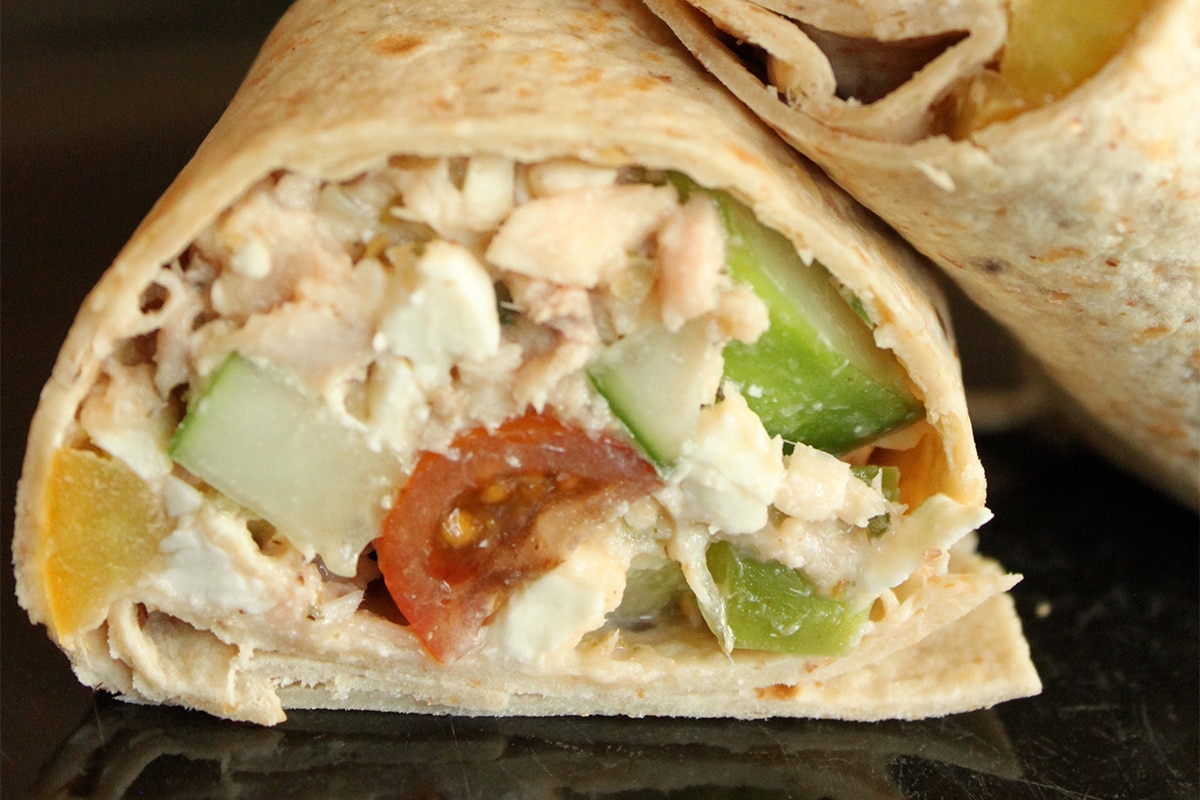 OK, don't stone me for this but I HATE tuna salad. I never order it. Ever. I think it's gross and totally disgusting. Not because of the tuna but because of the mayonnaise. I've never been a fan of mayo, even when I was a kid. Once I saw someone make it in a demonstration (blending oil and egg together) and it sealed the deal for me forever. No mayo thank you very much, I'll stick with mustard.
But I really do like tuna. As I was rummaging through my fridge/pantry wondering what I was going to make last night, I came across a can. I also just happened to get my new shipment of feta from Athenos. A light bulb went off!
What if I make tuna salad with feta instead of mayo?! I had this great Lemon Garlic Oregano flavor that would be perfect with tuna. So I chopped some veggies and gave it a shot.
SO glad i did! This was totally delicious, light and super easy. I really felt like I was eating something from the deli. It made a great summer wrap but you could top a bed of greens with it or even eat it straight up.
This is how I made it but you may want to add some onion. I'm not the biggest fan of raw onion so I tend to forget about it for salads, but even I think a bit of chopped red onion would be great in this!
If you can't find the Lemon, Garlic & Oregano Feta, don't fret, just bump up the lemon juice and oregano to make up for it. You could even add a sprinkle of garlic powder.
Ingredients
1 5oz chunk light tuna packed in water, drained
¼ cup (34g) Athenos Lemon, Garlic & Oregano
About ½ cup chopped cucumber
About ½ cup halved grape tomatoes
About ½ cup chopped bell pepper
2 teaspoon lemon juice
½ teaspoon dried oregano (or more to taste)
Instructions
Combine all ingredients.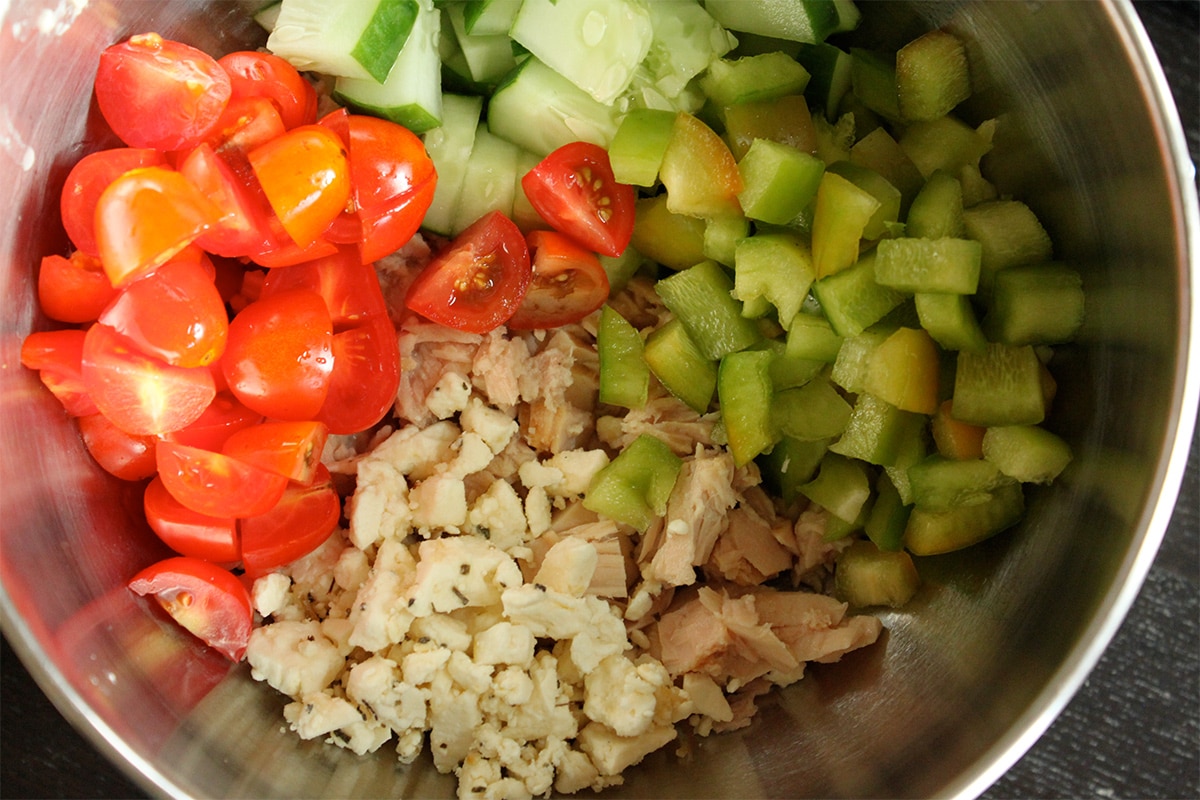 It doesn't get any easier then that!
Here's what half the recipe looked like on my wrap. I'd say it was about a cup but I didn't really measure it. I just eyeballed half and enjoyed the wrap last night for dinner.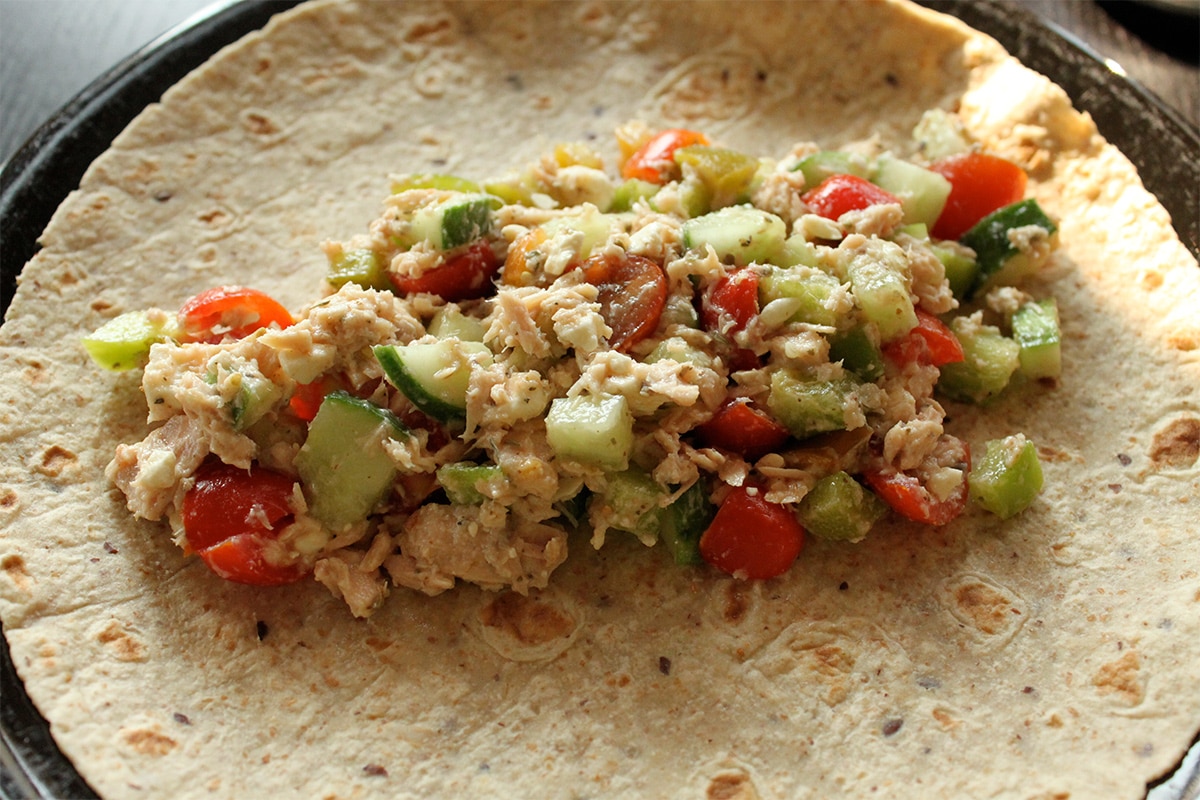 I just made the other half and had it for lunch. It's totally good the next day, if not better. 🙂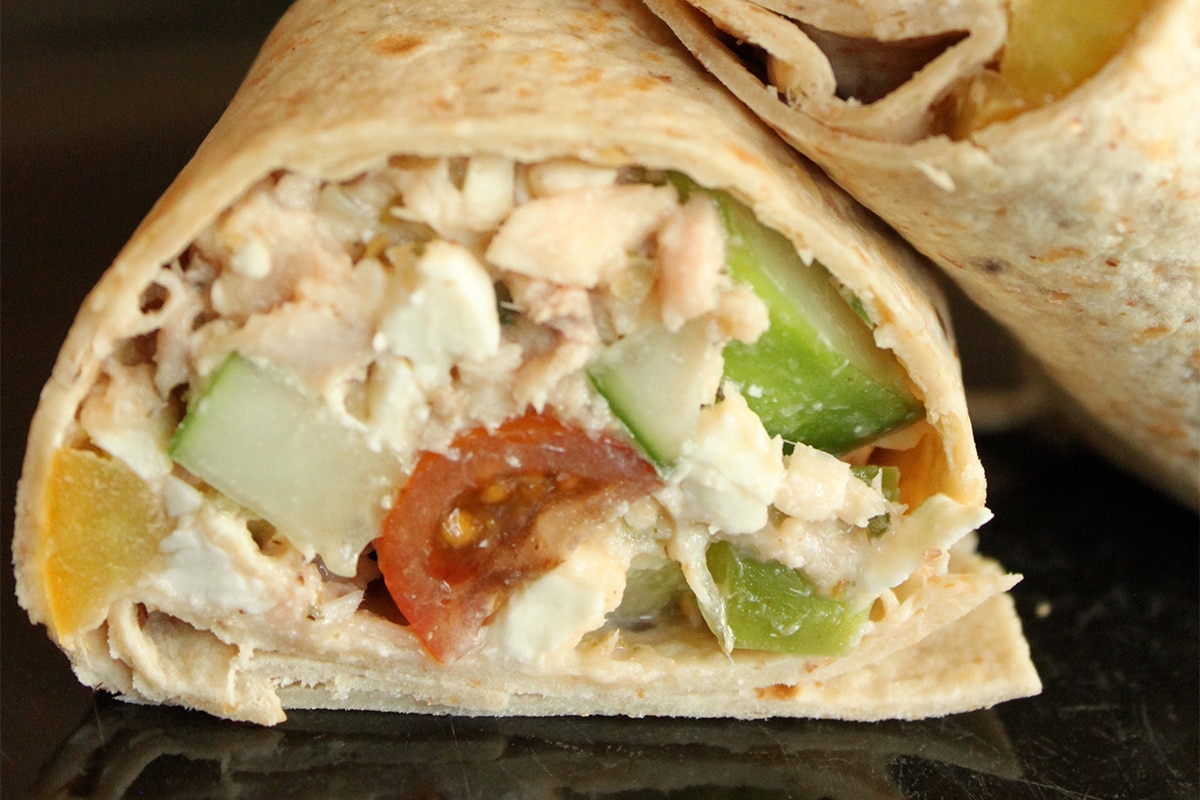 Here's the nutritional information for just the salad, no wrap
FULL DISCLOSURE: I have partnered with ATHENOS Feta to serve as one of ATHENOS Change for the Feta Bloggers. I am compensated for my time commitment to the program, which includes blogging about my cooking experiences with ATHENOS Feta. I have also been compensated for the food purchased for my Change for the Feta creations. However, my opinions are entirely my own and I have not been paid to publish positive comments. Click here to see all my Feta Ideas!!
📖 Recipe
Garden Tuna Salad With Feta
Say goodbye to boring salads with this delicious garden tuna salad with feta. Packed with flavor and nutrients, you won't be disappointed.
Ingredients
1 5

oz

chunk light tuna packed in water

drained

¼

cup

34g Athenos Lemon, Garlic & Oregano

About ½ cup chopped cucumber

About ½ cup halved grape tomatoes

About ½ cup chopped bell pepper

2

teaspoon

lemon juice

½

teaspoon

dried oregano

or more to taste
Instructions
1 5 oz chunk light tuna packed in water,

¼ cup 34g Athenos Lemon, Garlic & Oregano,

About ½ cup chopped cucumber,

About ½ cup halved grape tomatoes,

About ½ cup chopped bell pepper,

2 teaspoon lemon juice,

½ teaspoon dried oregano
Nutrition
Calories:
107
kcal
Carbohydrates:
8
g
Protein:
17
g
Fat:
1
g
Saturated Fat:
0.2
g
Polyunsaturated Fat:
0.3
g
Monounsaturated Fat:
0.1
g
Cholesterol:
31
mg
Sodium:
191
mg
Potassium:
410
mg
Fiber:
2
g
Sugar:
4
g
Vitamin A:
1564
IU
Vitamin C:
70
mg
Calcium:
41
mg
Iron:
2
mg