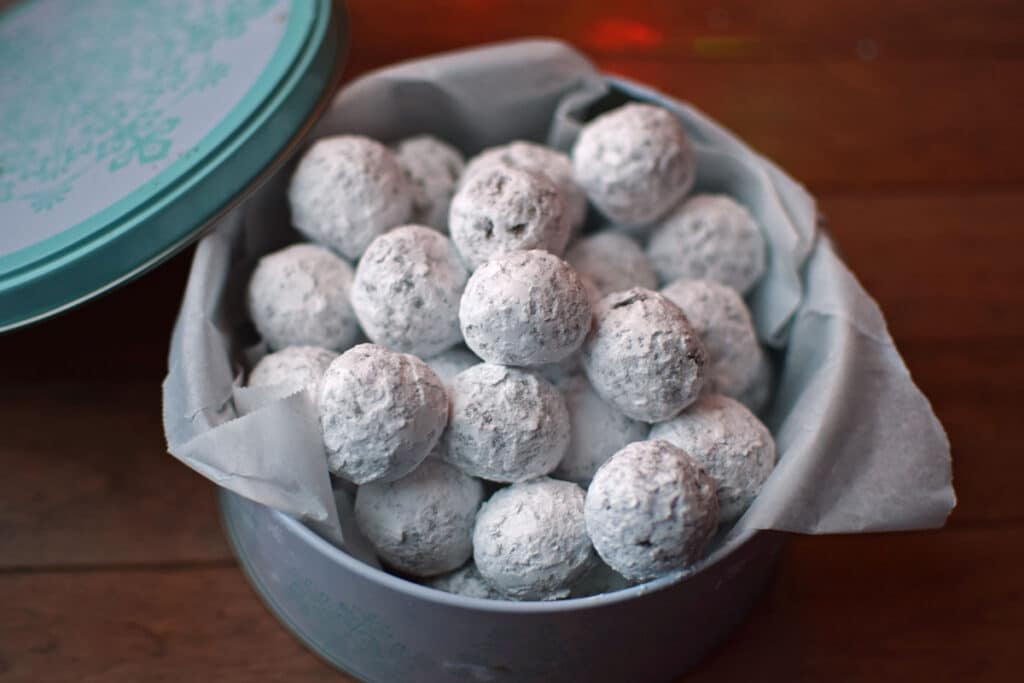 Hey guys! I'm so happy to be back. I'm sharing this recipe from my old iMac which recently experienced a complete hard drive failure or should I say, I recently experienced complete devastation, losing nearly four years of data!
Thankfully, I was able to salvage most of my photos, but I lost all backups of my old websites and recipes. So, if you've recently emailed me requesting one, my apologies. I haven't responded to anyone in over a month!
That said, my old server admin was able to recover an additional backup, so I hope to have access to all those old recipes shortly.
Of course, this couldn't have happened at a better time with Christmas looming and final grades being due at the college, but all is well. I can't complain. It was my fault for getting lax on my computer maintenance and backup routines.
Anyway, enough boring excuses as to why I haven't posted, I'm excited to share this simple cookie idea just in time for the holidays!
I modified a recipe I found in this old cookie cookbook which I love.
As per my M.O., I couldn't leave the recipe alone. I reduced the sugar, added a splash of extract to intensify the almond flavor, measured out the powdered sugar and weighed the cookie balls so I could calculate the nutritional information with more precision.
I love how simple these cookies are. They only take a few minutes to pull together so you could make them in a pinch for company or that cookie exchange part at the office.
And with no flour or butter, they are gluten and dairy free! Not that I set out to make them that way. They just are.
📖 Recipe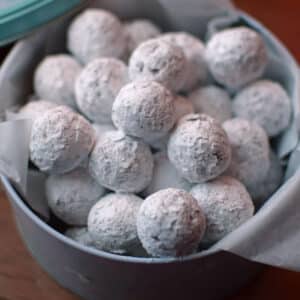 Cinnamon Almond Snowball Cookies
Cinnamon Almond Snowball Cookies are soft on the inside with a warm, almost gooey, cinnamon center. Gluten-free, dairy-free and only six ingredients! 
Instructions
Preheat the oven to 350 degrees

Prepare a cookie sheet with nonstick spray or cover in a layer of parchment.

Mix together the almond flour, sugar, and cinnamon. Set aside.

1 ½ cups almond flour,

1 tablespoon ground cinnamon,

¼ cup granulated sugar,

20 g powdered sugar

In another bowl, beat the egg white until they stiffen. You should get peaks when you pull the beaters out.

Fold the almond mixture into the egg whites and add the extract. Once incorporated it will make a fairly firm dough.

¼ teaspoon almond extract

Roll the mixture into balls around 10g each. You should get about 27 cookies.

Bake for about 12 minutes. The cookie balls should be firm to the touch but with soft, almost gooey insides.

Let the cookies completely cool. Then add the powdered sugar to a plate and roll the cookie balls around it until covered.

Serve!
Notes
Store these in an airtight container, they will harden after a few days. 
These can be frozen for later use! 
These aren't super light, per se, but they have a pretty good balance of macros. I like trying to make things that have at least some nutritional value and these are cookies are basically sweetened almonds. Plus, they are super fun for the holidays.
Nutrition
Serving:
3
cookies
Calories:
156
kcal
Carbohydrates:
12
g
Protein:
6
g
Fat:
10
g
Fiber:
2
g
Sugar:
9
g