Happy Post-Thanksgiving everyone!
This year was initially a little somber for us after finding out my Father-In-Law needed open heart surgery right before Thanksgiving. I'm happy to report the surgery went well and he is headed home from the hospital tomorrow.
We are feeling extra special thankful about that!
Anyway, Thanksgiving dinner turned out fabulous. Every year I get more confident, and things go more smoothly. I have this meal down pat!
My favorite thing to do during clean-up is to make stock.
My mom gifted me her ginormous pot after she moved which made this process so much easier. I covered the turkey carcass with water, added two onions, a head of garlic, the hearts of all my celery, two carrots, peppercorns, salt and let it simmer for 24 hours.
Then I strained the stock and chilled it overnight allowing me to remove the layer of fat in the morning.
A third of the stock went in my freezer for future use, a third went to my mom and the rest I used for this soup that came out delicious!
I usually make chicken noodle for the kids, but I end up eating most of it so this year I made it how I like it, with quinoa.
The texture is just so fun, and I love how it continues to soak up the broth, turning it almost stew or porridge-like. I added all the traditional chicken noodle soup ingredients, and it warms my soul on all these cold, damp days we've been having.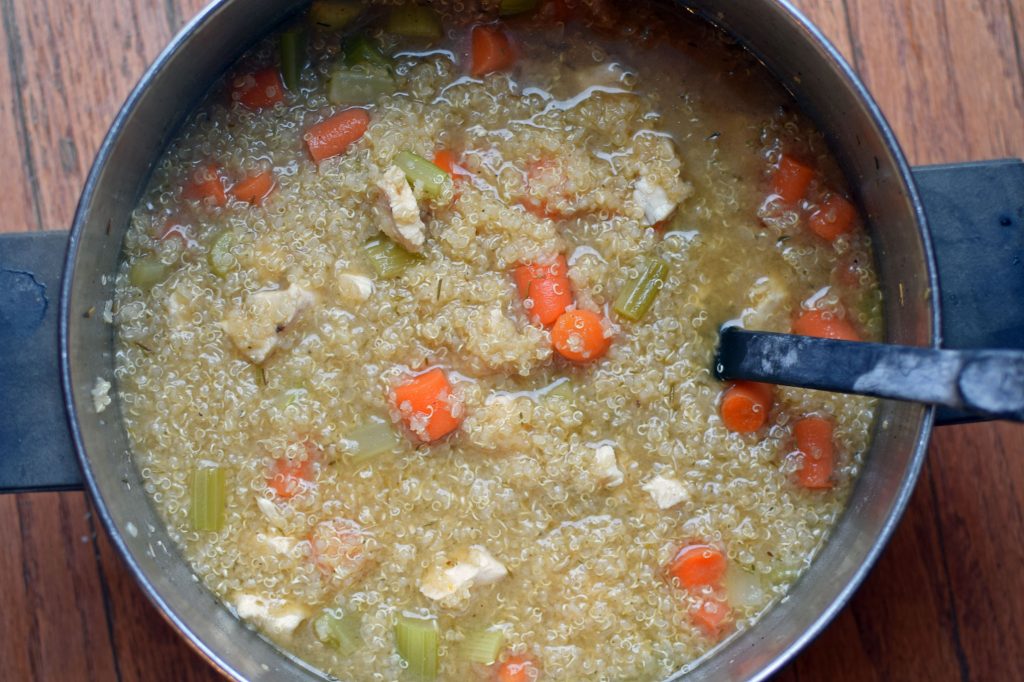 Here's what I did...
Print
Chicken and Quinoa Soup
Yield 15 cups
I ditched the noodles for quinoa in this homemade chicken soup. It still warms the soul just like Grandma's did but with a slightly more fun texture. 
Ingredients
12 cups broth/stock
2 cups uncooked quinoa
2 chicken breast cut into bite-sized pieces
~1 cup chopped celery
~1 cup chopped carrots
2 tsp poultry seasoning
1 tsp dried thyme
1 tsp dried rosemary 
salt to taste
Instructions
Bring the broth and quinoa to a boil, then cover and simmer for 15 minutes.
Add the remaining ingredients. Continue to simmer uncovered until carrots soften to your liking.
Enjoy!
Notes
I'll be honest, I didn't really measure my carrots and celery. Add as much or as little as you like. It's carrots and celery! 
I really enjoy this with some freshly grated parmesan cheese on top. 
Calculating Nutritional Info with homemade stock is a guessing game. I just used a generic stock entry in MFP to estimate. It's all I really can do. 
Courses Lunch, Dinner, Soup
Cuisine American
Nutrition Facts
Serving Size 1 cup
Amount Per Serving

Calories 138

% Daily Value

Total Fat 2 g

3%

Total Carbohydrates 20 g

7%

Dietary Fiber 2 g

8%

Sugars 2 g

Protein 10 g

20%
* Percent Daily Values are based on a 2,000 calorie diet. Your daily values may be higher or lower depending on your calorie needs.
I think I'll use the rest of the broth to make my chicken and oat stew. That's always a crowd pleaser.