I should be on Food Network's "Chopped" home-cook challenge because I would kill it!
At least I'd try. 🙂
I love figuring out what to make with what I have on hand. It's creative and fun! (at least for me). The Husband would much rather just grab a bag of chips,  order in or hit a drive-thru. He also wouldn't touch something like this with a 10-foot pole.
I don't know, maybe you wouldn't either, but I loved the combination.
I don't know why I didn't think if it before, but beets and grapefruit go REALLY good together. At first I was just going to make a dish with them alone but then I had all this "juice" and it was calling for more of a salad and the only thing I had on hand was cabbage. It was a great addition! The crunch held up to the strong flavors and the sunflower seeds added a nice nutty bite.
I've made it twice since coming up with the idea. Now I'm going to have to keep grapefruit and beets on hand all the time!
Here's what I did…
2 cups (140g) shredded cabbage (I used napa but any would work)
8.8 oz (250g) cooked beets (canned would work)
1 pink grapefruit
2 tsp olive oil
½ tbsp (10g) honey
10 fresh mint leaves, chopped
Kosher salt
¼ cup (30g) roasted sunflower seed kernels
Add the cabbage to a large bowl.
Conserve 1 ounce of the beet liquid for the dressing then chop the beets and top the cabbage.
Supreme the grapefruit -- I use this technique.
Cut the rind away.
Then running the knife along side the membranes connecting the slices, pop out the segments and add them to the bowl.
Squeeze the skeleton to release any additional juice for the dressing. I was able to get another ounce out of it.
Make the dressing by whisking the olive oil, mint leaves, honey and a pinch or two of kosher salt.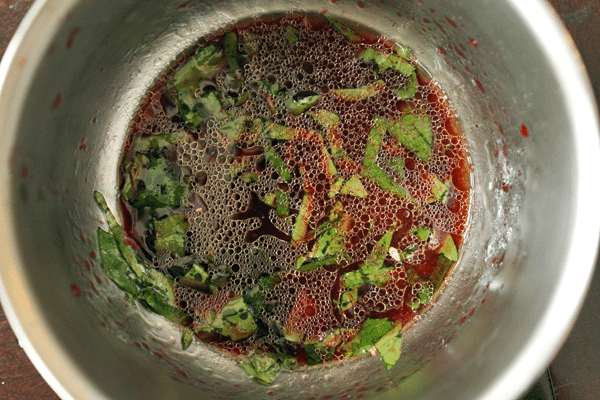 Be sure to smash the leaves a bit releasing some of their oil to infuse the dressing.
Pour the dressing over the beets, grapefruit and cabbage. Add the sunflower seeds.
Toss everything together. 
Viola! 
This is another one of those dishes I ate straight away, but it's also good when allowed to sit. My leftovers were even better the next day.
Hope it's not too weird for you. I wouldn't have believed it was good if I didn't eat it myself. 🙂
Approx Nutritional Information per serving
Servings
Amt per Serving
2
About 2 Cups
Calories
Fat
Fiber
WWPs
210
12g
5g
old: 4
new: 6
Sugar
Sat Fat
Carbs
Protein
10g
2g
23g
11g