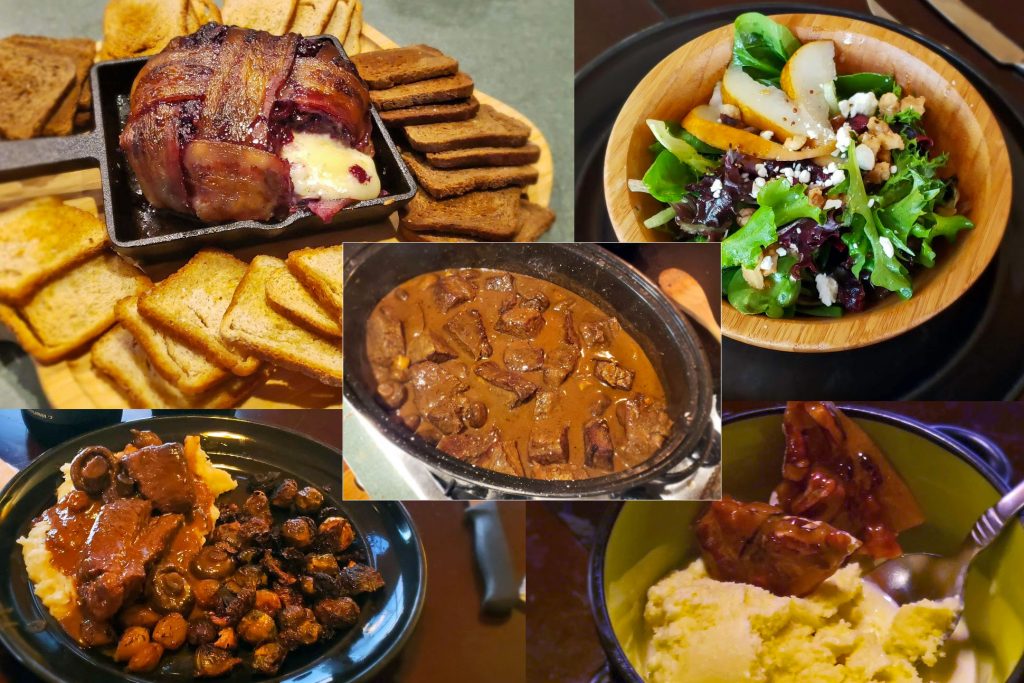 I don't even know where to start with my latest Date-Nite-In experience. I think it may have been our best one yet!
Let me start at the beginning.
A few months ago I saw an article talking about Beef Bourguignon, and I'll be honest, I never really knew what it was. (I also can't remember the article or I would link it, but anyway...) It looked like a fantastic dish, and the writer said something about it being great for dinner parties.
The seed was planted.
As my dinner party approached, I started to look up recipes for Beef Bourguignon. For those that don't know, like me, it's basically a Beef Burgandy or a stew of beef braised with red wine. It appears Julie Child has the most famous recipe as most of my research all led back to her original recipe.
I decided to use this one as the basis of my dish, but I changed the process quite a bit. More on that in a bit.
Building the Menu
One of my favorite parts of hosting a dinner party is creating the menu. I really enjoy the process of designing a cohesive meal from appetizer through dessert. It's like building a puzzle that I get to design myself. I like to balance seasonal items with the tastes of my guests while challenging myself with new recipes or foods.
For this particular menu, I used the Beef Bourguignon as the base and then worked outwards. I figured a nice bowl of mashed potatoes would complement the stew perfectly, but why make plain old mashed potatoes when you could add garlic and chives?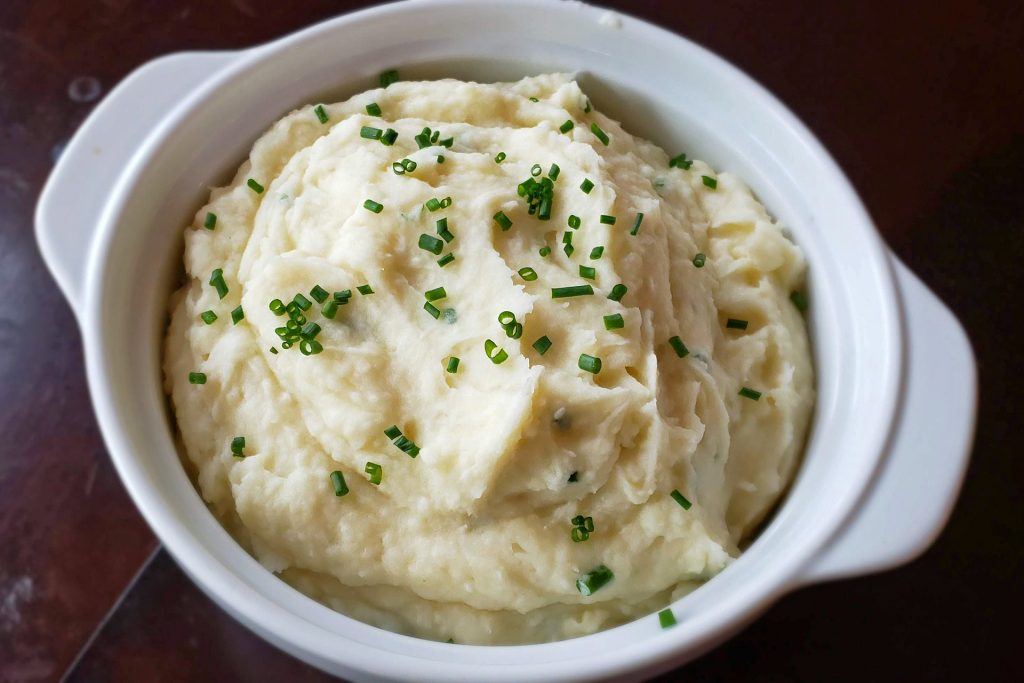 Beef and potatoes need a vegetable, of course, and nothing screams fall veggie to me like Brussels sprouts. Like the potatoes, however, why serve plain old Brussels sprouts when you could roast them in maple syrup and cayenne?
And with that, my main course was born. Moving on to the salad...
I love serving a fancy salad before dinner. It's a great way to bring in more seasonal flavors and get more vegetables in (always a goal of mine). At first, I considered building a salad around apples since, you know, it's fall and apples are everywhere, but that felt tired and boring. Then, pears popped into my head.
Immediately I imagined a hearty salad with pear, nuts, goat cheese, and some kind of maple based vinegarette. Boom, salad idea pretty much done, time to plan dessert.
Now, dessert is NOT my strong suit. I'm not a very good baker, and I don't really even enjoy making sweets as much as cooking, so I usually try to come up with something simple and complimentary. My mom gave me her old ice cream maker last year, so I've been leaning on that for fun dessert inspiration. Why not make an "adult" ice cream? And what screams fall more than bourbon?
Bourbon Ice cream sounded terrific to me, but it also felt flat. What could I serve with it?
I know! A brittle, for some crunch. That's when I found this recipe for Bacon Pecan Brittle and BAM! Dessert was decided.
That was it, my menu was complete! So I thought. Then I saw this video by delish and, well, why YES! Bacon-Wrapped Brie would be the perfect appetizer this Beef Bourguignon menu.
Prep Begins
Two Weeks before
The one thing you need to know about these dinner parties is we go above and beyond just cooking for each other. Our goal is to be a little "extra". So my prep started about two weeks beforehand, making my own beef stock for the Beef Bourguignon.
I'm lucky enough to live near a family farm that sells shares of beef directly to consumers. We get a quarter or an eighth a couple of times a year and store it in our chest freezer. The share comes with beef soup bones, and the farmer knows I utilize them, so he usually throws a few extra my way. I love it!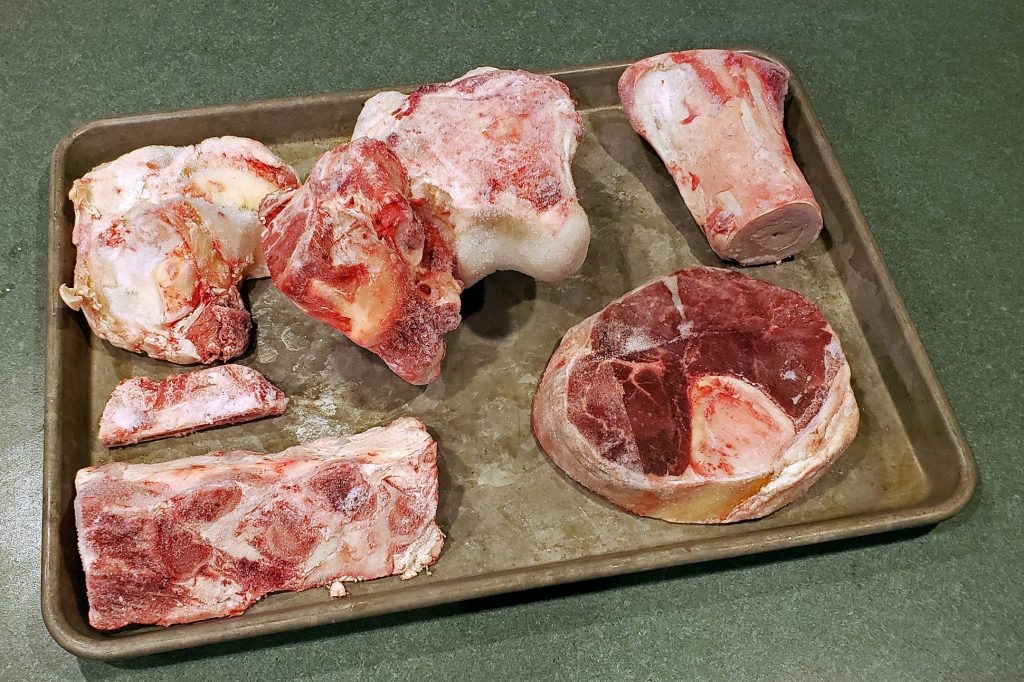 I like to roast the bones before boiling. I simply lay them in a cookie sheet, sprinkle them with salt, and roast at 425 for 20-30 minutes until things start to carmelize.
Then all the bones go in a stockpot with onion, garlic, peppercorns, salt, a splash of white vinegar, and enough water to cover everything.
I simmer for a day or two until I'm ready to deal with it.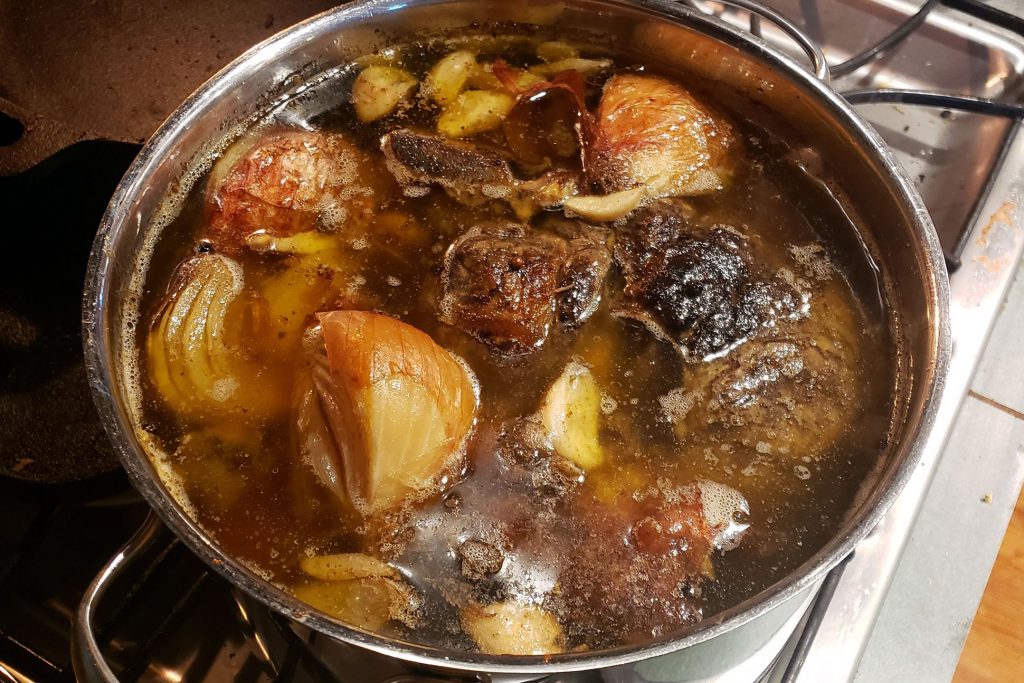 Then I drain the broth and stick it in the fridge overnight to allow all the fat to come to the surface.
I only needed two cups for the recipe, but I ended up with twelve. So I froze it in two cup bags for later use.
(Look at that gel, by the way. This may have been my best batch of stock (bone broth, whatever) yet!)
One Week before
It's ice cream time. I have learned so much about food hosting these dinner parties, like the difference between custard-based ice cream and Phillidelpia or eggless ice cream. I decided to use a custard-base for the Bourbon ice cream because I wanted a rich, deep flavor, and I knew the bourbon flavor could handle the egg yolks.
Using this recipe as inspiration, I made my ice cream with vanilla extract and Brown Sugar Bourbon by Heritage Distilling Co.
None of my photos do it justice, but this video of the custard is the perfect way to show its creaminess.
At this time, I also made the brittle because I had no idea how it was going to turn out. I followed the recipe to a T. I don't trust myself with desserts when cooking for guests.
I'm happy to say, the brittle came out perfect!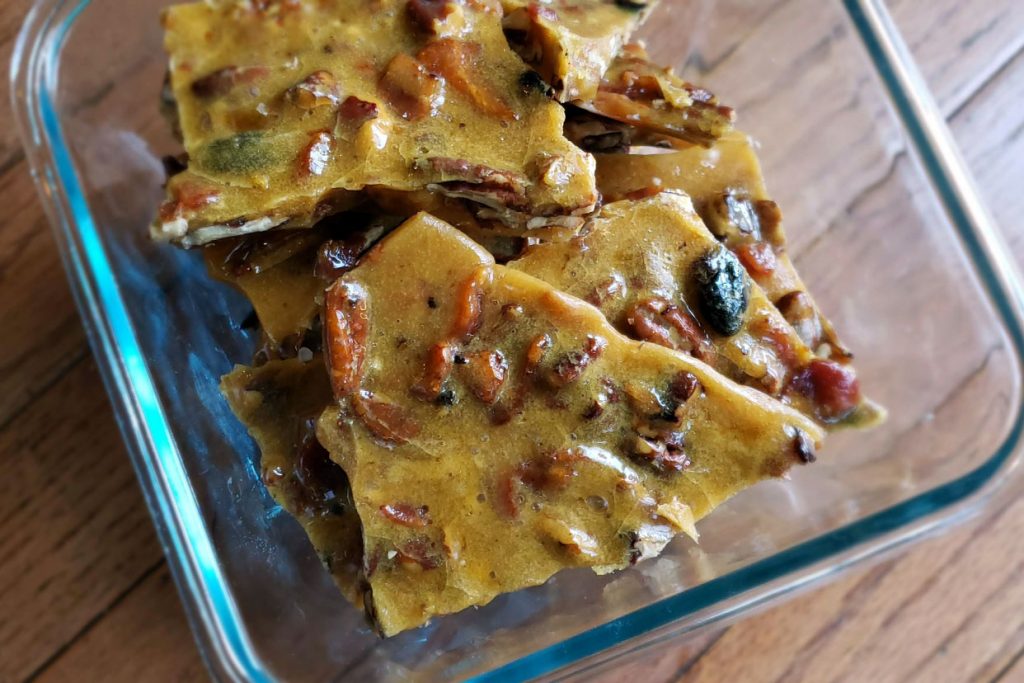 The Day Before
I decided to make the dressing for my salad the day before as I think homemade vinaigrette tastes better when it gets some time to sit.
Now, this dressing may have been the best dressing I've ever made, so of course, I didn't measure anything. I did, however, take notes on the ingredients.
To my mason jar, I added olive oil, apple cider vinegar, maple syrup, whole grain mustard, juice of a lemon, salt, pepper, a tiny pinch of thyme and some dried chives.
The teenager helped with this one. We would shake, taste, and adjust ingredients until it was just right. Then it sat on the counter until the...
Day Of
First of all, I cannot tell you how excited I am when the day finally arrives. Totally in my element, I love staring down a day of cooking.
Once I get back from the gym (that's where you'll find me every Saturday morning), I get right to work. When I'm looking at a dish that's going to need most of the day to cook it.
As I said, I used this recipe as the inspiration for the Beef Bourguignon, keeping the ingredient list mostly intact but changing the process quite a bit.
First, I cut about two-thirds of a package of thick-cut bacon into chunks and rendered it in my cast iron skillet. While that cooked, I cut a three and a half-pound sirloin tip roast into about two-inch cubes and then browned them in the bacon fat.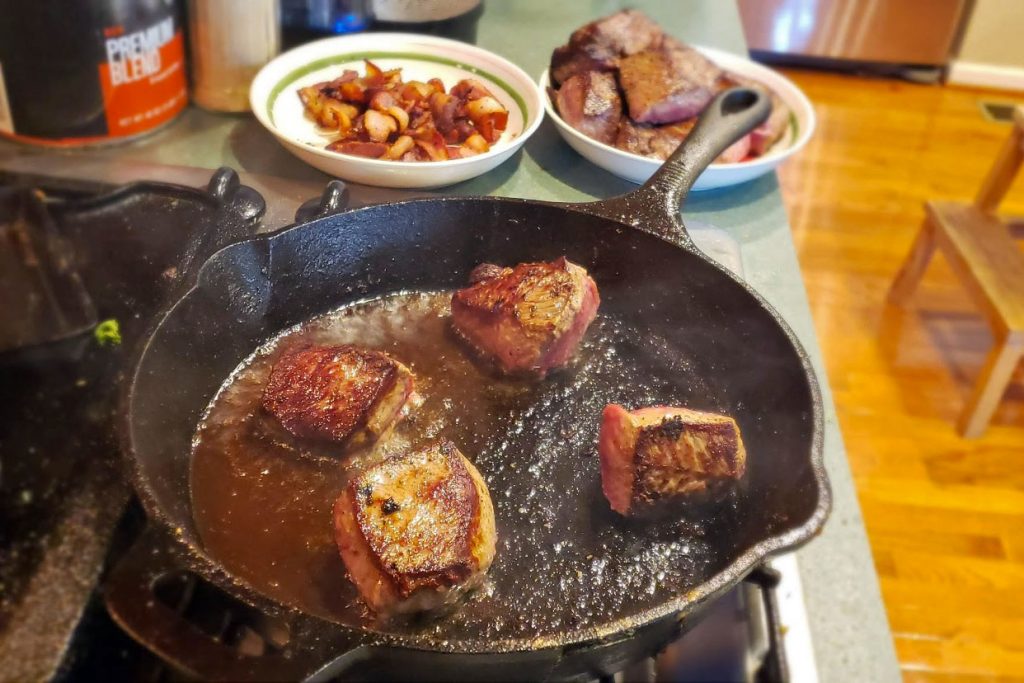 Once the beef was done, I used the same bacon fat to saute one large sliced onion and two carrots making sure to scrape all the yumminess from the bottom of the skillet.
Then everything went into the Crockpot with the other ingredients including flour, three cups of red wine, two cups of my beef stock, tomato paste, garlic cloves, dried thyme, and a couple of bay leaves.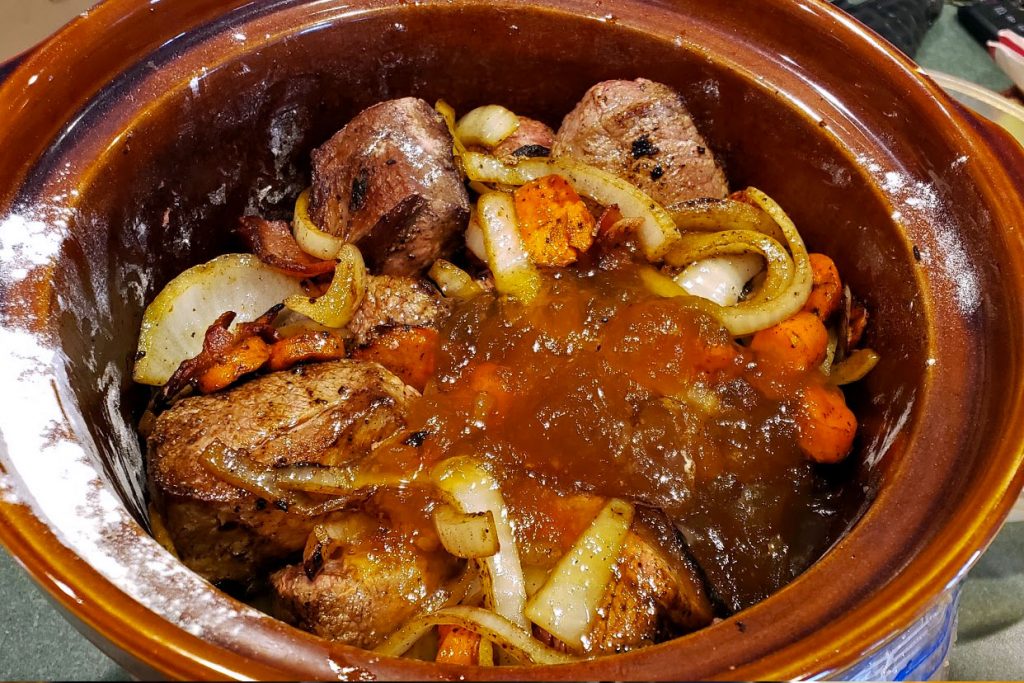 I put that baby on high and let it do its magic.
Next up was prepping the bacon-wrapped brie I saw on Delish.
I pulled out some frozen cranberries, blueberries and dried cherries I had in the freezer and made a compote by putting them in a small saucepan with a pinch of salt. Once the liquid started to come out of the berries, I added maple syrup to sweeten them, then cooked until it thickened. Once cool, I laid bacon out in a lattice formation, topped it with the compote, added the brie, and wrapped it.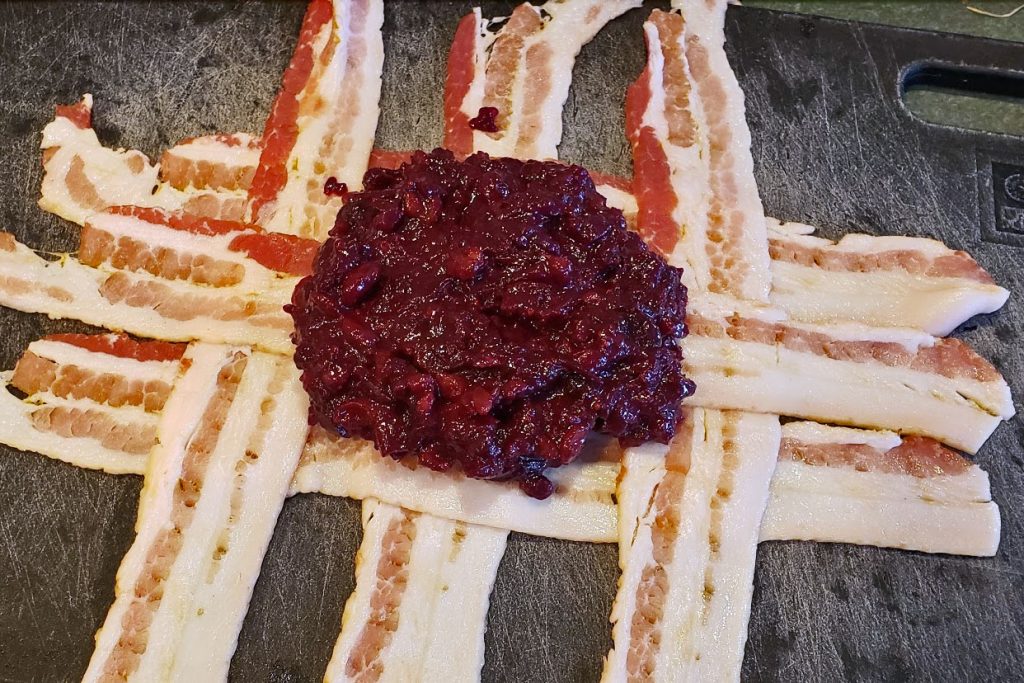 I was shocked. It worked!

I set that aside until later, as I wanted it fresh from the oven when my guests arrived.
The rest of the prep included peeling the potatoes and getting the Brussels sprouts ready.
My secret to garlic mashed potatoes is to put a clove of garlic in the pot for every two-to-three potatoes. They soften right alongside the potatoes and then get mashed in. My favorite addition when mashing is a splash of broth and a nice sized dollop of cream cheese.
For the Brussels sprouts, I tossed them in olive oil, maple syrup, and a dash of cayenne pepper. The secret to perfect roasted Brussel sprouts in not crowding the cookie sheet, so I used two sheets to be sure they had more than enough room to get nice and crispy.
The last two pieces of the Beef Bourguignon meal was the pearl onions and mushrooms.
The onions were surprisingly one of my favorite parts of the meal. I browned them in the skillet and then braised them in broth, salt, pepper, and thyme for about 40 minutes.
The mushrooms were done similarly but needed a lot less time.
Both of them and the mashed potatoes went into a keep warm oven so I could shower before dinner.
The Meal!
With my prep done, it was time to pull it all together.
Forty minutes before my guests arrived, I put the bacon-wrapped brie in the oven.
They walked in right on time, and I pulled this out of the oven.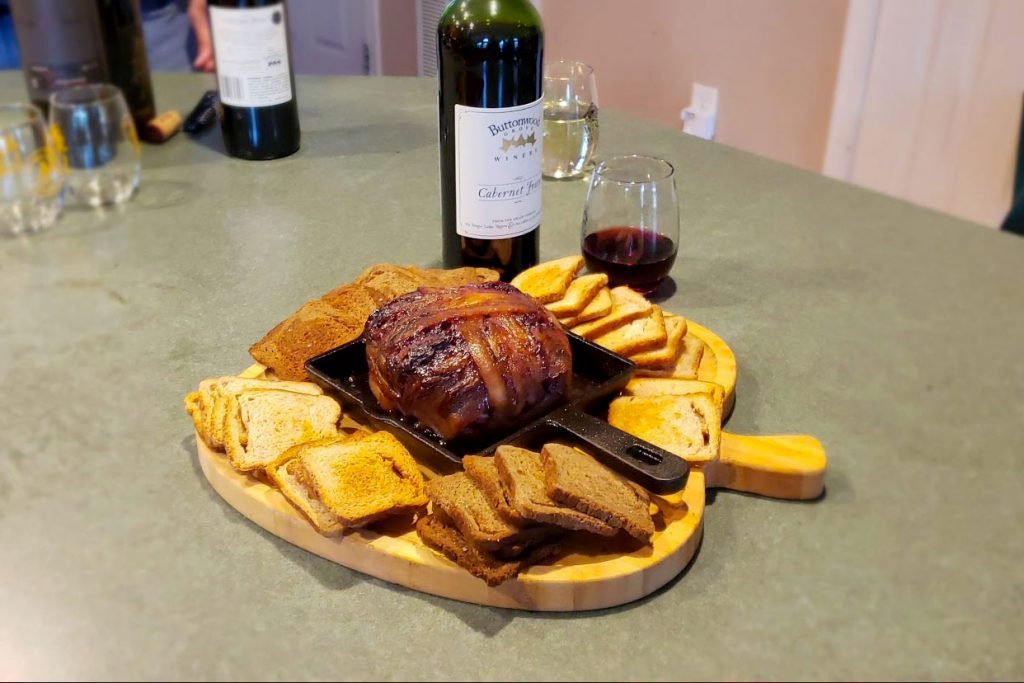 It was perfection!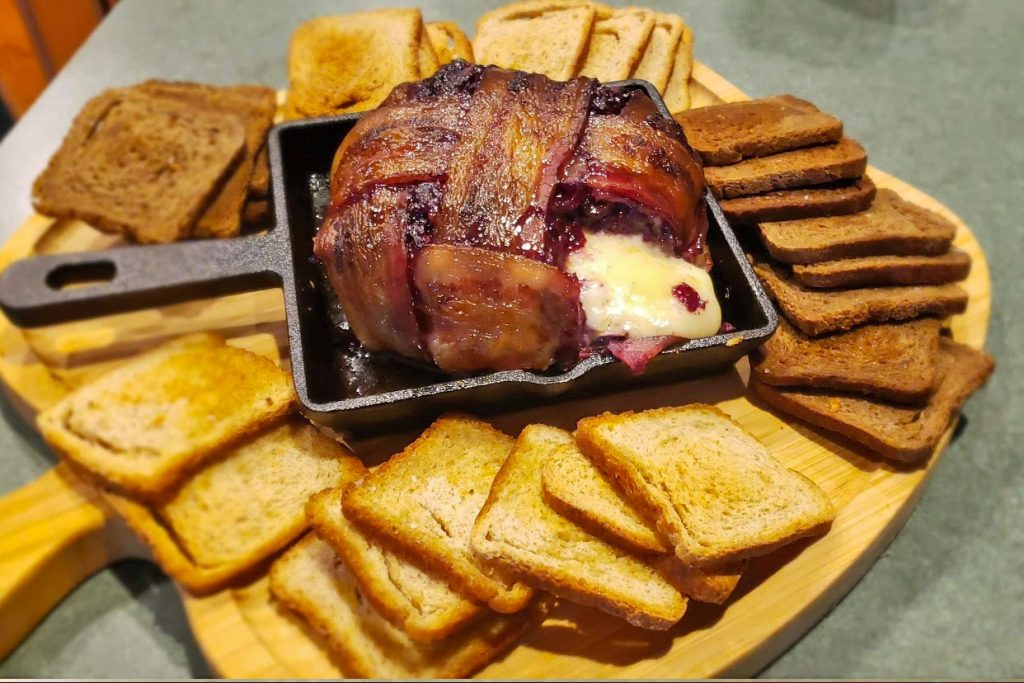 Oh! I forgot to mention I served it with cocktail bread that I toasted with a drizzle of olive oil and salt. Everyone loved it. I WILL be making this again, for sure.
We (well, my friend Dennis, because he knows his wine) paired the brie with a Cabernet Franc, and it was perfection. Everyone nibbled away while we all chatted, and I finished up dinner.
Next up was the salad. I lightly dressed the greens with my dressing and topped each bowl with candied walnuts, dried cranberries, goat cheese, and sliced pear.
It came out exactly as I envisioned! And it went perfect with the Pinot Grigio Dennis brought.
So far, the meal couldn't have been going any better. It was time for the main course, and I was nervous!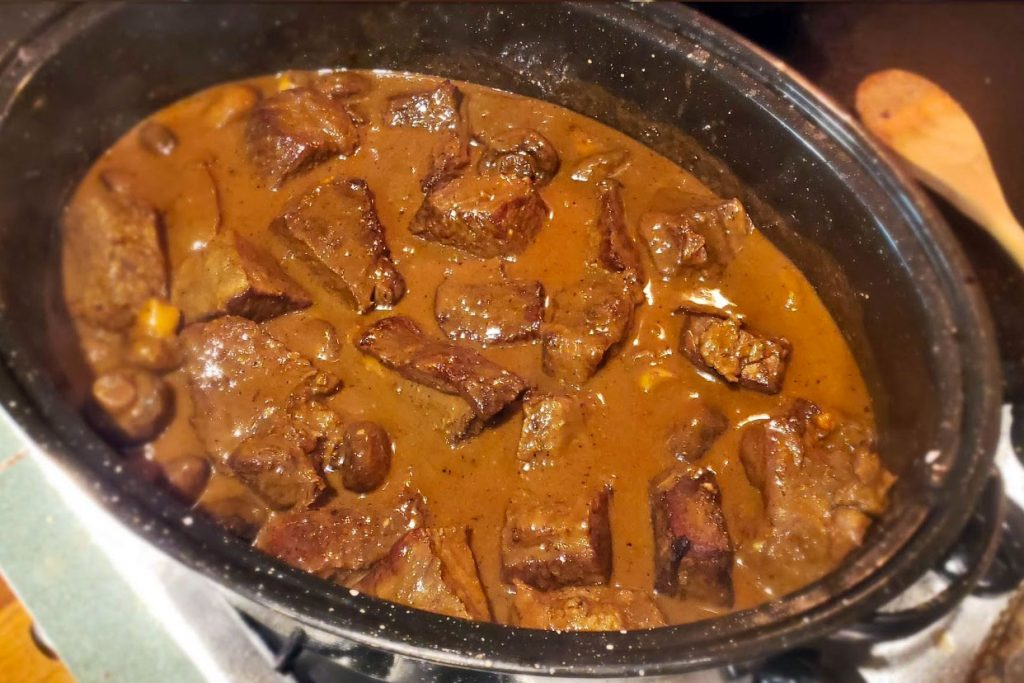 I made everyone a plate and brought them to the table. The Husbands were excited, to say the least. lmao
Not my best plating job, but no one cared. It looked yummy! We paired this one with two different hearty red blends.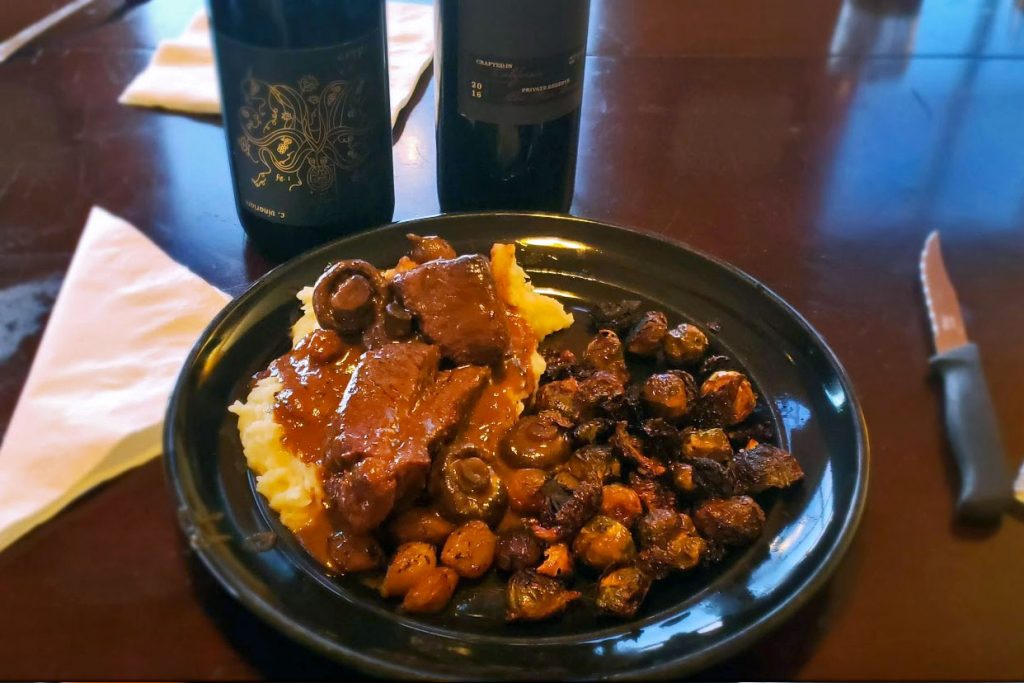 I'm going to pat myself on the back for this entire meal. Everything came out fantastic!
We sat and chatted, enjoying the wine and food. I can't explain how happy it makes me cooking yummy food and sharing it with friends and family. It's a lot of work, but it's always worth it, and I genuinely enjoy the entire process.
After clean up, it was time for dessert. By this time, I was out of daylight and a little tipsy, so this is the best photo I was able to get on my phone.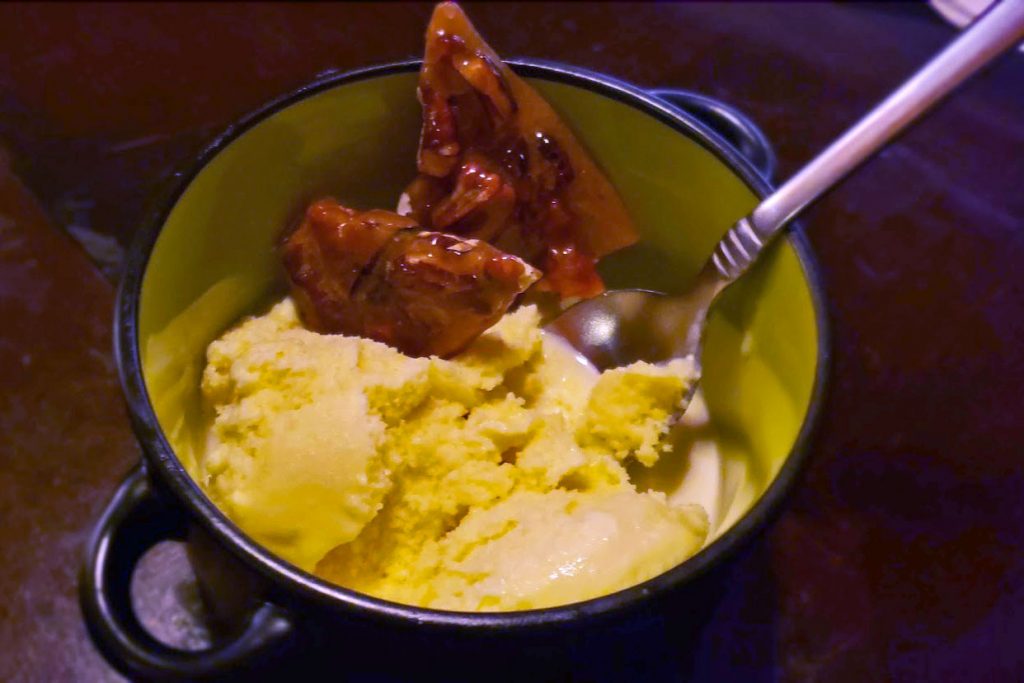 The Brown Sugar Bourbon Ice Cream went great with the brittle, and we paired it with one final wine, a Reisling Ice Wine.
We ended the night with a selfie, of course!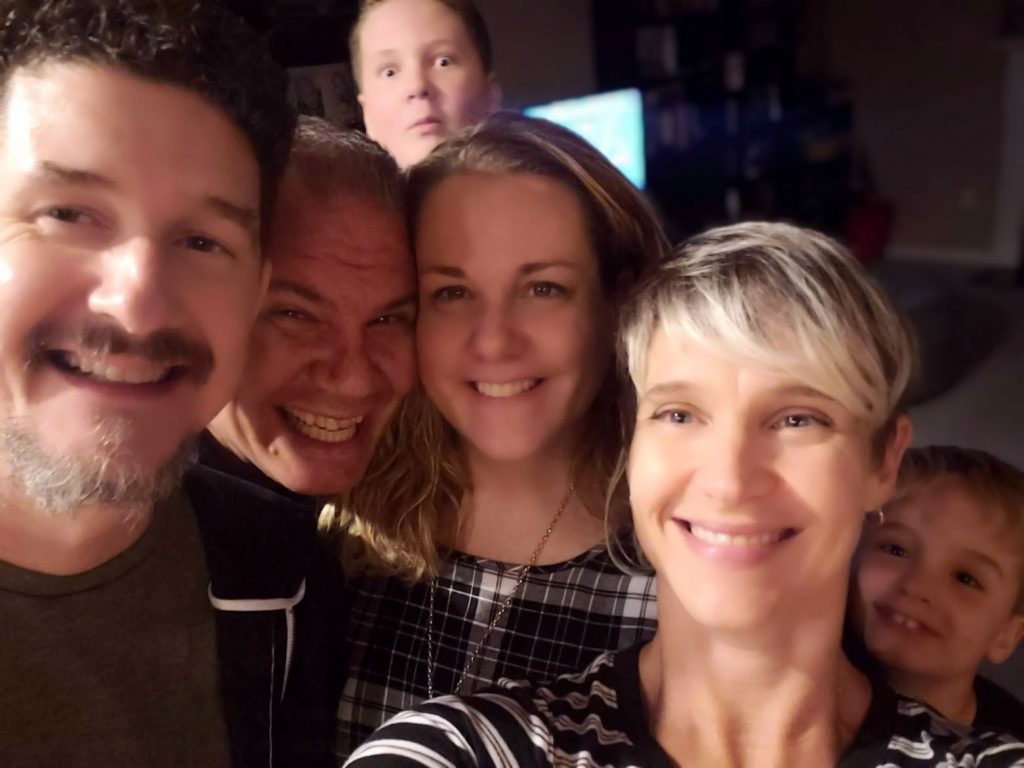 Thanks for sticking this one out if you made it this far. I hope to get better at documenting and taking photos throughout my dinner party planning. I'm still a bit overwhelmed with it all, but I'm getting better. I took more pictures with my phone this time, which always helps me share the process in its entirety. One day I may even take the leap to videos!
If you have questions, hit me up on Facebook. I don't do blog comments anymore. Long story.