I originally posted this recipe ten years ago. That's crazy talk!
Anyway, I decided to repost it just as is, photos and all after a few people requested it. According to my archive, this post had over 330 comments. I may be the most commented post I've ever had!
By the way, that kid in the Power Ranger PJs is thirteen now, also crazy!
The following was posted March 2009...
I'm shocked at how good these came out. SHOCKED. I totally made them on a whim this morning while rummaging through my kitchen looking for something to eat at breakfast. I had a gross of bananas just about turning overripe, oatmeal and 2 eggs. That was really it and nothing sounded good.

Then I remembered the Berry Oatmeal Cups and asked the toddler if he wanted to make muffins. Of course he said "Yes!" And so did Irish. 🙂 Notice someone is getting camera shy.

So we (toddler and I) really did LOVE these. I didn't even bother asking the husband. He doesn't even like "regular" muffins and I'm not even sure he's ever even eaten oatmeal. His reaction would have been the standard, "I don't like it but I can see why others would." And I just didn't want to deal this morning. As I say… more for us!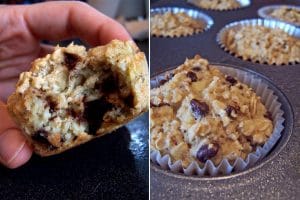 Print
Banana Oatmeal Cups with Chocolate Chips
Yield 15 "cups"
These Banana Oatmeal Cups with Chocolate Chips are the perfect way to make oatmeal portable and the kids love them. 
Ingredients
3 mashed bananas 
1 cup vanilla Almond milk 
2 eggs
1 tbsp Baking powder
3 cups (240g) Old Fashion or Rolled Oats
1 tsp vanilla extract
3 tbsp (42g) mini chocolate chips
Instructions
Preheat oven to 375 degrees
Mix all ingredients except the chocolate chips, and let sit while you prepare the muffin pans.
Spray a muffin pan and/or liners with non-stick spray.
Stir the chocolate chips into the oatmeal batter.
Divide batter into 15 muffin cups. They should be just about filled.
Bake 20-30 minutes, you'll see the edges just starting to brown, and they will be firm to the touch.
Cool for a few minutes in the tin before removing. Otherwise, they stick.
Notes
The riper the bananas the better but I've made them with just ripe and had good results. 
Any milk should work. I just happen to always have almond milk on hand. 
This recipe is very forgiving and very easy to add other healthy things too like flax, hemp seeds, chia. They all make great additions. 
Courses Breakfast, Snack
Cuisine Any
Nutrition Facts
Serving Size 1 "cup"
Amount Per Serving

Calories 115

% Daily Value

Total Fat 3 g

5%

Total Carbohydrates 21 g

7%

Dietary Fiber 2 g

8%

Sugars 6 g

Protein 4 g

8%
* Percent Daily Values are based on a 2,000 calorie diet. Your daily values may be higher or lower depending on your calorie needs.