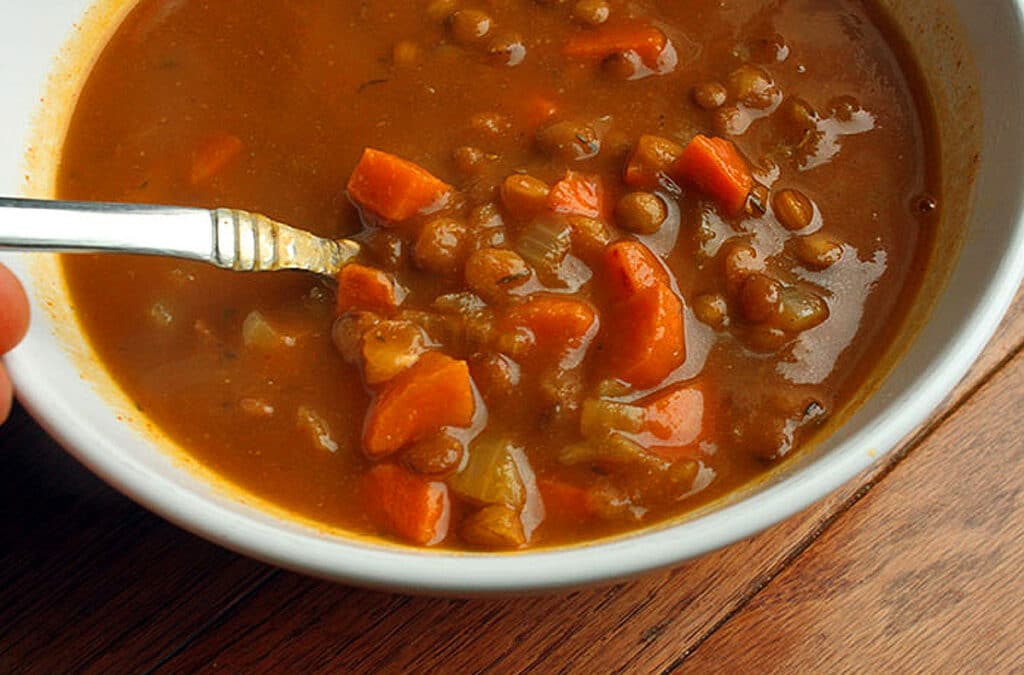 I'm soup-obsessed at the moment, so I'm going through my archives. Vegetarian Lentil Soup With Pumpkin is a repost from 2014 that I will be making for lunches as I get ready to go back to work.
In unrelated news, I'm celebrating my break from Facebook. The GreenLiteBites FB page is still active, but I decided to walk away from my personal account for mental health reasons.
Vegetarian Lentil Soup With Pumpkin recipe and the following post was originally posted in November 2014.
It's soup season, and I love it! For as much I declare myself a summer girl, I must admit I love the change in temperature and the comfort food that comes along with it.
I made this soup over the weekend for some quick lunches. I tend to forget about lentils even though they are super cheap, fast cooking, and totally yummy! I decided to go more plant-based on this, but I really like them with bacon. My mom said her favorite way to prepare them is with spicy sausage.
Even though this recipe doesn't have any meat, the can of pumpkin really "beefs" up the soup, making it more substantial than a traditional broth-based soup, which I think makes it more satisfying. It almost borders on a stew. You can thin this out with some water or add extra broth if you like your soups brothy.
📖 Recipe
Vegetarian Lentil Soup with Pumpkin
Vegetarian Lentil Soup With Pumpkin is a hearty soup thickened with pumpkin and loaded with flavor. Perfect for a chilly winter night.  
Instructions
Sauté the onion and carrots in the olive oil until the onion softens and browns a little.

1 sweet onion,

2 carrots,

2 teaspoon olive oil

Add the lentils, broth, pumpkin and spices. Stir to combine and cook over medium-high heat until it just starts to boil. Lower to a simmer, cover and cook for at least 45 minutes for the lentils to get tender.

1 cup dry lentils,

4 cups of veggie broth,

1 can of pumpkin,

1 teaspoon smoked paprika,

1 teaspoon thyme,

1 teaspoon cumin

That's it!
Notes
See, lentils are souper easy! <– see what I did there? I think my pun obsessed husband is rubbing off on me.
Nutrition
Calories:
120
kcal
Carbohydrates:
22
g
Protein:
10
g
Fat:
1
g
Fiber:
9
g
Sugar:
6
g