I'm not one of those people who plans a week's worth of meals on Sunday and then just lets it play out. I tried, believe me. It just doesn't work for me.
I'm more of what I call a pantry cook. I'd much rather keep things in stock, buying when there are sales and then reacting to what I have on hand day-by-day. I find it allows me the most flexibility and I enjoy the creative aspect of it.
That said, I've been getting into a grove with a few planning habits that have really helped me mange the week. I guess these are more things I put into practice than tips per se, but I hope they give you some ideas.
Roast a Whole Chicken Weekly
I used to be afraid of roasting a whole chicken -- now I do it every week or so!
I started with little 4-5 pounders, but as the kids get older my chickens are increasing in size. I think the one I roasted last week was 8 pounds.
I normally spatchcock it for a quicker cooking time, but my goal isn't only dinner the night I make it. I want leftovers and bones for broth.
The day we eat it for dinner, I'll remove all the chicken I can from the bones, using the leftovers for lunches and such, then I cover the bones with water in a large pot and add some salt and let it simmer for, sometimes, up to 2 days.
Once the broth is done I use it to make rice or quinoa that I'll freeze in serving sizes or for soup, which is what inspired this post -- more on that in a bit.
Bake Extra Potatoes
I don't just mean plop them in the microwave. That's what I used to do but once I fired up the oven and actually roasted my whole potatoes for real, I converted. Actual roasted potatoes are better!
The problem is they take about an hour, so when I do it, I DO it! I roast at least a couple extra every time.  Sweet and white. Then I'll use both for quick breakfast hashes in the morning, a side for leftover lunches and, as in the case of yesterday, a quick soup.
Since I came up with this idea I've made this particular soup three times. I know it's not soup season but it's been a little chilly in these parts, so the soup has been coming in handy.
This idea hit me one afternoon when I was looking for a quick meal.  I opened the fridge, saw the  broth I made from that week's chicken, spied the baked sweet potato and thought, why not combine the two?
The result was so tasty and simple I just needed to share.
Here's what I did..
2 cups of chicken broth (if you don't have homemade store-bought will do just fine but I urge you, try to make your own. It's SO much better!)
1 leftover baked sweet potato
4 ounces cooked chicken breast
Everything is already cooked so this is more of an assembly and warming of the ingredients.
Bring the broth to a soft boil.
Remove the skin from the potato and it to the broth.
Puree the two together until smooth.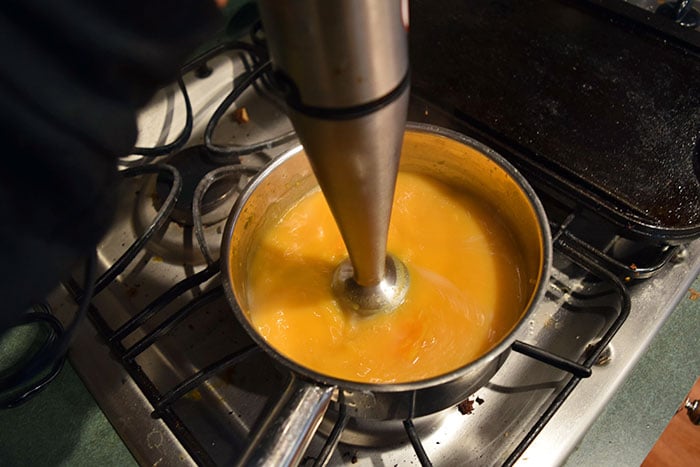 Remove from heat, add the cooked chicken and boom!
The simplest, tastiest lunch ever!
The broth is really luxurious and the chicken is the perfect addition, adding texture and protein.
I may have said this before, but I'm really learning how enjoyable simple dishes like this can be. It's amazing how far I've come in my approach to meal preparation. I used to depend on so many more store-bought things, but as I progress, my meals seem to get simpler and easier. It's exciting.
Approx Nutritional Information per serving
Servings
Amt per Serving
1
Entire Recipe
Calories
Fat
Fiber
Sodium
 390
14g
4g
600 mg
Sugar
Sat Fat
Carbs
Protein
6g
3g
24g
43g
Interested in responsibly raised, grass-fed protein sources?  Check out ButcherBox! I've recently become an affiliate. They are a meat delivery service that provides 100% grass fed AND grass-finished beef. No hormones, no antibiotics, no feedlots, all pasture and sustainably raised.
It's pretty impressive and very convenient if you live in an area where finding high quality meats is hard.