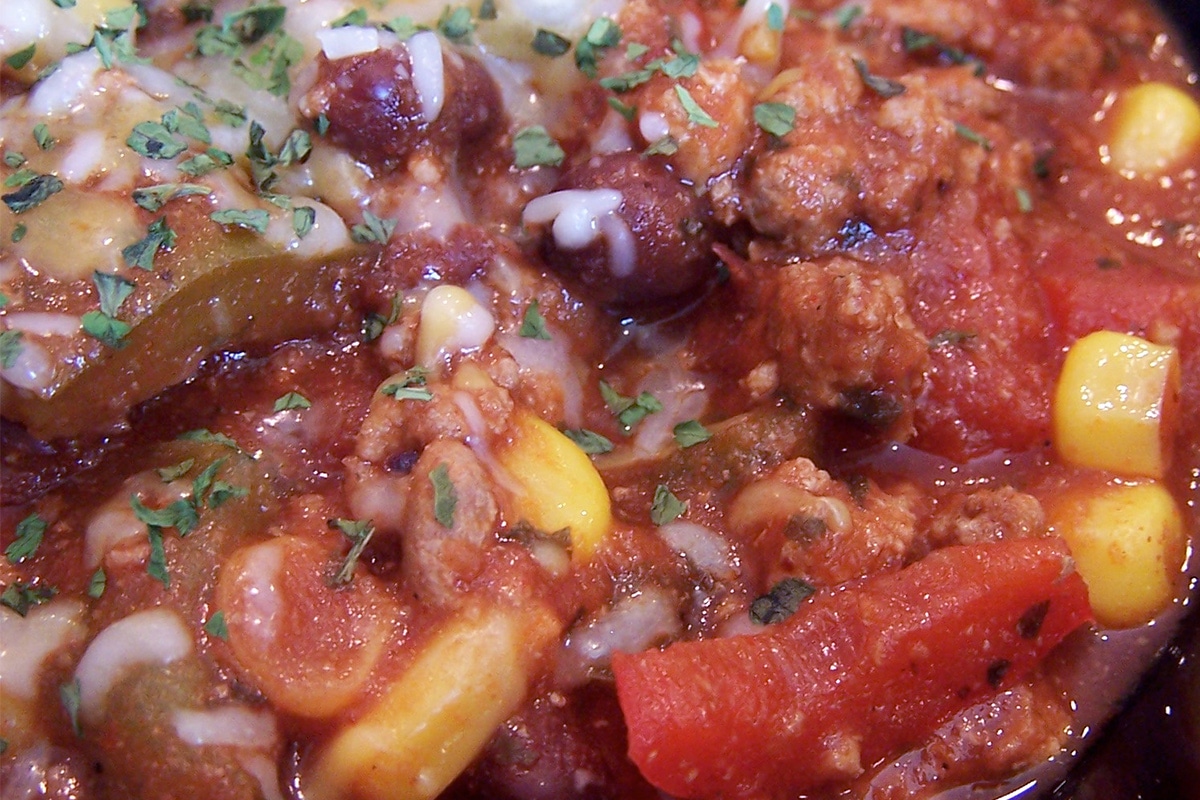 I LOVE chili! It's like pizza for me, even bad chili is good chili. ;~) (well... unless it's from a can)
This chili I purposely made mild to TRY and get the husband and the toddler on board with my chili obsession but alas, I failed. The husband didn't try it, he's just not interested in chili! Unbelievable! And the toddler, well, he said he didn't like before he even tried it. His mind was already made up and I couldn't change it.
Oh well, their loss, it was GOOD! Now I have lunches for the next week!
Next time, since they aren't going to eat it anyway, I'm spicing it up with some ground red pepper, hot sauce and jalapeno peppers!
Ingredients
20 oz extra lean ground turkey
1 small-medium onion chopped
1 large green bell pepper chopped
1 large red bell pepper chopped
1 small can of sweet corn (8oz) undrained
1 can of black beans (15oz) drained and rinsed
1 can of diced tomatoes (15oz) undrained
1 small can of tomato paste (6oz)
1 tablespoon unsweetened cocoa (5g)
1 tablespoon Molasses (20g)
1 tablespoon chili powder
1 tablespoon onion powder
1 tablespoon dried cilantro
½ tablespoon ground cumin
non-stick spray
Instructions
Brown the turkey in a non-stick skillet over medium heat.
Spray the inside of the crock pot with non-stick cooking spray (makes is much easier to clean!). Add all the ingredients to a crock pot with 1 tomato paste can of water (6oz). Mix well to combine, it will thick and dry (not a lot of liquid). Cover and cook on high for 3 hours or on low for 5-6 hours.
Here's a before and after cooking photo.
Serve with a sprinkle of cheese and cilantro, over rice, or (my favorite) with some baked Doritos! YUM!
📖 Recipe
Slow Cooked Mild Turkey Chili
This slow cooked mild turkey chili recipe is guaranteed to become a regular in your dinner rotation. It's hearty, healthy, and packed with flavor!
Ingredients
20

oz

extra lean ground turkey

1

small-medium onion chopped

1

large green bell pepper chopped

1

large red bell pepper chopped

1

small can of sweet corn

8oz undrained

1

can of black beans

15oz drained and rinsed

1

can of diced tomatoes

15oz undrained

1

small can of tomato paste

6oz

1

tablespoon

unsweetened cocoa

5g

1

tablespoon

Molasses

20g

1

tablespoon

chili powder

1

tablespoon

onion powder

1

tablespoon

dried cilantro

½

tablespoon

ground cumin

non-stick spray
Instructions
Brown the turkey in a non-stick skillet over medium heat.

20 oz extra lean ground turkey

Spray the inside of the crock pot with non-stick cooking spray (makes is much easier to clean!). Add all the ingredients to a crock pot with 1 tomato paste can of water (6oz).

1 small-medium onion chopped,

1 large green bell pepper chopped,

1 large red bell pepper chopped,

1 small can of sweet corn,

1 can of black beans,

1 can of diced tomatoes,

1 small can of tomato paste,

1 tablespoon unsweetened cocoa,

1 tablespoon Molasses,

1 tablespoon chili powder,

1 tablespoon onion powder,

½ tablespoon ground cumin,

non-stick spray

Mix well to combine, it will thick and dry (not a lot of liquid). Cover and cook on high for 3 hours or on low for 5-6 hours.

Serve with a sprinkle of cheese and cilantro, over rice, or (my favorite) with some baked Doritos! YUM!

1 tablespoon dried cilantro
Nutrition
Calories:
212
kcal
Carbohydrates:
22
g
Protein:
28
g
Fat:
3
g
Saturated Fat:
1
g
Polyunsaturated Fat:
1
g
Monounsaturated Fat:
1
g
Trans Fat:
0.02
g
Cholesterol:
52
mg
Sodium:
80
mg
Potassium:
717
mg
Fiber:
6
g
Sugar:
6
g
Vitamin A:
2186
IU
Vitamin C:
74
mg
Calcium:
47
mg
Iron:
3
mg