Phew! this video almost didn't happen! It was like everything that could go wrong did go wrong, phone ringing, grumpy toddler, almost didn't have all the ingredients, battery was dead on the lap top, you name it, it happened. But we prevail with yet another disorganized, disciplining toddler cooking video where somehow I end up with a pretty good meal. This one complete with a mention of time out AND a tricycle accident off camera.
This is one of my oldest recipe ideas and a variation has been published in Eat Up Slim Down Annual Recipes 2008 - 150 Simply Delicious Recipes for Permanent Weight Loss
(p143). Although they edited to have more oil which I think is unnecessary unless you want it.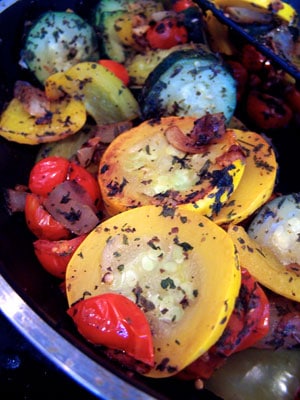 non-stick olive oil spray
½ of a small vidalia onion chopped
3 large cloves of garlic chopped
1 small zucchini sliced thick
1 small yellow squash sliced thick
1 small pepper any color chopped
1 large tomato cut in chunks or a ½ pint Cherry/Grape tomatoes halved
Kosher salt & pepper
1 tbsp dried parsley
½ tsp dried oregano
½ tsp dried basil
In a non-stick large skillet sprayed with non-stick spray add the diced onion and garlic over medium-high heat. While that is cooking slice up the zucchini, squash and pepper and cut up the tomatoes in chunks. If you are using Cherry tomatoes half them, you want the juice to help cook the other veggies.
Once the onion starts to turn a little opaque and starts to burn (adds great flavor) add all the veggies and sprinkle with all the spices. Cover. The "juices" from the tomatoes and other veggies will start to steam everything. Stir a few times and cook until the veggies are tender about 5 minutes.
Approx Nutritional Information per serving

| Servings | Amount per Serving | Calories | Fat | Fiber | WWPs |
| --- | --- | --- | --- | --- | --- |
| 4 | ¼ of the recipe | 35 | 0 | 2g | 0 |