Last week 8-ounce packages of mushrooms were on sale. I only needed one package for my chili but since they were buy one, get one I picked up the second not knowing what I'd do with it.
Yesterday morning it hit me.
I came home from the gym famished and dreaming of a smoothie the entire drive home, but when I opened the fridge my extra package of mushrooms jumped out at me.
"Eggs it is!" I thought.
Rummaging though the rest of the fridge I found a leftover baked potato -- perfect!
Here's how I took the two and made myself a breakfast base for the next few days....
2 slices of bacon
8-ounce package of sliced mushrooms
Kosher salt
1 large baked potato, cubed
Cut the bacon in smaller chunks and start to render it over medium-high heat in a non-stick skillet or griddle.
Once some of the fat renders out, add the mushrooms and a pinch of salt. Cook the mushrooms until soft, about 4-5 minutes. Once you can easily cut through the mushrooms with your flipper, add the potato.
Continue cooking until the potato warms through and starts to brown.
That's it!
I separated mine into three servings. Leaving one on the griddle, I whisked 3 eggs and scrambled them right in. It was delicious with just a sprinkle of hot sauce.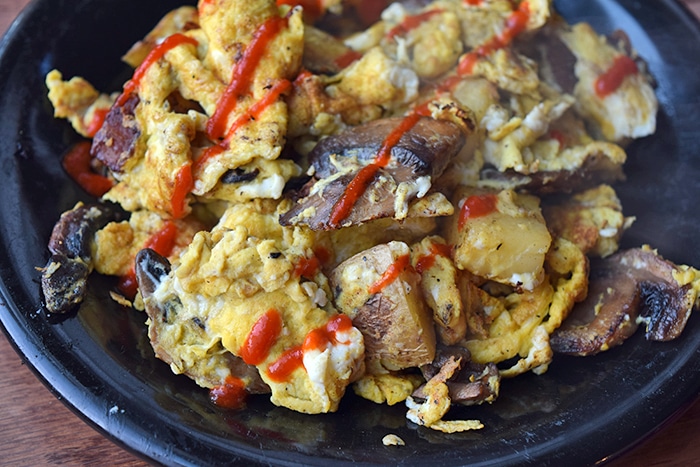 Now I have two more Mushroom-Potato Starters in the fridge for quick scrambles this week. Actually, you don't even have to use it in a scramble. Today I warmed it up and paired it with 3 hard  boiled eggs. It was the perfect super quick breakfast!
Approx Nutritional Information per serving
Servings
Amt per Serving
3
⅓ of the recipe ~ ¾ cup
Calories
Fat
Fiber
WWPs
 145
7g
1g
Points: 3
P+: 4
Sugar
Sat Fat
Carbs
Protein
1g
3g
16g
5g
Interested in responsibly raised, grass-fed protein sources?  Check out ButcherBox! I've recently become an affiliate. They are a meat delivery service that provides 100% grass fed AND grass-finished beef. No hormones, no antibiotics, no feedlots, all pasture and sustainably raised.
It's pretty impressive and very convenient if you live in an area where finding high quality meats is hard.