It's the Saturday after Thanksgiving, and I'm still in a food coma. I could not be more proud of my Thanksgiving dinner this year. I made a 26.5-pound bird, and it came out perfect!
But I'm not here to talk turkey! (I've already done that with literally everyone I've seen -- my friends must be so sick of hearing me talk food. I'm absolutely obsessed anymore. It's crazy!)
Anyway, I'm here to talk Christmas cookies!
Decorating cookies with the kids is my most favorite thing about Christmas.
I'm so glad Shannon messaged me on Facebook about my old sugar cookies recipe. I could have sworn I already re-shared it last year, but it's not on the new site, so I guess I didn't. So, here goes. (Thanks again, Shannon!)
Less-Sugar Sugar Cookies as originally posted December 2011...
Sorry. I'm so excited! Little Guy and I had tons of fun making and decorating cookies today. It may just be my favorite part of the holiday season. I loved it when I was a kid, and now I get to do it with my own kids.
Just thinking about it makes me smile.
Of course, I couldn't just follow one of the billion sugar cookie recipes in the world. Nope. I had to research them, study the ingredient lists, and then make up my own. I know. I know. I'm a dork, but a happy dork! My experiments resulted in a fantastic time with my son and yummy cookies.
I'm not sure how they compare to traditional sugar cookies because, honestly, I haven't had one in a looong time. The ones I made were crunchy with a slightly crumbly texture that makes you want a nice cold glass of milk. The first time I used vanilla, but I like the almond extract better. I even added a little of the extract to the frosting.
My version made just over 2 dozen. I purposely wanted a smaller amount. Why does every Christmas cookie recipe make a billion cookies? If I make that many, I'll eat that many. I wanted a more manageable amount. I also wanted to use whole grain flour, less sugar, and reduce the fat. All of which I accomplished AND the 6-year-old loved them…
He actually crowned me "The Cookie Queen" after taking his first bite. lol, I'm not sure I accept that crown, but I'll continue to bake healthy for us. It's FUN!
The full recipe is below. Here are a few shots from the process.
The dry ingredients -- always sift or whisk!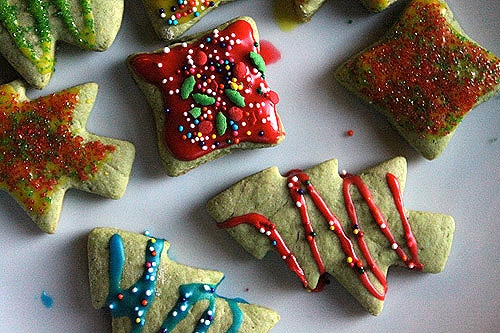 Beat the wet ingredients and then slowly add in the dry as you make the dough.
The dough does get thick!
Like… really thick!
We make all sorts of simple, fun color glazes to decorate.
Kids helping is a requirement!
My favorite is to make trees, but you could use any cutters. I also use this recipe on other holidays like Valentine's day and Halloween using different designs.
Always let the cool completely before decorating.
Most importantly, HAVE FUN!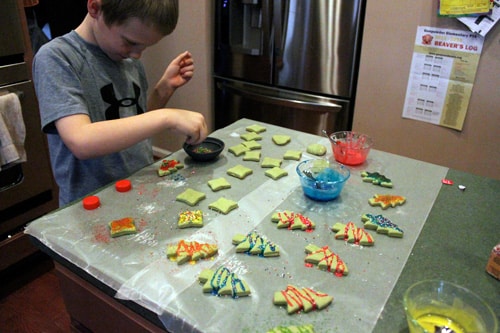 Here's the complete recipe. It should print nicely now that I removed the photos from the recipe card.
Enjoy!
📖 Recipe
Less-Sugar Sugar Cookies
Less-Sugar Sugar Cookies are fun to make, use whole grain flour, less sugar, less fat, and make a manageable amount. Best of all, kids love to help make and eat them! 
Ingredients
Decorating Glaze
2

tablespoon

powder sugar

1

teaspoon

water

or ¼ teaspoon extract + ¾ teaspoon water

squirt of food coloring
Instructions
Preheat oven to 350ºF.

1 ½ cups White Whole Wheat Flour

Combine the flour, baking powder, and nutmeg with a whisker. Set aside.

1 teaspoon baking powder,

½ teaspoon ground nutmeg,

1 ½ cups White Whole Wheat Flour

Add the butter, cream cheese, sugar and extract to another bowl.

2 tablespoon butter,

2 tablespoon low fat Cream cheese,

⅓ cup sugar

Using an electric hand mixer, cream the butter, cream cheese, sugar and extract.

2 tablespoon powder sugar

Beat the egg into the sugar mixture for 1 minute.

Add about ⅓ of the flour mixture to the bowl.

Mix on low speed until just combined the add another ⅓.

Finally add the last ⅓ and 1 tablespoon of milk to help incorporate everything if needed.  It will be thick.

At this point you can add some food color if you like.

Gather all the dough and form a flat ball.

Cover in saran wrap and refrigerate while you make the glazes.

Once the glazes are done, rolle the dough out about ⅛ of an inch thick.

Have fun with your favorite cookie cutters.

Lay the cut cookies on a cookie sheet. They shouldn't stick but a little non-stick spray never hurt anyone.

Bake for around 10 minutes until the bottom just starts to brown. Remove them from the cookie sheet and let them cool.
Decorating Glaze
Place all the ingredients in a small bowl.

1 teaspoon vanilla or almond extract,

1 teaspoon water

Mix well.
Notes
Both times I've made this receipe I ended up with 31 cooking but it will depend on the size of you cookie cutters. One of ours was small so I'm estimating the recipe to make 2 dozen. That makes 12 servings of 2 cookies each at normal size.
If you don't cream cheese just double the butter. I do all the time in a pinch. 
I like nutmeg in these but a pinch of any spice works, I've used cardomon, pumpkin pie, cinnamon, whatever you like! Have fun with the flavors! 
Nutrition
Serving:
2
-3 cookies (not including glaze)
Calories:
100
kcal
Carbohydrates:
17
g
Protein:
3
g
Fat:
2
g
Fiber:
2
g
Sugar:
6
g