Since canceling my CSA membership I've been trying to visit a local farm store for every other grocery shopping trip. This way I'm buying a bit more locally while reducing the amount of processed food in the house because it just isn't available at those places.
The farm store near me is great for not only produce but poultry. They offer all sorts of cuts and have fresh ground turkey breast and thigh. Last week I decided to give the ground turkey thigh a try as it's more than a dollar cheaper then the breast.
It's awesome!
Ryan was home so I made him a turkey burger and used the rest for a chili idea. He prefers beef like his dad, but said it was more moist than your typical turkey burger. I really enjoyed the thigh as a chili base. It worked perfectly.
Here's what I did...
12 oz ground turkey thigh
½ sweet onion, chopped
About 1 and ½ cups cubed butternut squash (I used just over 200g)
2 tbsp ground cumin
2 tbsp dried cilantro
1 tbsp chili powder
½ tsp kosher salt
¼ tsp ground red pepper
1 (14.5oz) can petite diced tomatoes
Brown the turkey with the onion and the butternut squash.
Add the cumin, cilantro, chili powder, salt and red pepper.
Once the turkey is cooked through, add the tomatoes and lower to a simmer. Cook until the butternut squash is tender and you're done!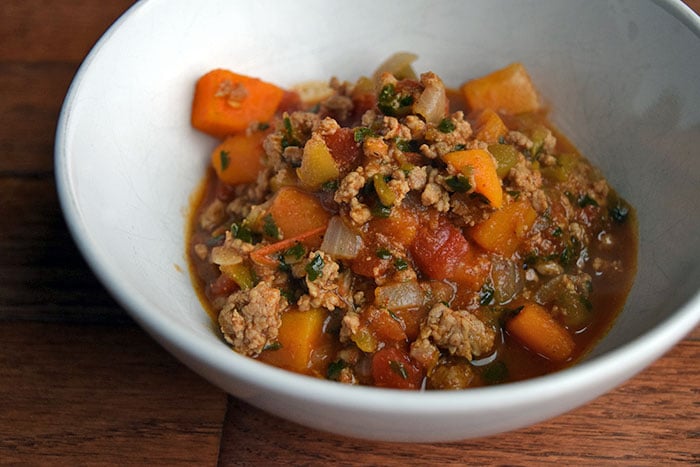 I topped with avocado, of course!
I could make dishes like this every day! I just wish I could get the family on board.
Approx Nutritional Information per serving
Servings
Amt per Serving
4
1 cup
Calories
Fat
Fiber
WWPs
235
12g
3g
old: 5
new: 6
Sugar
Sat Fat
Carbs
Protein
6g
3g
16g
17g