Another creation I made from last week's CSA share. I love getting creative when I have a fridge full of produce, especially with things like cabbage and Asian pears.
I've been using cabbage here and there for a few years but it still isn't something I regularly buy.
On the other hand, I don't think I've ever purchased an Asian pear.
I always thought they were an apple-pear hybrid but apparently they are their own fruit!
You learn something new every day.
I decided to use one in a slaw with the ginormous head of cabbage. At first I thought I'd use the whole thing but after shredding half I realized I need to ease back 'cause you know, I'm the only one who's going to be eating some funky cole slaw in my house.
I decided to put more of that full fat yogurt to use and seeing the quart of apple cider we picked up from the Corn Maze this weekend gave me the idea to get more "fall" with the flavors of this slaw.
The result was tasty and I love the hint of flavor from the cinnamon and nutmeg. It was a fun twist.  I'm  not sure I could pull it off as a Thanksgiving side, but it definitely tasted like I should be eating it in October, not like "regular" slaw, which screams summer to me.
Here's what I did …
Half of a large head of cabbage, shredded (I used 500g)
1 Asian pear, cut into small thin strips
1 large carrot, julienned or grated (100g)
4 oz (115g) yogurt
¼ cup apple cider
1 oz (28g) almonds
½ tsp cinnamon
½ tsp ground nutmeg
Kosher salt
Cut and prep all the ingredients. I did it all while chatting with The Husband who ordered his lunch in.
Place the cabbage, carrots, Asian pear, and almonds in a large bowl.
In a smaller bowl mix the yogurt, cider, cinnamon, nutmeg and a pinch of kosher salt to make the dressing.
Pour the dressing on top …
… and toss!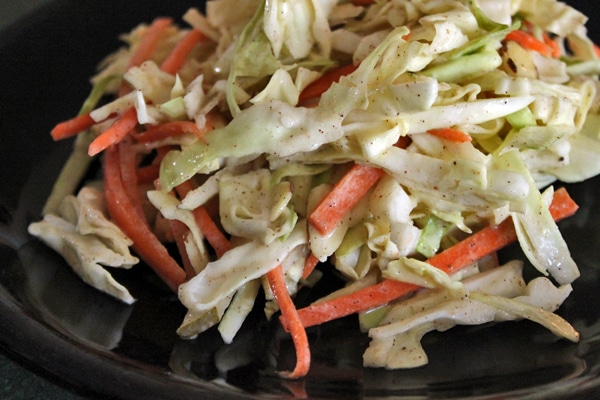 Pile on the plate and enjoy!
I ended up with 4 servings at the size plated above. It's just over 200g but I'm not sure how many cups.
Approx Nutritional Information per serving
Servings
Amt per Serving
4
 210g
Calories
Fat
Fiber
WWPs
120
4g
6g
old: 2
new: 3
Sugar
Sat Fat
Carbs
Protein
12g
0g
19g
5g