We got a little festive today and revisited an old favorite of ours, Yelatin. It's what we call the combination of jell-o (gelatin) and yogurt. We first experimented with it for St. Patricks day and then had fun mixing colors in a fun mold. This year we tried some new egg molds Grandma gave us with much success!
We made two colors but here's the basic recipe...
.3oz sugar free gelatin dessert (like jell-o) – any flavor
1 cup (8oz) boiling water
1 cup (227g) fat free plain yogurt
Dissolve the gelatin mix in the boiling water.
Whisk in the yogurt.
Spray the inside of the molds with a bit non-stick cooking spray.
Pour into the 6 egg molds. I used a turkey baster to make it a bit neater.
Refrigerate for about 2 hours until set.
The little guy was totally smitten with them and the pastel colors are just perfect for our Easter weekend. 🙂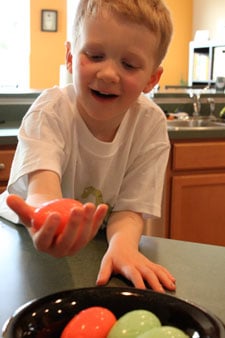 Here's the nutritional info based on 6 eggs.
Approx Nutritional Information per serving
Servings
Amt per Serving
6
1 Egg
Calories
Fat
Fiber
WWPs
35
0g
0g
old: 1
new: 1
Sugar
Sat Fat
Carbs
Protein
3g
0g
7g
3g