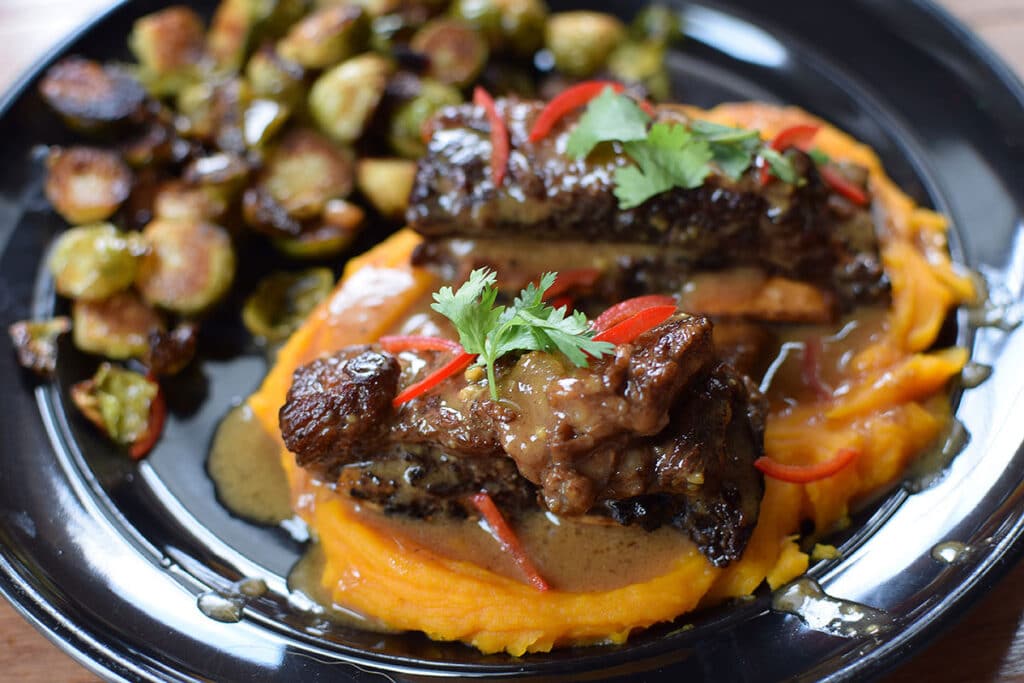 The Husband and I are kid-less this week (they are visiting Grandma!) so I planned some fun Date-Night-In style dinners for us. Asian-Inspired Short Ribs was my first. A few months ago I made short ribs for the first time following a recipe I found on Cooking Light. This time I ventured on my own using what I learned and just had some fun.
Ingredients
4-6 beef short ribs
1 cups broth
15 g ginger
6 cloves garlic
3 tablespoon apple cider vinegar
1 tablespoon molasses
1 tablespoon maple syrup
1 tablespoon fish sauce
¼ cup soy sauce
2 tablespoon mirin
1 tablespoon sesame oil
2 tablespoon or so of flour to thicken.
Instructions
It was my first day back to work at the college, so a slow cooker meal was perfect. Before I headed to work I seared the ribs in my cast iron.
Then into the Crockpot, they went.
Eight hours later. Home from work. Done!
On the side, I roasted butternut to make a puree and Brussel sprouts using some of the liquid from the Crockpot.
While the sides cooked I rested the ribs.
And thickened the juices for a nice gravy to drizzle.
I don't think I've ever been more proud of a meal. It was delicious and so fun to cook!
We enjoyed it in peace! Guys, I love my kids but they don't always make dinner fun. This was fun!
I'm planning a few other fun meals while they are gone. Check out my IG, I'm not sure I'll have time to post all of them here.
📖 Recipe
Asian-Inspired Short Ribs
Asian-Inspired Short Ribs mid-week when you want to be a little extra. Serve over pureed butternut with a side of roasted veggies for a complete meal.
Instructions
Salt all sides of the short ribs and set aside.

Heat a skillet or cast iron pan over high heat. Once it's nice and hot sear all sides of the short ribs. Do this in batches if necessary. Don't overcrowd the pan.

Set the seared ribs aside.

Combine the remaining ingredients in the crockpot. Place the short ribs in the crockpot, meat side down.

1 cups broth,

15 g ginger,

6 cloves garlic,

3 tablespoon apple cider vinegar,

1 tablespoon molasses,

1 tablespoon maple syrup,

1 tablespoon fish sauce,

¼ cup soy sauce,

2 tablespoon mirin,

1 tablespoon sesame oil

Remove the ribs after eight hours and set aside.

Remove a ladleful of the liquid in the crockpot and whisk it with the flour until smooth. Pour back into the crockpot and turn to high to thicken.

2 tablespoon or so of flour to thicken.

Once thickened add the ribs back in to coat in the liquid.

Serve the ribs over pureed butternut squash and garnish with cilantro and thinly sliced Fresno peppers (optional).
Notes
I puree roasted butternut squash with just a pinch of salt. It doesn't need anything else, in my opinion. 
You may notice some ingredients I don't normally use in thies one (fish sauce, mirin) I picked these up at my local grocery store for the firs time this week just to experiment. I'm glad I did! Great pantry additions. 
Instead of adding oil to whatever vegetable you are roasting (I used Brussels Sprouts) just use some of the liquid from the crockpot. This way, it has a little of the flavor of the ribs and brings the dish together. 
To thicken the juices I pureed besan (chickpea) flour with the crockpot liquid in my bullet. It's my favorite flour for thickening. Works like a charm! 
Nutritional info for this is tough for me. I don't know how to count the short ribs. In all my research, I can't tell if they are weighing them with or without the bone. Plus, the ingredients in the crockpot don't all get consumed. So what you see below is a pretty high estimate based on MFP. It's literally all the ingredients just halved so you would have to eat everything and every drop which doesn't happen, of course. So estimate as you see fit if you are counting. I counted my plate as 700ish calories, 45c, 41f, 32p.
Nutrition
Serving:
1
/2 recipe
Calories:
767
kcal
Carbohydrates:
32
g
Protein:
64
g
Fat:
42
g