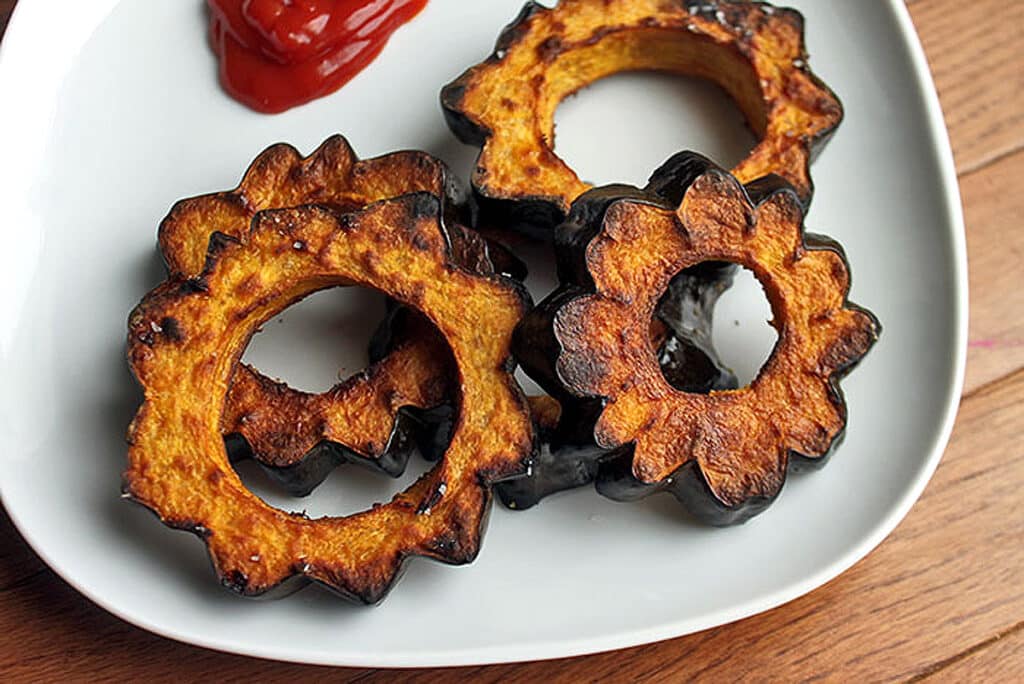 Originally posted 2014.
Completely uninspired, the acorn squash sat on my counter for weeks.
Nothing sounded fun — stuff it? Puree it? Attempt to get the family to eat it?
Ugh.
So I decided to simply cut and roast. There was only one problem.
I totally forgot about it in the oven!
I have no idea how much time passed but when I remembered I ran to the kitchen and pulled out these…
This may have been my greatest culinary mistake to date!
Acorn squash rings = my new obsession" – me on Instagram
Never in a million years did I think they would be as good as they were. The outside skin got crunchy, the inside was nice and soft and they stayed together perfectly.
They make such a cute appetizer or side dish!
So I set out to make them again this time taking a few notes and timing their stay in the oven. I was completely able to re-create them and I'm so happy I have a new yummy way to eat acorn squash!
As you can see my squash was on the small side. You can use a larger one but the rings will be quite large. I just looked for ones at the store I could hold in my hand.
I cut the squash in ¾-inch rings.
This makes it much easier to clean out the seeds and pulp by scraping with a spoon.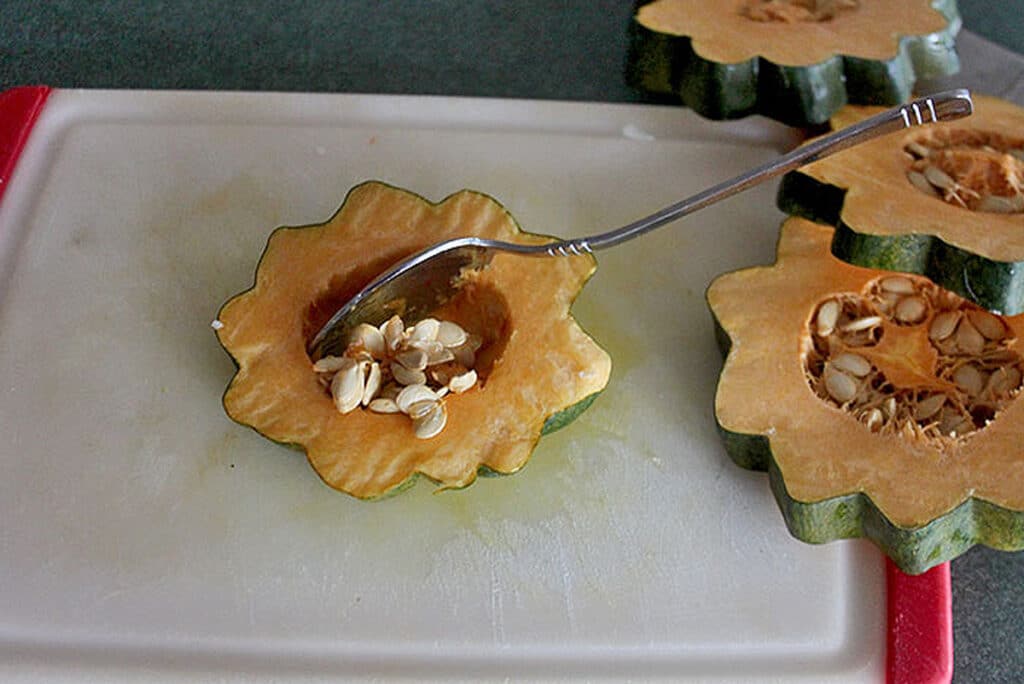 A bit of spray cooking spray helps salt stick.
Flip halfway through cooking and viola!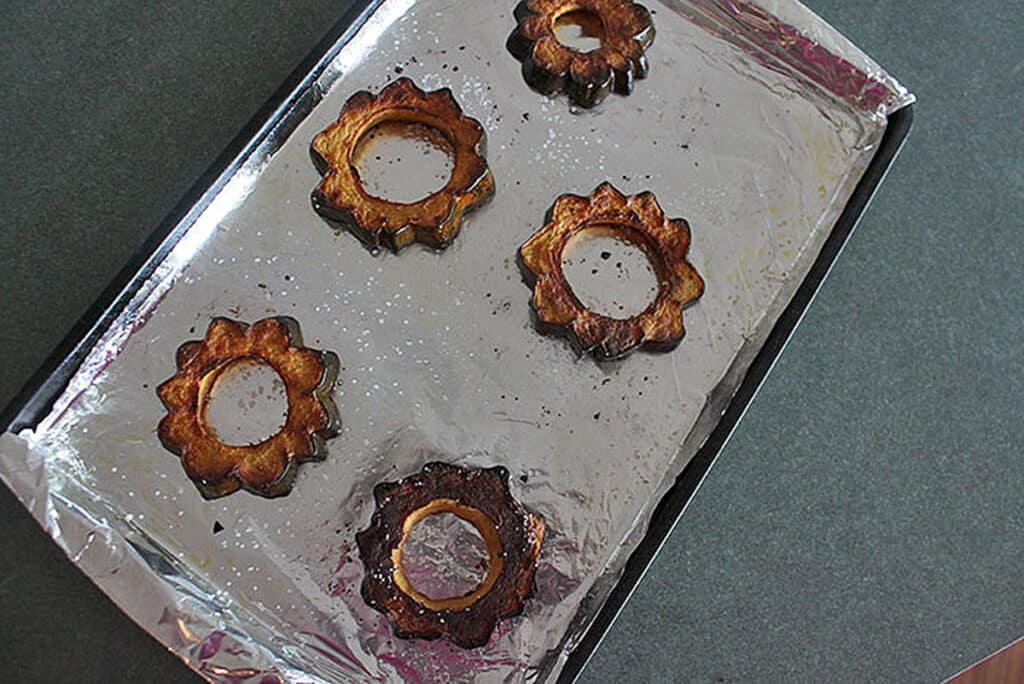 They will be on the brink of burnt but in the most perfectly perfect way.
The skin gets crunchy, the center soft and creamy. I like mine with…. wait for it…. ketchup.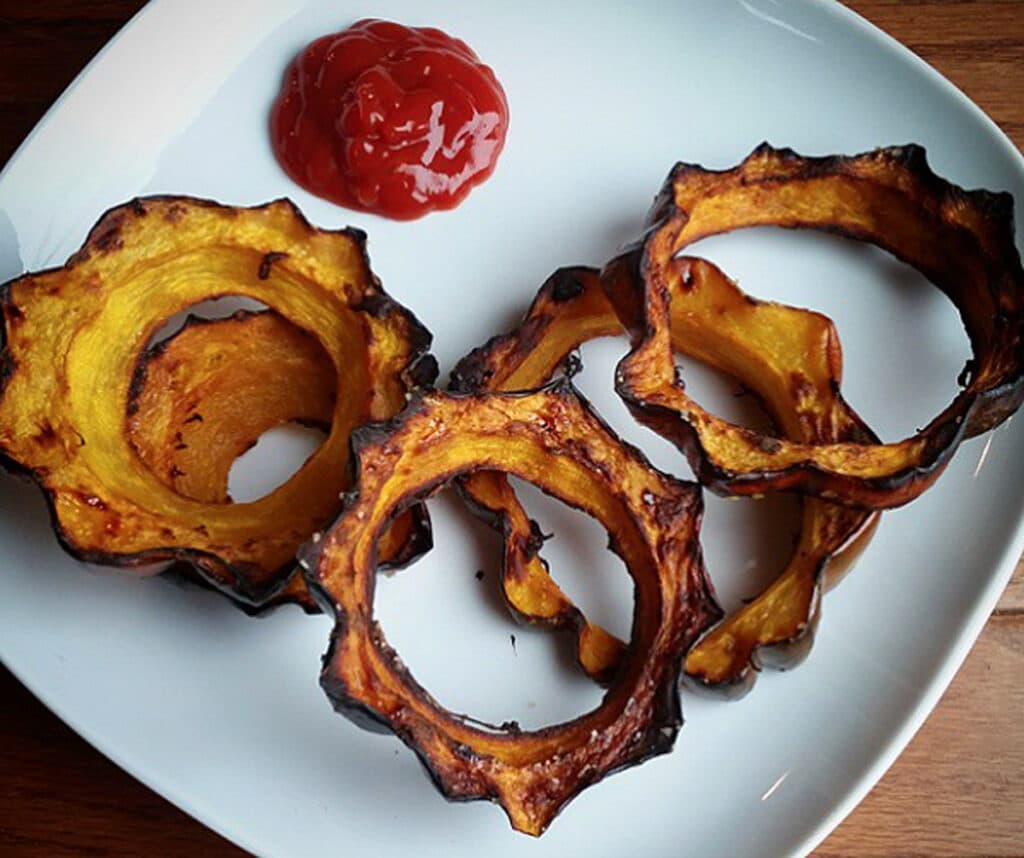 Weird I know, but so yummy! These are like a combo of onion rings and sweet potato fries. I mean, what else would I dip them in?
Update after repost... Sriracha. Now I dip them in siracha because, Sriracha!
📖 Recipe
Acorn Squash Rings
Acorn squash rings -- the love child of onion rings & sweet potato fries -- are a fun, easy way to prepare this winter squash when you're all out of ideas.
Ingredients
1

small acorn squash

(~650g) washed

Non-stick cooking spray
Instructions
Preheat the oven to 425 degrees.

Cut the squash in ¾-inch rings.

Clean out the seeds and pulp by scraping with a spoon.

Line a cookie sheet with aluminum foil and spray with non-stick cooking spray.

Lay the rings on the sheet and spray the tops with the cooking spray. Sprinkle with salt.

Roast for 50-55 minutes flipping once about halfway through.
Notes
You can totally spice these any way you like but I found just a sprinkle of kosher salt perfect.
Acorn squash is on their list of "free" foods but if I tally up the nutritional information I get about 7 points for the whole batch. This is why I don't really count points or follow Weight Watchers anymore. There's just not enough consistency and I don't want to stress over something like squash. It's not worth the energy. 
I'm counting this as 2 servings. 
Nutrition
Calories:
130
kcal
Carbohydrates:
34
g
Protein:
2
g
Fat:
1
g
Fiber:
5
g