This month's California Avocado Commission theme is "Fall Favorites." I immediately thought of two things: butternut squash and chili.
Yesterday I cracked open my first butternut squash of the season and decided to make, well, what else -- chili!
My goal was something hearty, filling and avocado friendly. I wanted to make something that would be enhanced by the creamy texture of cubed avocado, which makes a great chili topper! It's really all you need instead of the traditional cheese and sour cream.
My plan for this dish was to combine the freshness of the butternut and avocado with common pantry ingredients. This is the type of meal you can whip up using mostly what you have on hand.
Notice my spaghetti squash back there. I was considering using it as a base for the chili but decided against it when I realized how hearty it was. This dish is perfect as a stand-alone meal. There's no need for a filler like rice or spaghetti squash.
Of course I was the only one to eat this at my house. It's slightly too adventurous for the family, although I'm getting them closer to these types of meals. The 10-Year-Old declared his love of chili last year, which is step one in my one-pot mission -- I will get my family to appreciate the awesomeness of one-pot meals if it kills me!
Anyway, here's what I did...
1 tsp olive oil
1 onion, chopped
6 cloves of garlic, minced
1 chili pepper (can use red pepper flakes to taste if you don't have one)
1 small-medium butternut squash,  cubed (~600g cubed)
1 tbsp cumin
1 tbsp chili powder
1 tbsp dried cilantro
1 15oz can of diced tomatoes
12oz jar of roasted sweet peppers in water
1 15oz can of black beans (undrained)
Juice of one lime (~¼ cup)
½ cup uncooked quinoa
1 California avocado (½ cubed for each serving)
Heat a large pot over medium-high heat. Add the oil and sauté the onion, garlic, chili powder and a pinch of salt until they soften and start to darken in color (6-7 minutes.)
Add the cubed squash and spices and continue to sauté for another 6-7 minutes tossing every minute or so. This will release the flavor in the spices and allow some of the butternut to caramelize just a touch.
Add the can of diced tomatoes. If  your roasted peppers are sliced add the whole jar. If they are whole (mine were), drain the liquid into the pot and them run a knife through the peppers to make them into smaller pieces. Then add them to the pot along with the can of beans (with liquid).
Finally, juice the lemon and add it as well.  Stir everything together and bring to a light boil.
Add the quinoa and continue to lightly boil for 2 minutes uncovered. Then cover and lower to a simmer.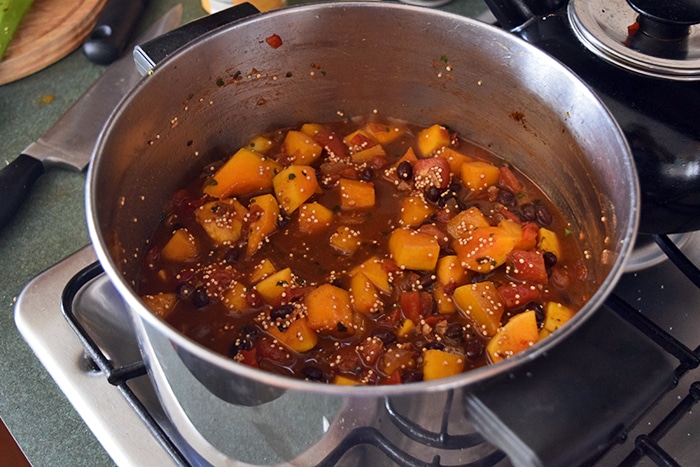 After 15-20 minutes, uncover and continue to simmer for about 10 more minutes until butternut squash is easily pierced with a fork.
Ladle into a bowl and take in your first bowl of fall (even though it was 90 degrees out when I made this!)
Now, that bowl looks good and sure, you could eat it straight up BUT this topper is the perfect finishing touch!
One quarter of an avocado cubed really balances the nutritional information per serving with just enough healthy fat since the chili itself is extremely low fat.
It was a bowl of awesome and at almost 2 cups a serving, a filling bowl of awesome!
Approx Nutritional Information per serving
Servings
Amt per Serving
4
~1 ¾ cups of chili topped with ¼ cubed avocado
Calories
Fat
Fiber
WWPs
385
8g
15g
old: 8
new: 10
Sugar
Sat Fat
Carbs
Protein
11g
1g
68g
14g
Full disclosure: I am working with the California Avocado Commission. They sponsored this post and provided the avocados.