I'm prefixing these with "Vegan" not because I'm marketing them as such but because it immediately warns you that they are untraditional. I have no issues with Vegan desserts. If anything, I find them fascinating because they push the envelope and prove you can make yummy healthy things without the traditional loads of butter, eggs and sugar that we are used to. Now, don't get me wrong,
I LOVE me some traditional baked goods as well but on a day to day basis I like to experiment with ways to make cookies and desserts that are a little lighter and contain more ingredients that boost their nutritional profiles. Which isn't that hard to do especially when you have a kid that hears the word "cookie" and goes nuts. It warms my heart to know I'm feeding him pumpkin, oats and flax and he's LOVING every minute of it.
Oh and boy did he love it! He couldn't stop eating these straight out of the oven.. he munched and munched all morning and kept asking if he could have another. It was awesome! The flavor was awesome! the Texture? Well, not a traditional cookie per se, very soft/chewy and almost cake like but we both really like it. The husband said, and I quote, "Not bad but these aren't my thing." Which they aren't. I have only ever seen the man eat traditional chocolate chip cookies. That's it. No other cookies have passed his lips since I met him. I SWEAR! He is not HUMAN!
Anyway, I based the recipe on Post Punk Kitchen but of course I changed it up. Reducing the sugar, kicking out the oil and upping the flax. Really, I should seek professional help as it is IMPOSSIBLE for me to follow a recipe as it. I just can't do it. Scratch that, I just don't want to. In a way it's not fun for me. It takes away everything I love about cooking. Is that weird?
Anyway, here's what I did...
Ingredients
2 cups of white whole wheat flour (240g)
1 ½ cups Rolled Oats (120g)
1 teaspoon Baking Soda
¾ teaspoon salt
1 teaspoon cinnamon
½ teaspoon nutmeg
½ cup organic or sugar in the raw (regular would work fine)
¾ cups applesauce (183g)
2 tablespoon molasses
2 tablespoon honey or agave
1 cup canned pumpkin (240g)
1 teaspoon vanilla
2 tablespoon whole flaxseeds (20g) ground
Instructions
Preheat the oven to 350 degrees
Combine the dry ingredients; flour oats, baking soda, salt, cinnamon, nutmeg. Mix well or let the kids mix well. 🙂
In a separate bowl combine the sugar, applesauce, molasses, honey, pumpkin, vanilla and ground flaxseeds. Mix well.
Add the dry ingredients to the wet and fold in until well combined. The cookie batter will look like this...
Drop by the tablespoon on cookie sheets sprayed with non-stick spray. The cookies will not spread so flatten them out slightly with a fork. Bake for 16 minutes. remove and let cool (while taking pictures. 🙂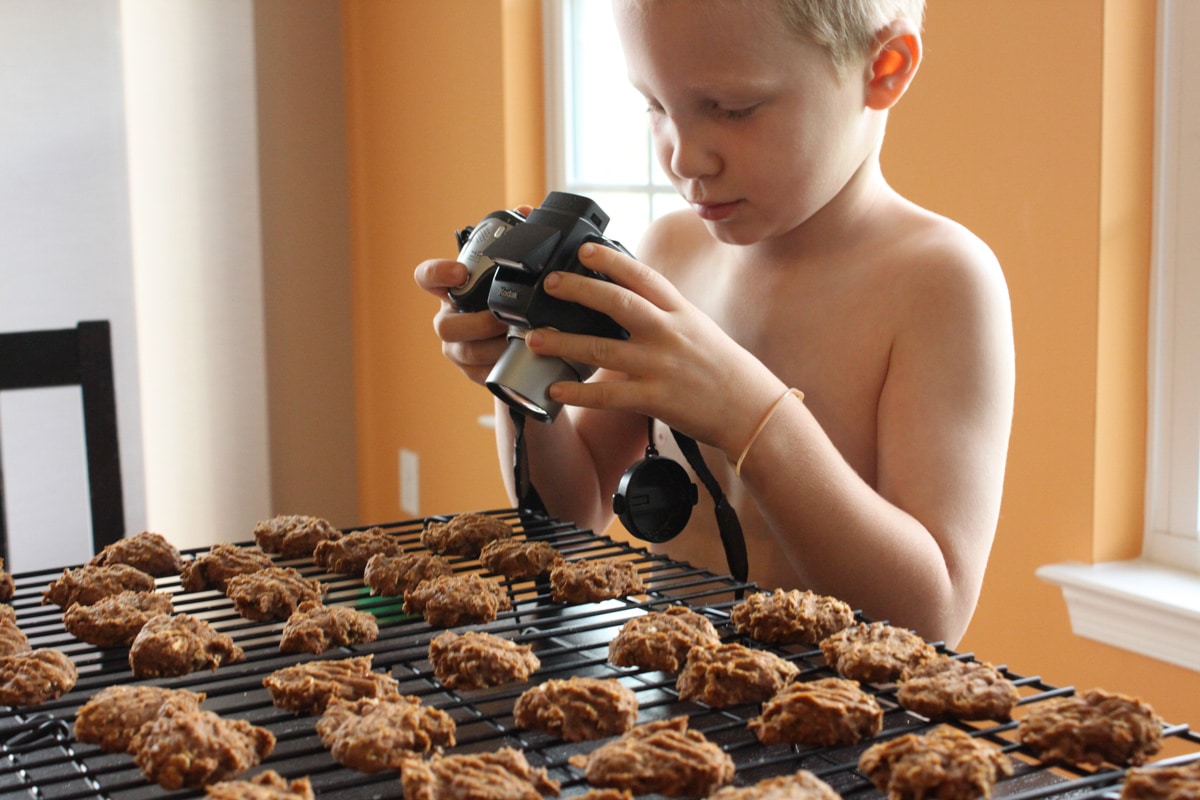 We ended up with 66 cookies. Now, I've been back and forth on a serving size to calculate the nutritional info but 3 cookies per serving works out perfectly but please note... 5 cookies is only 3 points (actually 2.8)! As a prior point counter I like the sounds of that. 🙂
Oh! and in case you are wondering what I did with the leftover pumpkin in the can, I combined it with a serving of my leftover overnight steel cut oats, mixed in a little sugar in the raw, some pumpkin pie spice and extra cinnamon..... oh.my.word! DELICIOUS! Really, even though it looks like a pile of mush...
📖 Recipe
Vegan Pumpkin Oatmeal Cookies
You don't have to sacrifice taste when going vegan! These vegan pumpkin oatmeal cookies are a crowd-pleaser and perfect for satisfying your sweet tooth.
Ingredients
2

cups

of white whole wheat flour

240g

1 ½

cups

Rolled Oats

120g

1

teaspoon

Baking Soda

¾

teaspoon

salt

1

teaspoon

cinnamon

½

teaspoon

nutmeg

½

cup

organic or sugar in the raw

regular would work fine

¾

cups

applesauce

183g

2

tablespoon

molasses

2

tablespoon

honey or agave

1

cup

canned pumpkin

240g

1

teaspoon

vanilla

2

tablespoon

whole flaxseeds

20g ground
Instructions
Preheat the oven to 350 degrees

Combine the dry ingredients; flour oats, baking soda, salt, cinnamon, nutmeg. Mix well or let the kids mix well.

2 cups of white whole wheat flour,

1 teaspoon Baking Soda,

¾ teaspoon salt,

1 teaspoon cinnamon,

½ teaspoon nutmeg,

1 ½ cups Rolled Oats

In a separate bowl combine the sugar, applesauce, molasses, honey, pumpkin, vanilla and ground flaxseeds. Mix well.

½ cup organic or sugar in the raw,

¾ cups applesauce,

2 tablespoon molasses,

2 tablespoon honey or agave,

1 cup canned pumpkin,

1 teaspoon vanilla,

2 tablespoon whole flaxseeds

Add the dry ingredients to the wet and fold in until well combined. The cookie batter will look like this...

Drop by the tablespoon on cookie sheets sprayed with non-stick spray. The cookies will not spread so flatten them out slightly with a fork. Bake for 16 minutes. remove and let cool
Nutrition
Calories:
35
kcal
Carbohydrates:
7
g
Protein:
1
g
Fat:
0.3
g
Saturated Fat:
0.05
g
Polyunsaturated Fat:
0.1
g
Monounsaturated Fat:
0.1
g
Sodium:
44
mg
Potassium:
32
mg
Fiber:
1
g
Sugar:
3
g
Vitamin A:
579
IU
Vitamin C:
0.2
mg
Calcium:
5
mg
Iron:
0.4
mg