All the cheesy awesomeness of a Philly cheesesteak on a fresh bed of baby spinach. Why hadn't I thought of this before? It was simply delicious and I didn't even miss the ketchup! (I'm ketchup obsessed for those who don't know.)
I make traditional cheesesteaks with leftover meat from the London broils I cooked, but with only 3 ounces of meat left from the one I made the other night, I didn't have enough to make one for both The Husband and me.
Instead he ate some disgusting frozen mac & cheese (his favorite) and I made myself this amazing salad. It was so simple and filling! I used to make wraps or stuff pitas but now I have new go-to for any leftover beef.
Who needs bread when you have spinach?
Here's what I did...
Ingredients
¼ of a large sweet onion, chopped
1 small green bell pepper, chopped
3 oz cooked London broil chopped
1 oz fancy shredded Cheddar cheese blend
2-3 cups fresh baby spinach
Instructions
Heat a non-stick skillet over medium-high heat.
Spray with non-stick spray and sauté the onion until it starts to brown and get a little translucent.
Add the peppers and continue to cook just until they soften and get a little charred.
Finally, add the steak.
Pile everything in the middle of the pan, top with the shredded cheese and cover until melted.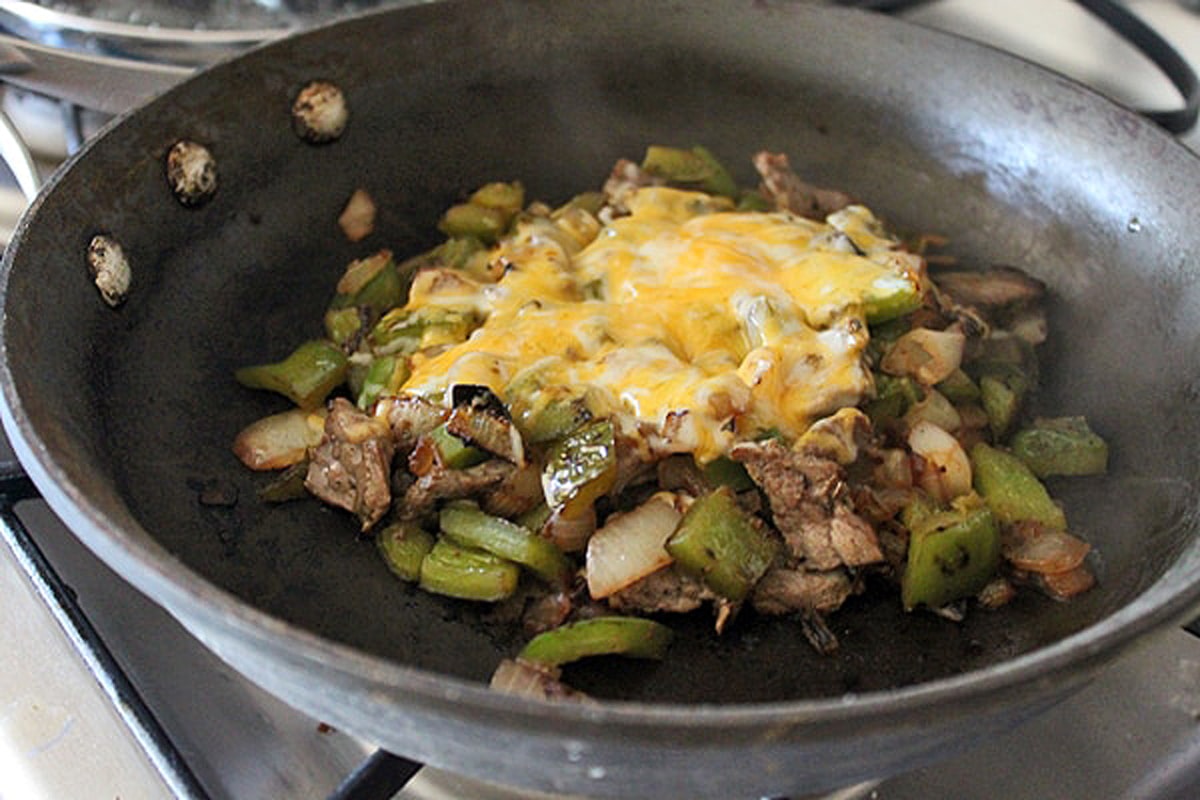 Adding a splash of water can help melt the cheese faster as it steams under the lid.
Slide the "Cheesesteak" on top of the baby spinach leaves and enjoy!
Using Leftovers: Cheesesteak Spinach Salad
Turn your leftover cheesesteak into a delicious and healthy meal with this spinach salad recipe! Quick and easy to prepare, it's perfect for a mid-week dinner.
Ingredients
¼

of a large sweet onion

chopped

1

small green bell pepper

chopped

3

oz

cooked London broil chopped

1

oz

fancy shredded Cheddar cheese blend

2-3

cups

fresh baby spinach
Instructions
Heat a non-stick skillet over medium-high heat.

Spray with non-stick spray and sauté the onion until it starts to brown and get a little translucent.

Add the peppers and continue to cook just until they soften and get a little charred.

1 small green bell pepper

Pile everything in the middle of the pan, top with the shredded cheese and cover until melted.

1 oz fancy shredded Cheddar cheese blend

Adding a splash of water can help melt the cheese faster as it steams under the lid.

Slide the "Cheesesteak" on top of the baby spinach leaves and enjoy!

3 oz cooked London broil chopped,

2-3 cups fresh baby spinach
Nutrition
Calories:
285
kcal
Carbohydrates:
14
g
Protein:
29
g
Fat:
13
g
Saturated Fat:
7
g
Polyunsaturated Fat:
1
g
Monounsaturated Fat:
3
g
Cholesterol:
80
mg
Sodium:
297
mg
Potassium:
928
mg
Fiber:
4
g
Sugar:
8
g
Vitamin A:
8228
IU
Vitamin C:
116
mg
Calcium:
300
mg
Iron:
4
mg