I didn't think I'd like this as much as I did, but boy was it tasty!
I was looking for a way to use leftover cooked chicken. Then I realized I also had some ripe avocados. At first I was thinking of making some sort of chicken salad using avocado instead of mayo but the thought of green chicken salad didn't sound too appetizing.
That's when I spotted the FlatOut bread and I couldn't get the thought of pizza out of my head.
I assembled a few ingredients.
And before I knew it I had a tasty, healthy, FILLING lunch.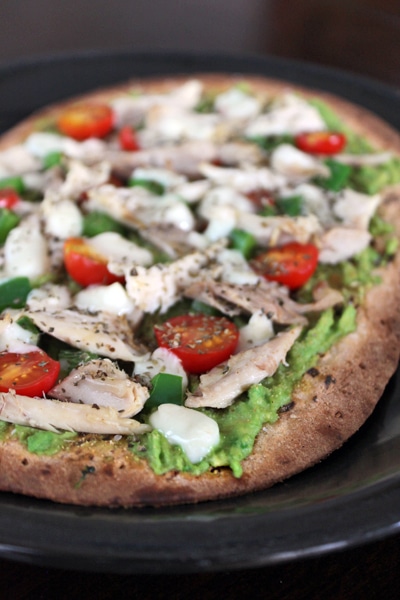 I will definitely be making this again. Maybe next time I'll give it a Mexican twist with salsa, Cheddar and jalapeños!
Here's what I did ...
1 Light FlatOut Bread (a tortilla could also work)
½ ripe avocado
6 or so grape tomatoes, halved
2-3 slices of green bell pepper, chopped
2 oz cooked chicken, chopped
1 Mini Babybel Mozzarella, cut into small cubes
Kosher salt, garlic powder, Italian seasoning
Turn on the broiler.
Lay the flatbread on a cookie sheet sprayed with non-stick spray and crisp it up under the broiler for 1-2 minutes.
While the flatbread is in the oven, mash the avocado half.
Once the edges just start to brown on the flatbread, pull it out of the oven and smear with the avocado.  Then sprinkle to taste with salt, garlic powder, and Italian seasoning.
Pile on the rest of the ingredients and sprinkle with a little extra Italian seasoning.
Place the pizza back under the broiler for 1-2 more minutes until the cheese melts and the edges brown.
Cut and enjoy!
Approx Nutritional Information per serving
Servings
Amt per Serving
1
Entire Recipe
Calories
Fat
Fiber
WWPs
405
25g
14g
old: 9
new: 11
Sugar
Sat Fat
Carbs
Protein
0g
5g
24g
29g
Disclosure: I've partnered with The Laughing Cow. Click here for more info and click here to see all my ideas using the Laughing Cow!