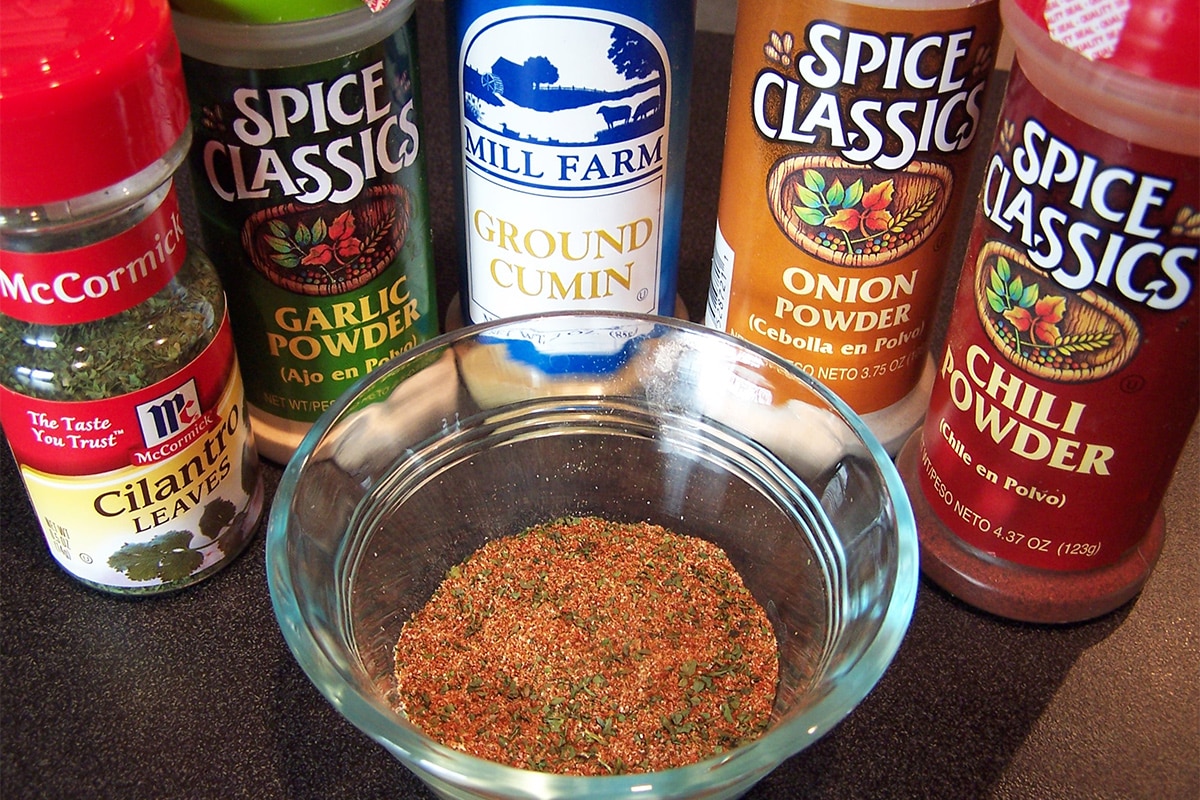 When I posted the Quick Quinoa & Turkey Taco Stew awhile back, I received a few questions about Taco Seasoning. I normally never buy those little packets, you know, the ones with WAY to much salt in them, but when I made the stew I happen to have a packet lying around from an old recipe and it worked great. When I make it again I'll probably use my own seasoning.
Anyway, I made tacos the other night and measured out my own spices to give you some ideas. This combination can be used on anything, ground beef, chicken, I even used it in a double batch of Southwestern Turkey Burgers that I made today. For my tacos, I used 8 oz lean ground beef and the following spices.
Ingredients
1 ½ teaspoon chili powder
1 teaspoon cumin
1 teaspoon dried cilantro
½ teaspoon onion powder
½ teaspoon garlic powder
Ground red pepper flakes to taste
Salt & Pepper to taste
Instructions
Now, if you are the type of person who buys those packets instead of keeping spices on hand, I encourage you to try this. It may be intimidating at first but most of the spices you see pictured were 99 cents each. That's a heck of a lot of taco seasoning. Plus you can use the spices for other things as well! And don't believe what all the "top chefs" tell you about replacing your spices every 3 months. Some of you may think I'm crazy but I've had some of my spices for years. They still "work" and add a lot of flavor to your dishes.
Anyone want to add anything to our taco seasoning? Any other spices you add?
📖 Recipe
Taco Seasoning
Say goodbye to store-bought taco seasoning and hello to delicious homemade goodness! This recipe is quick, easy and perfect for any taco lover.
Instructions
mix it all together

1 ½ teaspoon chili powder,

1 teaspoon cumin,

1 teaspoon dried cilantro,

½ teaspoon onion powder,

½ teaspoon garlic powder,

Ground red pepper flakes to taste,

Salt & Pepper to taste
Nutrition
Calories:
25
kcal
Carbohydrates:
4
g
Protein:
1
g
Fat:
1
g
Saturated Fat:
0.1
g
Polyunsaturated Fat:
0.3
g
Monounsaturated Fat:
0.4
g
Sodium:
93
mg
Potassium:
126
mg
Fiber:
2
g
Sugar:
0.4
g
Vitamin A:
921
IU
Vitamin C:
1
mg
Calcium:
35
mg
Iron:
2
mg