I was watching the food network and Bobby Flay was having a Throwdown with some Crêpe ladies and I was inspired. I never had a Crêpe before. Have you?
So I set out and researched a bit on line and most recipe required a lot of eggs and butter. Wanting something lighter, I experimented with my own creation and was SHOCKED when they came out! Now, I honestly have NO idea what a crepe is suppose to taste like but if it's a fairly bland resilient vessel for other ingredients this recipe worked great!
They were much easier then I thought to make and I love the fact that I can stuff them with anything I like. Today I tried berries, turkey and cheese, and leftover Chinese food! All were fabulous and the Crêpe held in the ingredients and I was able to eat them like a burrito.
I have no one else's opinion today as the toddler is visiting Grandma and the husband was working all day.
So will some experimental soul PLEASE try it and let me know if this is what a Crêpe is suppose to be like? :~P
1 egg
1 egg white
⅛ tsp salt
1 cup whole wheat flour (120g)
1 ¼ cup skim milk
non-stick cooking spray
Whisk the egg, egg white and salt until a bit frothy.
Slowly add the flour and milk alternating a little at a time while whisking.
Warm a medium non-stick skillet (~9inch) over medium heat and spray with non-stick cooking spray. Pick the pan up off the heat and pour about ¼ cup of the batter. Immediately roll the pan around to spread the batter and fill the bottom of the pan. Place the skillet back on the heat for about 30-40 seconds.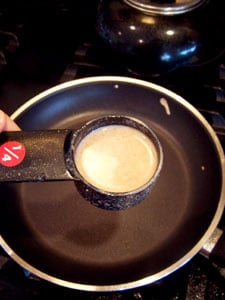 You'll know it's ready to flip when the edges start to curl (as seen in the above picture) and the Crêpe slides when you shake the pan.
Slide a plastic spatula under and flip. Cook for an additional 10-15 seconds. Slide onto a plate.
Repeat the process until all the batter is gone, about 8-10 crêpes.
This morning I filled one with fresh berries and a little low-sugar jelly. For lunch I filled one with a slice of cheese, turkey breast, baby spinach, tomatoes and honey mustard and ate it like a wrap. For dinner I also made a wrap with one and filled it with leftover Chinese chicken and broccoli! It was Crêpe-ilicious day!
Update: Click here to check out my pizza Crepe idea on video.
Approx Nutritional Information per serving
Servings
Amt per Serving
9
1 crepe
Calories
Fat
Fiber
WWPs
70
1g
1g
old: 1
new: 2
Sugar
Sat Fat
Carbs
Protein
0g
0g
11g
4g