"Mom, can you call these Ryan's Pumpkin Cookies?"
That's a quote from The 9-year-Old on Sunday while licking the batter of his new favorite cookies.
Much to The Husband's dismay I've been reducing store-bought snack foods over time. The kids have noticed too but they are more opt to simply choose one of my healthy option whereas The Husband will actually make a store run just to pick up something to munch on. That's fine with with me, as long as it's not in stock and the kids don't have access to it.
I've learned that the kids will pretty much eat any snack that's accessible. That's why I always keep a variety of nuts and fruit available, but with the holidays coming I thought it would be nice to have some festive home-baked goodness in the cookie jar.
So I took a shot at a pumpkin cookie idea I had and then refined it Sunday before sharing it with you.
The first time I made them the 9-Year-Old couldn't keep his fingers out of the batter.
I took that as a good sign.
This was his reaction after they were baked.
He LOVES them and so does The 3-Year-Old.  Frankly, I'm surprised, they aren't the most amazing cookies I've ever had. The batter has a great flavor but they come out more soft and cake-like than a gooey chocolate chip or crunchy sugar cookie. That was my intention as I'm using the smallest amount of butter possible. I'm just surprised the kids like them so much. I actually had to cut them off yesterday or they would have eaten the whole batch easily.
I tried to keep the ingredients super simple and even though my goal is to always use the full can of pumpkin, I would have had to make too many to do that.
So I do that dreaded half cup of pumpkin thing. If you are unsure what to do with the leftover pumpkin you can always freeze it for these amazing smoothies or use it for lots of other recipes.
Here's what I did...
1 ½ cups white whole wheat flour (180g)
1 tsp baking powder
1 tsp cornstarch
1 tsp pumpkin pie spice
⅛ tsp salt
½ stick of butter at room temperature (¼ cup)
½ cup Sugar in the Raw (regular would be fine, this is just what I has in stock)
1 large egg
1 tsp vanilla
½ cup canned pumpkin (120g)
Optional Sugar Topping
1 tsp Sugar in the Raw
¼ tsp cinnamon
Preheat the oven to 375 degrees and pull out all the ingredients. As you use an ingredient put it away. That's a little trick my mom taught me so the kitchen doesn't look like a bomb went off when you're done.
Whisk together the flour, baking powder, cornstarch, pumpkin pie spice and salt and set aside.
In case you are wondering, I was reading about cornstarch and how it makes cookies more tender. That's why I used it in the recipe considering I'm using 100 percent whole wheat flour -- it seemed like a good idea.
In a separate bowl, beat the butter and sugar together on high for a good 3-4 minutes. If you have a standing mixer, by all means use it. I don't and frankly I don't want one. I have no desire for more overhead in my kitchen. I'm a low-tech kind of girl. 
Add the egg and continue beating.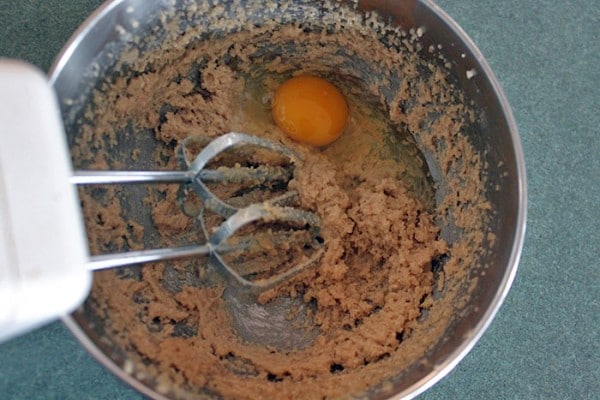 Another 2 minutes on high should do it. The batter should be nice and creamy.
Beat in the pumpkin and vanilla.
Once the pumpkin is mixed in slowly beat in the flour mixture. I add about ¼ at a time.
Stop beating as soon as all the flour is incorporated.
Dollop batter on a prepared cookie sheet by the tablespoon. These won't spread too much so they can be close but you should pat them down a bit.  I decided to do this with a little sprinkle of cinnamon sugar on the top to help it from sticking to my fingers. Plus, with only ½ cup of sugar in the cookies these aren't overly sweet (on purpose) so the little bit of sugar on the outside helps trick the kids' taste buds.
I'm sneaky like that.
Mix together the sugar and cinnamon for the topping and sprinkle a small pinch on top of each cookie flattening slightly.
Bake for 8-10 minutes.
Let cool and fill your favorite cookie jar!
With keeping batter tasting to a minimum we made exactly 48 small cookies. I don't know about you but I'd rather make small cookies so I can eat more. It's like a mind trick. If I make large cookies I still eat tons, so at least when they are small I'm saving myself some calories.
Approx Nutritional Information per serving
Servings
Amt per Serving
16
 3 cookies
Calories
Fat
Fiber
WWPs
95
3g
1g
old: 2
new: 2
Sugar
Sat Fat
Carbs
Protein
7g
og
14g
2g