I've been playing around with this oatmeal idea for a few weeks. I tried quick, instant and rolled (old fashioned) oats and honestly, I liked the rolled best. They only take a few minutes more to prepare and the texture is much better, in my opinion. Plus they seem to fill me up longer.
Nutritionally, instant, rolled and even steel cut oats are identical. However the less the oats are processed the lower the glycemic index, which means they absorb slower into your bloodstream. A lot of people recommend steel cut oats and I get it, I really do. I'm just not there YET. 🙂 Consider this my graduation from instant to rolled. Maybe by the end of the year I'll take to the leap to Steel Cut. Remember... it's a journey. 🙂
I did make this for myself and the toddler declared he didn't like it on sight alone. I then got him to try a bite and he said it was good so I'll give this the toddler approved mark but I'm not quite sure I'd get him to eat a whole serving yet.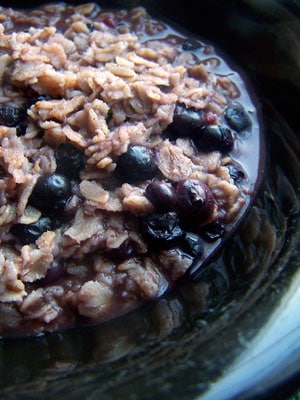 1 cup water
½ cup (40g) Old Fashioned (Rolled) Oats
½ tsp cinnamon
¼-1/2 tsp stevia based on taste (equivalent in sweetener of your choice)
½ cup frozen blueberries (about 75g)
Bring water to a boil in a medium sized pot. Add the oats, cinnamon and stevia. Reduce to medium heat and cook for 5 minutes.
Add the frozen blueberries. Raise the heat back to high and bring to a boil (about another minute cooking time) while stirring to defrost the blueberries.
Remove from heat and serve!
Approx Nutritional Information per serving
Servings
Amt per Serving
1
About 1.5 Cups
Calories
Fat
Fiber
WWPs
195
3g
7g
old: 3
new: 5
Sugar
Sat Fat
Carbs
Protein
7g
0g
38g
6g