Update 2: Homemade Almond Milk the Video!
I made a shake after my workout tonight and I have no problem declaring it my favorite immediately. That is how GOOD it was. However, the toddler did not agree. His exact quote was "it's yucky." Wonder where he learned that word from. ;~)
Let me start at the beginning. If you've been following along I took my hand at some homemade almond milk after trying some store bought and falling in love. Then I tried it again, this time changing up my straining procedure and making some cookies in the process. Well, today, I made the milk the same exact way just adding a little bit of flavoring. Before blending the almonds I added a ½ tsp vanilla extract, ½ tsp almond extract and ½ tbsp of agave nectar (you could use honey).
I was pleasantly surprised! The hint of flavor added was awesome! At least I thought so. The toddler didn't agree. He prefers his almond milk straight up. That's cool with me, next time I'll keep it simple. 🙂
Ok, back to this shake! When I got home from the gym, I decided to make a quick protein shake. Here's what I did...
4 oz of vanilla almond milk
½ banana
1 tbsp agave nectar (21g)
1 tbsp unsweetened cocoa powder (5g)
1 scoop unflavored protein powder (I used Any Whey)
4-5 ice cubes
Blend everything until smooth! I used my bullet. Can't get much simpler then that!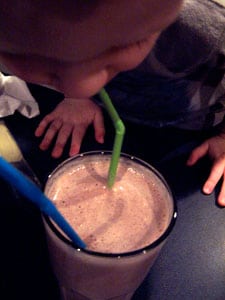 For me the hint of vanilla, almond, banana and chocolate was an amazing combo! The nutritional information is a little shaky as I'm not quite sure how to calculate for homemade almond milk. In my rough estimates I'm getting about 200 calories for the whole recipe, 4 WWPs.
Update 2: Homemade Almond Milk the Video!