When I was a kid one of my favorite things to do with Mom was make egg creams. I have fond memories of stirring the concoction with a large tablespoon and drinking the frothy result. Mustache and all. 🙂
I also remember asking her why in the world they were called egg creams when we didn't use any eggs or cream to make them. I'm not quite sure she knew and after a little research I'm not sure anyone really does.
Tonight I just had a craving for one and while making it I realized... what a fun lite treat! Especially with a few simple substitutions.
1 tbsp lite chocolate syrup (35g)
4 oz Skim milk
6 oz of unflavored seltzer (although cherry would be good!) 🙂
Put all ingredients in a glass and mix well until you get a frothy top.
Unfortunately my seltzer wasn't to fresh so I didn't get many bubbles but it tasted just like I remembered and it's been at least 20 years since I had one.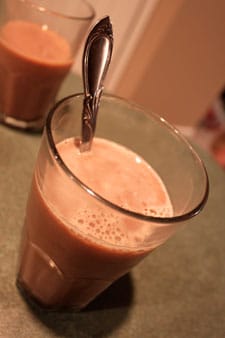 By the way I have gotten a new camera, Canon EOS Rebel T1i
. I'm still learning how to use it so bear with my as my pictures may not be up to snuff for a few weeks. 🙂
Oh! and I have to say... the kid was NOT a fan. I think he was expecting regular chocolate milk so the "fuzziness" through him off. lol
Approx Nutritional Information per serving
Servings
Amt per Serving
1
Entire Egg Cream
Calories
Fat
Fiber
WWPs
100
2g
0g
old: 2
new: 3
Sugar
Sat Fat
Carbs
Protein
16g
1g
18g
5g