I feel like I've talked these up so much on social media that everyone is now going to be disappointed but seriously, these things came out AMAZING!
Don't get me wrong, they aren't traditional brownies but look…
I've never gotten a reaction out of The Husband like that before. Really, it NEVER happens. He's just not into nontraditional desserts like I am so you KNOW these are something special.
There were no kids home when I made them but later that night the 3-year-old and I sat down to dessert.
He tried to give me a thumbs up.
But that darn thumb wouldn't cooperate!
Got it! LOL
The 8-year-old is also a big fan. He actually helped me brainstorm the recipe and we came up with the idea of the chocolate chips after our first batch was a little dry. It reminded me of a devil dog without the cream. Good, but there was something missing. Apparently that something was a nice thin layer of chocolate!
I was inspired by Snack Girl on this one. She recently posted blender cake and that's when I started experimenting. I was shocked how good my first attempt came out, so I fiddled a bit more and decided on the recipe below.
I made them with both whole wheat flour and oat flour with success. I also used butter beans and northern beans. I think the northern came out better but the really, any white canned beans that totals around 250g once drained and rinsed should be fine.
OK, let me share the details because I'm REALLY excited about this one…
1 15.5-ounce can of northern beans, drained and rinsed (white kidney, butter or cannelloni would also work)
2 large eggs
1 tsp baking powder
2 tsp vanilla extract
⅔ cup dark brown sugar
½ cup whole wheat flour (60g) (can also use 60g of oats, ground up)
¼ cup unsweetened cocoa powder (20g)
⅓ cup chocolate chips (60g)
Preheat oven to 350 degrees.
Put all the ingredients in the blender except the chocolate chips.
Blend until smooth.
Pour half the batter into the square cake pan sprayed with non-stick cooking spray. Bang it to get the batter to cover the bottom, then evenly distribute the chocolate chips to create a layer.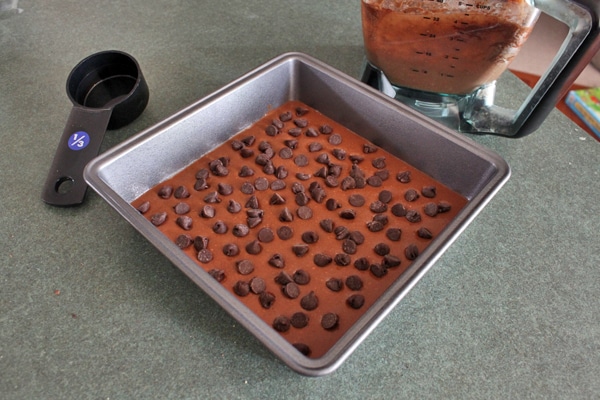 Drizzle on the remaining batter and shake the pan again to distribute it evenly throughout the pan.
Bake for 25 minutes.
Wait as long as you possible can before cutting in. For me it was literally 30 seconds.
I'm joking of course because what's better than warm brownies? You HAVE to cut in while they are still hot!
The layer of chocolate chips will be nice and gooey and some will have soaked into the batter helping to make that brownie experience and texture.
I'm not messing around with serving sizes when it comes to brownies. There's no way I'd be satisfied with cutting that batch into 16 squares so I took a more realistic 4-cut approach yielding 9 perfectly sized brownies and the nutritional information is STILL impressive. Only 165 calories!
Want bake them with me? I recored a video yesterday!
I'm trying to post at least 1 video a week to my YouTube channel. Now all will be posted here so please subscribe on youtube today! Thanks!! 
Approx Nutritional Information per serving
Servings
Amt per Serving
9
1 brownie
Calories
Fat
Fiber
WWPs
165
3g
4g
old: 3
new: 4
Sugar
Sat Fat
Carbs
Protein
19g
2g
31g
5g