Last week I made a big batch of quinoa to keep in the fridge for quick meals. I wasn't sure what I was going to do with it but I figured if it was there I'd eat it.
And I did!
Quinoa has such a fun texture and really takes on the flavors of whatever you mix in or cook it with. So in a way it's a blank slate in the same way pasta, rice or even bread is -- and that's when it hit me. Bread... why not make my favorite sandwich into a quinoa bowl.
Why didn't I think of this earlier?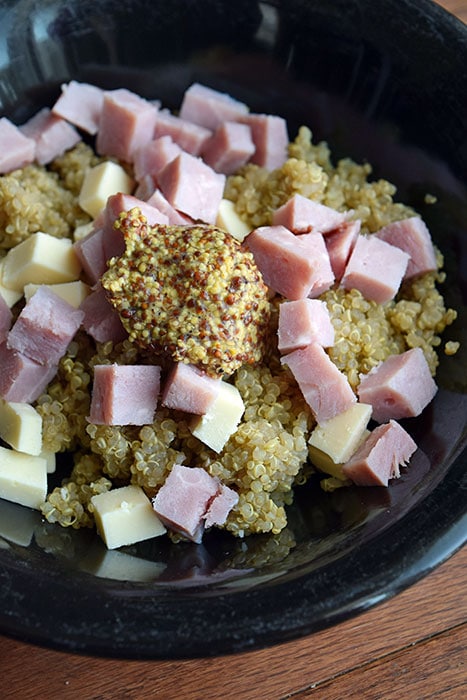 Ham... cheese... mustard... and instead of bread, quinoa! It's a really fun dish and takes all but 30 seconds to pull together (well, if you are prepared and keep cooked quinoa on hand).
This is one of those ideas I'm almost embarrassed to share because it's so stupid simple. But... I'm thinking if it took me this long to come up with it than maybe someone else will find it interesting as well. Or at the very least, it will inspire a similar simple idea. Here's what I did...
¾ cup cooked quinoa (123g)
1 oz Cheddar cheese, cubed (I used Cabot Horseradish -- I love how it tastes with ham and mustard)
2 oz cubed ham
2 tsp (10g) grainy mustard
Put all ingredients in a bowl, mix and enjoy!
You can't get easier than that. You can even buy precooked quinoa at places like Target!
Approx Nutritional Information per serving
Servings
Amt per Serving
1
Entire Recipe
Calories
Fat
Fiber
WWPs
390
17g
3g
old: 9
new: 11
Sugar
Sat Fat
Carbs
Protein
7g
7g
34g
30g
Full Discloser: Cabot sends me free samples of cheese now and then but this is NOT a sponsored post. All opinions are my own.