Tonight's dinner was an absolute FAIL! Well.. not ALL of it but my idea to make an apple chutney turkey loaf based on the apple chutney burgers (that I love) just didn't come out as I expected.
I used too much vinegar, not enough apples and the loaf just didn't stay together. I also attempted to make an apple based gravy which no one liked but me. However my Creamy Mashed Potatoes were a hit (they always work out perfectly) and the side of broccoli was the first thing gone off everyones plates.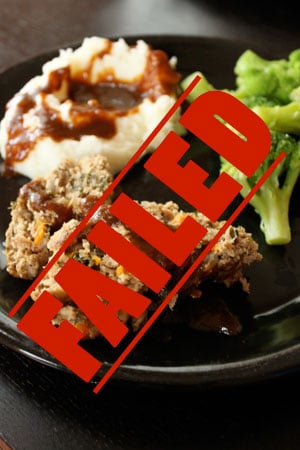 WHY am I sharing this failed dinner? Well it's simple... we all fail sometimes. No one is perfect in the kitchen no matter what they tell you. One of the goals of my blog is to inspire people to cook more at home. To take ownership of the food they feed themselves and their family and to to TRY! The benefits to cooking more at home are countless but there some pitfalls as well. There may be catastrophes, messy kitchens and possibly unhappy kids, or in my case husbands--that happens more often in my house. 😉
So I will continue to share my successes, failures and ideas in hopes to inspire. Trying new things is fun and the lessons my son has learned in our kitchen, invaluable. Tonight we talked about how sometimes you have to eat a few bites of something you may not like because it's what was made for dinner. Simple as that.
I promised the husband a "safe" dinner tomorrow. Meaning... no experiments. 😉