Every time I hear people say it takes too much time or money to eat healthier/lighter I cringe. Sure it CAN be but there are plenty of ways to make small changes to your diet that can be done on a budget and made just as fast as waiting in a drive-thru line. Because let's be honest, fast food may be convenient but it isn't always fast and it's rarely good for you. 
I won't spend any more time on my soapbox, I promise as I eat at fast food more than I'd like to admit. I'm just popping in really quick to share my breakfast, which took me at most, 2 minutes to make.
I'm not joking.
And it was not only DELICIOUS, but it was under 250 calories!
I used ham, bacon bits and spinach to make my egg because I'm a bit of a meat fanatic and I've trained myself to always add at least one vegetable. However, you could use anything you like or nothing at all.
Here's what I did…
1 Whole Wheat English muffin
1 thin slice of deli ham
1 egg
1 tbsp (7g) of real bacon bits
½ cup (20g) fresh spinach, finely chopped
Salt, pepper and Non-stick cooking spray
Toast the English muffin.
Find a small dish or mug that roughly has the same diameter of your English muffin. Spray it with a bit of non-stick cooking spray and place the slice of ham on the bottom. You may have to fold it.
Prepare/weigh out your other ingredients.
Crack the egg into the dish with the ham, break the yolk and mix it a bit.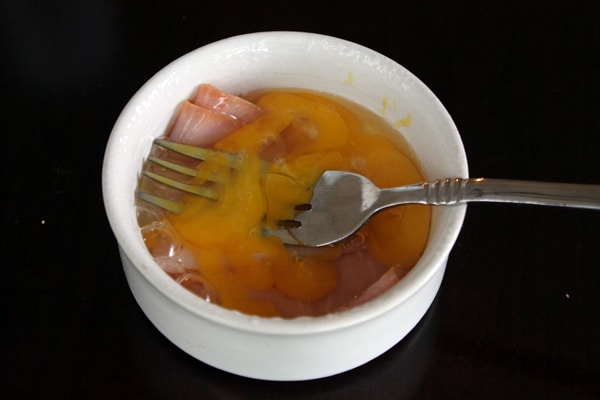 Add in the spinach and bacon bits. You may think it's too much but just keep tossing with the egg until the spinach is all moist.
Sprinkle with a little salt and pepper and then microwave for 30 seconds. It will come out looking something like this ...
Give it a quick stir and cook for an additional 30-40 seconds until it's no longer runny in the middle.
Run your fork along the edge and pop out your cooked egg!
Place it on your toasted English muffin with a little ketchup, of course, and enjoy!
This is an easy one to take in the car on your way to work although I ate it while getting the 2-year-old dressed and the 7-year-old on the bus. 🙂
Approx Nutritional Information per serving
Servings
Amt per Serving
1
Entire Recipe
Calories
Fat
Fiber
WWPs
235
9g
3g
old: 5
new: 6
Sugar
Sat Fat
Carbs
Protein
2g
3g
24g
18g