I originally posted Chocolate-Coconut Energy Balls in 2014. I'm reposting now as I search my archives for some of my fun, forgotten recipes.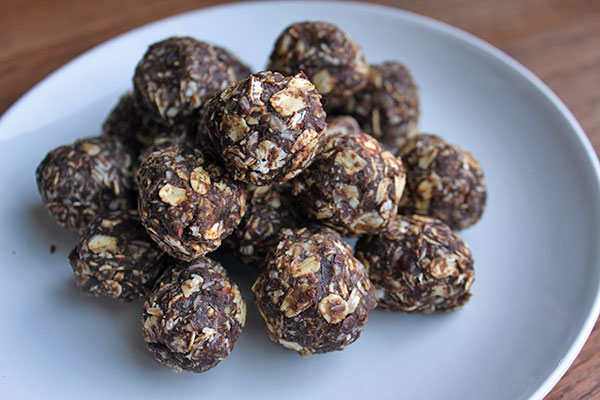 I've never quite been able to master my own granola bar recipe but put a few forgiving ingredients in a bowl and mash together into balls and voila! A homemade, portable snack or, in my case, breakfast.
Most mornings, I wake up at 5:25 a.m., throw clothes on, and head to the gym for a 6 a.m. class. I barely give myself enough time to brush my teeth, let alone make breakfast, so I've been experimenting with these and a few other grab-and-go ideas.
I was inspired to come up with a new flavor after buying my first-ever bag of coconut.
It's yet another ingredient (like mushrooms and avocado) I was not fond of as a child, but now absolutely love!
Here's the step by to make Chocolate-Coconut Energy Balls, the recipe is below for easy printing.
Put all the ingredients in a bowl.
Combine well.
Form into 20 balls.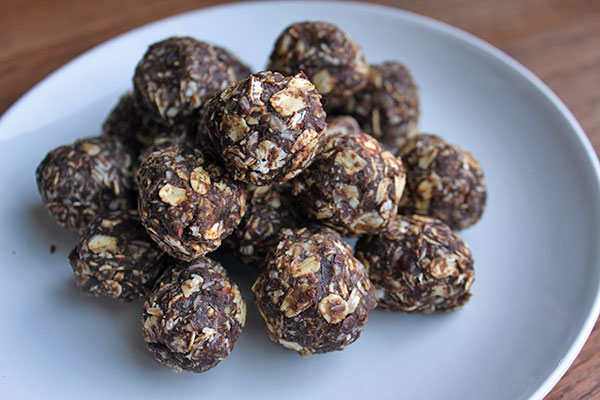 I store mine in an air-tight container and grab 2-3 before heading out the door in the morning.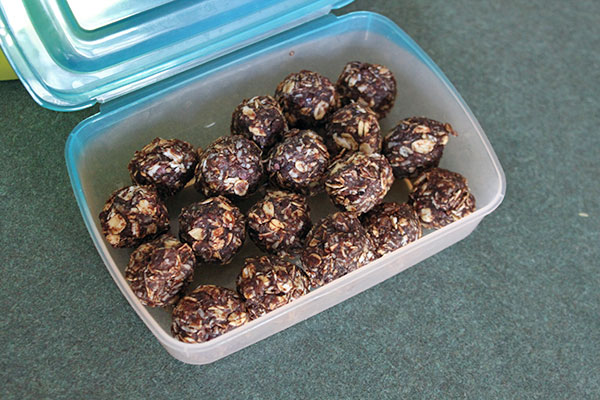 Note: I originally made these with my homemade chocolate syrup, which I will need to repost as well!
Print
Chocolate-Coconut Energy Balls
Yield 10 servings
Loaded with oats, flax, and almond butter, chocolate-Coconut Energy Balls are great for a grab-and-go breakfast or a fun snack for the kids!
Ingredients
1 cup old-fashioned oats
6 tbsp creamy almond butter (96g) (any nut butter would work)
¼ cup ground flaxseed (4 tbsp – 26g)
6 tbsp shredded unsweetened coconut (30g)
½ ounce cocoa nibs (14g) (If you don't have it you can skip or add a few mini chocolate chips)
1 tsp vanilla
¼ cup chocolate syrup
Instructions
Put all the ingredients in a bowl.
Combine well.
Form into 20 balls.
Courses Any
Cuisine Any
Nutrition Facts
Serving Size 2 energy balls
Amount Per Serving

Calories 165

% Daily Value

Total Fat 10 g

15%

Total Carbohydrates 19 g

6%

Dietary Fiber 4 g

16%

Sugars 8 g

Protein 5 g

10%
* Percent Daily Values are based on a 2,000 calorie diet. Your daily values may be higher or lower depending on your calorie needs.