OK, who am I kidding, this should be called the "Not At All Homemade Chocolate Banana Bundt with Chocolate Glaze" but "Almost" sounded better. 😉
Here's the story.... I had a craving. I woke up Saturday with an itch to bake something chocolate. There was only one problem. No flour. None. Zip. ZERO. I used my last bit to make pancakes a few days before and I just kept forgetting to restock. I know. I know. What kind of cook am I? Allowing myself to run out of flour. The horror!
But I was in luck! I had some Vitalicious baking mixes! As you know I have that disease that does not allow me to make a recipe or following box directions when cooking so I yet again made this my own. Adding some mashed banana, using a bundt pan instead of muffins and replacing the chips with a fun glaze.
The result was SINFULLY delicious! The little guy fell in love with it too and we enjoyed it all weekend. I put the last piece in his lunch this morning. The husband? Well he didn't even have a bite. NOT ONE BITE. The man is not HUMAN. How do you walk by that for 3 days and no want to take even one little taste. Seriously, sometimes I don't know why I married him. He just doesn't like FOOD! ugh.
Anyway... I can't take all the credit for this one. Talysa sent me the idea a few months back and adding the mashed banana really stuck with me. It was genius!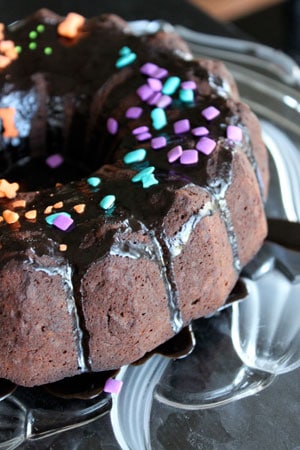 The Glaze
Preheat the oven to 400 degrees.
Spray a bundt pan with non-stick cooking spray. I now have a silicon one like this
.
Mash the 2 overripe bananas and whisk with the 3 egg whites and a cup of water. Add the VitaMix and mix well to form the batter.
Pour the batter into the sprayed bundt pan. Bake for 35-40 minutes.
About half way through the baking process make the glaze by mix the powdered sugar, cocoa powder and tbsp of water together.
Once you pull the bundt out of the oven let it cool for 10 minutes in the pan. Then turn it upside down and let it cool out of the pan.
This is by far the HARDEST part... the waiting...
Once cool. Pour the glaze over the cake.
Sprinkles optional. 🙂
Second hardest part... waiting for mom to stop taking photos...
If you are looking for a more homemade bundt I do have my own Banana Bundt Bread that I made up last year. Which I totally forgot about. I may have to revisit that recipe! Oh! and don't forget if you buy anything from Vitalicious use my coupon, RonisWeigh, for 10% off! They are a sponsor of Roni's Weigh and supply products to review.
Approx Nutritional Information per serving
Servings
Amt per Serving
12
1/12 of the cake with glaze
Calories
Fat
Fiber
WWPs
156
2g
7g
old: 2
new: 4
Sugar
Sat Fat
Carbs
Protein
20g
1g
37g
4g