I love when simple ideas come together and this one totally did. I still have leftovers in the fridge yet I can't wait to make this dish again!
Let me back up. First, I bought a butternut squash this week knowing I would be snowed in for a few days. I've been feeling a little uninspired in the kitchen so I thought I'd challenge myself to come up with something new, and I love doing that with winter squash. They are so versatile and I didn't grow up eating them so I feel almost free to do whatever the heck I want.
Second, I have kept chipotle peppers in my pantry ever since my Mexican cooking class experience last year. I never used them before and I immediately fell in love after my first taste. They are smoky and spicy and just delicious!
When I opened my pantry and saw the chipotle peppers I thought they would make a great addition to butternut, which is sweet and nutty.
Boy, was I right!
This lasagna-style dish totally hits the spot and feels "naughty" even though there isn't much to it. I used just a touch of cheese, as a glue of sorts, and beef, which could even be replaced with ground turkey or even a leaner cut.
If you aren't into spicy, this is not the dish for you. Those peppers pack a bit of a punch but you could always use half and dilute them with a bit of tomato sauce or even use something milder like tomato paste.  Me? I'll keep the kick. I think a good spiciness makes food even more satisfying.
Here's what I did..
The top part (neck) of a medium sized butternut squash (400-500g)
1 pound ground beef (I used 85% grassfed)
1 medium sweet onion
1 7-oz can of chipotle peppers in adobo sauce
3oz Colby-Jack cheese, sliced thin (grated would work, too) divided use
Preheat the oven to 425 degrees.
Slice the butternut squash about ⅛-inch thick (I used my mandoline). Set aside.
In a large skillet over medium-high heat, brown the ground beef with the onion.
While it's cooking, puree the can of chipotle peppers until smooth.
Add the pureed peppers to the beef once it's browned.
Stir it until well combined and lower the heat to a simmer.
Spray a casserole dish (mine is 11x8 I think) and put down a layer of sliced butternut.
Top the butternut with ⅓ of the chipotle beef mixture and 1 ounce of the cheese.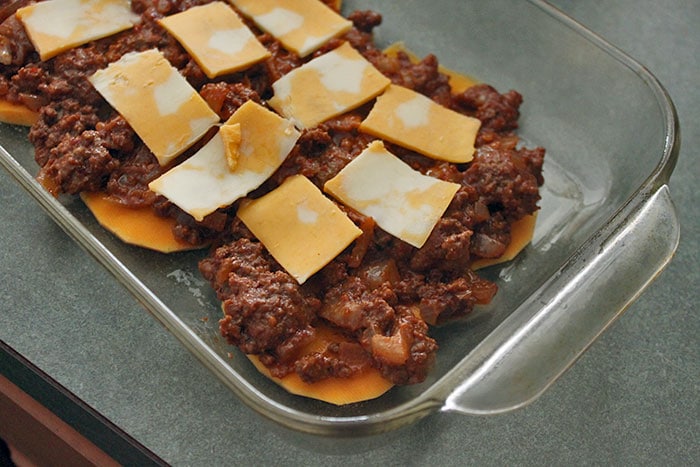 Top with another layer of butternut, beef and cheese.
Make one more layer, this time just the butternut and beef. Set aside the last ounce of cheese.
Cover with aluminum foil and bake for about 25 minutes.
After 25 minutes remove the aluminum foil. Test the doneness of the squash; it should be soft. There may be a lot of liquid that escaped from the butternut -- simply remove as much as you can with a baster.
Top everything with the last ounce of cheese and bake for about 10 minute so the cheese melts and just starts to brown.
I couldn't wait -- I cut right in making 6 lasagna-style cuts.
SO GOOD! And really satisfying on so many levels.
Approx Nutritional Information per serving
Servings
Amt per Serving
6
⅙th of the casserole
Calories
Fat
Fiber
WWPs
280
16g
4g
old: 6
new: 7
Sugar
Sat Fat
Carbs
Protein
6g
8g
15g
20g