It's late and I barely have it in me to post this but I had to share! Yesterday I bought a pint of blackberries because the toddler picked them out and the were on sale. I'm not particular fond of blackberries. I mean, they're ok but not my favorite berry by far.
So of course I bring them home and the toddler doesn't really like them either. Now what do I do? Hmmmm I have berries, I have won tons, why not?
I made these late night, so no toddler taste test. The husband? Well I didn't bother, this is not his cup of tea. Me? I ate the WHOLE batch. So good, lightly sweet and fun!
½ cup blackberries (74g)
½ cup blueberries (72g)
1 tbsp honey (21g)
8 small won ton wrappers
dusting of powdered sugar (~⅛tsp)
8 fresh mint leaves for garnish (optional)
Preheat the oven to 375 degrees.
Mix the berries and honey.
Place the won ton wrappers in a mini-muffin pan forming little cups. Evenly distribute the berry mixture among the cups.
Bake for 10 minutes.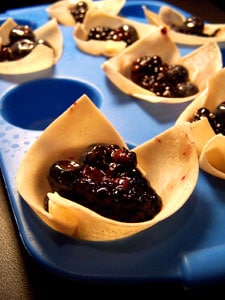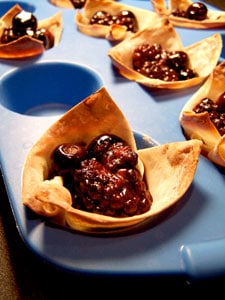 Remove from oven, dust with powdered sugar and mint leave. Enjoy!
Approx Nutritional Information per serving
Servings
Amt per Serving
2
4 dessert cups
Calories
Fat
Fiber
WWPs
148
1g
4g
old: 2
new: 4
Sugar
Sat Fat
Carbs
Protein
15g
0g
33g
4g