I will not dare say I know the difference between a bread, a cake, a muffin, or even a pie for that matter. All I do know is sometimes I crave a "baked good". At least I did today.
When I was little, my grandmother would make this yummy banana bread/cake (whatever) in a bundt pan with chocolate chips. It was one of my favorites. I remember the moistness in each bite with that wonderful chocolate banana combination. I miss it.
I based my experiment this morning on my banana muffin recipe. Which may be why it's more like a bread or a muffin then a cake. But I don't care. It was YUMMY! Even the husband who said... "You know I don't like banana bread." ended with a "...but man that is a good one!"
The toddler? Well as you can see he had a hard time waiting for me to take pictures. Which is why I didn't get many good shots. 🙂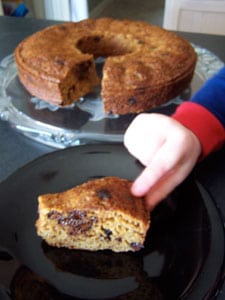 Here's what I did...
2 cups whole wheat white flour (240g)
2 tsp baking soda
½ tsp salt
2 overripe large bananas
¼ cup unsweetened applesauce
1 large egg
1 large egg white
2 tbsp honey (42g)
1 tbsp molasses (20g)
1 cup plain non-fat yogurt (227g)
1 tsp almond extract
1 tsp vanilla extract
¼ cup (60g) chocolate chips - preferably mini they spread better
Preheat the oven to 325 degrees. Spray a bundt pan (I used one like this)
with non-stick cooking spray and set aside. (note you could probably use a loaf or cake pan but I haven't tried it yet and I don't know how to adjust the cooking times... YET! ;~P)
Mix the flour, baking soda and salt together. Sift and set aside.
in a large bowl, mash the bananas. Add the applesauce, egg, egg white, honey, molasses, yogurt and extracts and whisk until smooth. Mix in the chocolate chips.
Add the dry ingredients to the wet and stir until just incorporated. I used my whisk and it took about 10 "spins".
Pour the batter into the bundt pan. It will be thick, just spread it across the bottom with a spatula.
Bake for 45 minutes. Remove from oven and let sit at least 10 minutes before attempting to remove it from the pan.
Now, I'm estimating 15 servings but I could easily get 17 cut as seen in the picture above. But I'll go with 15 to be "safe". Plus sometimes you just want a bigger piece of cake, I mean bread, I mean... whatever. It's YUMMY!
Approx Nutritional Information per serving
Servings
Amt per Serving
15
1/15th of the bread
Calories
Fat
Fiber
WWPs
120
2g
2g
old: 2
new: 3
Sugar
Sat Fat
Carbs
Protein
9g
1g
23g
4g