I'm sick. I hate being sick. Just about the only thing that makes me feel better is soup. Today I whipped this up with a few aging peppers, wilting cherry tomatoes and my last onion. I'm in desperate need of a grocery trip after my weekend away but I was too miserable to leave the house. Thankfully my pantry was able to serve me well, again. 🙂
1 sweet onion chopped
6 cloves of garlic minced
20oz package of Hot Italian Turkey Sausage
1 tsp dried basil
½ tsp dried oregano
½ tsp dried thyme
1 tbsp dried parsley
3 large bell peppers chopped (I used 1 orange, 1 yellow and 1 green)
½ pint cherry tomatoes halved
1 (15oz) can diced tomatoes
6 cups of your favorite broth (I used homemade stock I had in the freezer)
1 (6oz) can of tomato paste
Spray a large stock pot with non-stick cooking spray. Add the onion and garlic, cook over medium heat until the get a bit transparent.
Remove the casings from the sausage by simply slicing them longways. Add the sausage meat to the pot and break up while browning. Add the basil, oregano, thyme and parsley, stir.
Once the sausage is all brown add the peppers and tomatoes. Add the diced tomatoes, broth and paste. Stir bring to a boil and lower to a simmer. Simmer about 20 minutes until peppers just soften.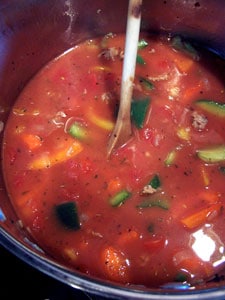 Now this makes a huge batch. I'm getting about 6-8 serving with my crude measuring techniques. So I'll play it save and so nutritional information for 7 servings.
Approx Nutritional Information per serving
Servings
Amt per Serving
7
About 1.5 Cups
Calories
Fat
Fiber
WWPs
200
7g
3g
old: 4
new: 5
Sugar
Sat Fat
Carbs
Protein
7g
3g
19g
16g