Yesterday morning I just wanted something different for breakfast. It was just one of those days nothing sounded good. So I hopped online, did a quick search and found this. I didn't even read the post, I just saw the picture and immediately thought Spinach Bacon Egg Wrap! (I stopped reading recipes when I realized it was impossible for me to follow one. lol)
I couldn't be happier with the result. Except the spinach was a little stringy. Next time I think I'll loose chop it before cooking. Other then that, this is a keeper for me.
Oh! and of course I dipped mine in ketchup! I was pleasantly surprised when the whole wrap stayed together. It's the best kind of breakfast, fork-less! 🙂
About 4 cups fresh spinach leaves loosely chopped (preferably baby)
2 tbsp real bacon bits (14g)
2 eggs (could use 1 egg/1 egg white to reduce fat by 5g)
Kosher Salt & pepper
non-stick cooking spray
Spray a non-stick skillet with non-stick spray. Add the spinach leaves and bacon bits and cook over medium heat. Sprinkle with a bit Kosher salt. Continue to stir as the leaves begin to wilt and reduce. Remove from heat once all leaves reduced a bit and set on the side.
Remove the skillet from the heat and wipe it dry. Re-spray with non stick cooking spray.
Beat the 2 eggs with a bit of salt and pepper until well blended. Add the egg to the skillet and swirl around to cover the whole skillet. Cook over medium-low/low heat. Covering will help the top cook faster.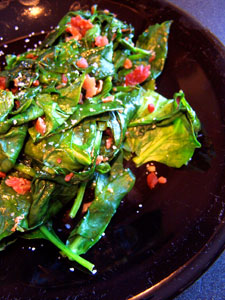 Cook for about 5 minutes. Take spatula and run along the edge. Once the top of the egg is firm, slide the egg onto a plate. Let the cat investigate. 🙂
Place the cooked spinach in the center and roll like a burrito.
EAT! 🙂
Sorry.. went a little picture happy yesterday. 🙂
Approx Nutritional Information per serving
Servings
Amt per Serving
1
Entire Recipe
Calories
Fat
Fiber
WWPs
240
14g
4g
old: 5
new: 6
Sugar
Sat Fat
Carbs
Protein
1g
4g
9g
20g